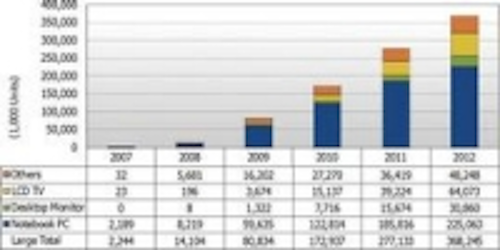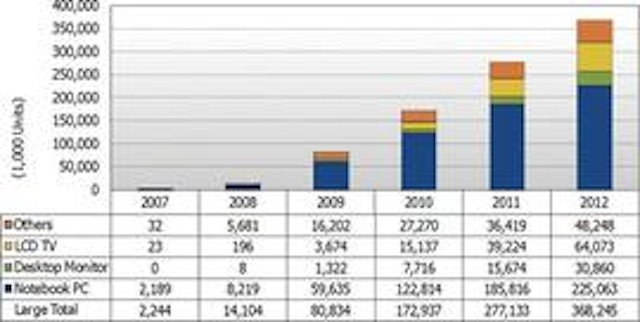 Date Announced: 22 Jun 2009
Up 300% from 2008 to a 20% Share of the LED Market
AUSTIN, TEXAS - LEDs have been a hot topic in the TFT LCD market due to their rapid adoption in notebook PC displays and the high potential in LCD TV panels. In 2012, 34 billion LEDs will be used in TFT LCD backlights, in sizes ranging from 1" to more than 70", up more than 300% from 8 billion in 2008, according to the new DisplaySearch report Display LEDs: Lighting Up the Display World.
A total of 70.8 billion LEDs were shipped in 2008. There are two categories of LEDs used in display applications; active outdoor displays, which used 11 billion LEDs or 15% of the total in 2008, and LCD backlights, which consumed 8 billion or 11% of the total. Within LCD backlight applications, five key types are adopting LEDs: small/medium, notebook PC, desktop monitors, industrial applications, and most notably TV.
With the fast growth in LED outdoor displays and backlights, DisplaySearch forecasts that display LEDs, including 24 billion for active outdoor display and 34 billion for LCD backlights, will have a 34.7% share of the global 167 billion unit LED market in 2012, making display LEDs the largest market segment. Low-current LEDs will be the mainstream type used in large-area LCD backlights, due to cost, thermal management and luminance efficiency requirements. High-power LEDs, with a driving current higher than 350 mA (more than 1W), are not well-suited for LCD backlights due to thermal issues, and will mainly be used in general lighting applications that require high brightness.
Shipments of LED backlights for large-size (10"+) TFT LCDs will exceed 368 million in 2012, an amazing 25 times 2008 shipments (see figure above). For LCD backlights, side-view LEDs enable slim design, and dominate small/medium LCD backlights. Large-size (10"+) LCD backlights typically use top-view LEDs, and with the increased penetration of LED backlights in notebook PCs and increasingly TVs, top-view LED shipments will pass side-view in 2010.
The penetration rate of LED backlights in notebook PCs will reach 52% in 2009, and DisplaySearch forecasts penetration will grow rapidly to 81% in 2010. In LCD TV, the penetration rate will ramp up from 3% with 3.6 million units in 2009 to 10% with 15 million units in 2010. Leading LCD TV brands including Samsung, Philips, Sharp, Sony, Toshiba, Vizio and LG are planning increased use of LED backlights starting in the second half of 2009. A driving factor is the change in LED backlight structure from direct to edge light type, which reduces the cost premium over CCFL backlights. Finally, LED backlights in desktop monitors are expected to reach 31 million units in 2012.
Eyeing the growing LED needs for their panels, nearly all panel makers are participating in the LED business through new LED companies or investments in existing manufacturers. DisplaySearch analysis indicates that Nichia and Toyota Gosei will continue to dominate the market for blue and white LEDs for LCD backlights over the next three years, due to their strong patent portfolios and customer relationships. However, Samsung LED, Stanley, Citizen, Showa Denko, Seoul Semiconductor and OSRAM are targeting growth in LED backlights for LCD TVs. Finally, Taiwanese makers like Lite-On, Chi-Mei Lighting, Lighthouse and Everlight are entering the backlight market with low cost structures.
The DisplaySearch Display LEDs: Lighting Up the Display World report also reveals that LED revenues for outdoor displays will reach $1 billion in 2009 and are expected to grow to $1.5 billion in 2012. The use of LED outdoor displays in the 2008 Beijing Olympics provided international visibility, and such events will be a driving force for growth in LED outdoor displays in the coming years.
"LEDs will create new growth for the TFT LCD industry due to characteristics such as lowering power consumption, meeting green requirements, adding dimming capability, improving color performance and enabling slim and light form factors for LCD panels and applications," noted Yoshio Tamura, Vice President of DisplaySearch and the component research team leader. "On the other hand, TFT LCDs also provide new vigor to the LED industry, as they open up broader applications requiring higher quality and more advanced technology."
Tamura concluded, "The interaction between the LCD and LED industries can be viewed as a key development in electronics in the coming decades."
The newly released Display LEDs: Lighting Up the Display World report covers LED development roadmaps, LED manufacturing technology, supply chain relationships, application information, and LED market forecasts of price and demand by application. The report also provides detailed forecasts of shipments of LED backlights by application, size and LED type through 2012. Analysis of LED backlight value chain by panel maker is also included. This unique report is the most comprehensive way to learn about LED technology and access the latest market outlook for LEDs by application, making it a key guide for branded vendors, panel buyers, LED application product planners, and LED makers.
About DisplaySearch
DisplaySearch, an NPD Group company, has a core team of 57 employees, located in Europe, North America and Asia, who produce a valued suite of FPD-related market forecasts, technology assessments, surveys, studies and analyses. Visit the DisplaySearch blog to read about how our top analysts are interpreting up-to-the-minute issues that impact the display industry, and join us in this discussion about technology and the flat panel industry. The company also organizes influential events worldwide. Headquartered in Austin, Texas, DisplaySearch has regional operations in Chicago, Houston, Kyoto, London, San Diego, San Jose, Seoul, Shenzhen, Taipei and Tokyo.
About The NPD Group, Inc.
The NPD Group is the leading provider of reliable and comprehensive consumer and retail information for a wide range of industries. Today, more than 1,700 manufacturers, retailers, and service companies rely on NPD to help them drive critical business decisions at the global, national, and local market levels. NPD helps our clients to identify new business opportunities and guide product development, marketing, sales, merchandising, and other functions. Information is available for the following industry sectors: automotive, beauty, commercial technology, consumer technology, entertainment, fashion, food and beverage, foodservice, home, office supplies, software, sports, toys, and wireless. For more information, contact us or visit http://www.npd.com/ and http://www.npdgroupblog.com/.
Contact
Charles Camaroto Ph: 1/888.436.7673 or 1/516.625.2452
E-mail:contact@displaysearch.com
Web Site:www.displaysearch.com