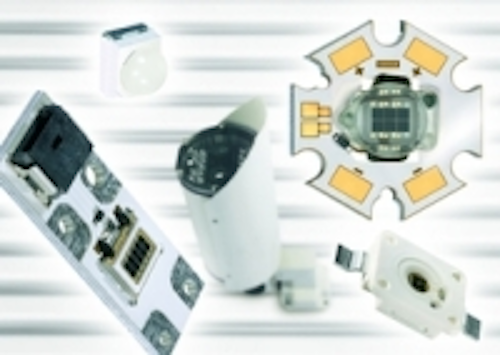 Date Announced: 02 Jun 2009
OSRAM Opto Semiconductors has the right IR product for anything near or far, indoors or outdoors, that needs to be illuminated with invisible infrared light. The semiconductor specialist will show the latest developments for CCTV and night vision systems in Nuremberg at the Sensor+Test, the international trade fair for sensor, measuring and testing technologies. At the joint "Cluster Sensorik" booth in Hall 12/233 OSRAM will present their flagship, the infrared OSTAR Lighting and also the infrared OSTAR Observation, Golden Dragon and Power TopLED with lens.
With its high-performance IR products, OSRAM Opto Semiconductors covers a wide range of applications in a variety of output power classes. With a range of up to 200 m – depending on the external optics used – the infrared OSTAR Lighting (SFH 4750) will be showcased at the fair. The beam angle and radiant intensity can be adjusted to the application with standard secondary optics . The hexagonal honeycomb shape enables multiple IR LEDs to be combined into a large space-saving matrix so that the output power can be increased many times and therefore the illumination range can also be enhanced. Its major applications include industrial lighting for camera-based surveillance systems such as CCTV (closed circuit television) and intelligent transport systems (ITS).
The OSTAR Observation also offers impressive performance. It has a range of up to 300 m – again depending on the external optics used – and is therefore ideal for night vision systems which are designed for installation in vehicles to increase the visibility range and safety at night. These IR LEDs can also be used for prefield recognition, for example in precrash sensors or in pedestrian protection systems.
The infrared Golden Dragon is a single-chip LED and smaller than the OSTAR versions which comprise several chips. Depending on the external optics used, these IR LEDs have a range of up to 100 m. They are used as light sources in camera-based CCTV systems, for example to improve safety and security in car parks, in machine vision systems, for traffic monitoring and for license plate recognition.
The smallest of the IR LEDs is the Power TopLED with lens. It has a range of up to 50 m and is ideal for indoor CCTV applications, security applications in darkened rooms and machine vision systems.
With this impressive range of IR LEDs OSRAM can meet the requirements of very different IR lighting applications and also meet specific customer needs.
Contact
Marion Reichl Tel +49 941 850 1693 Fax +49 941 850 444 1693
E-mail:marion.reichl@osram-os.com
Web Site:www.osram-os.com