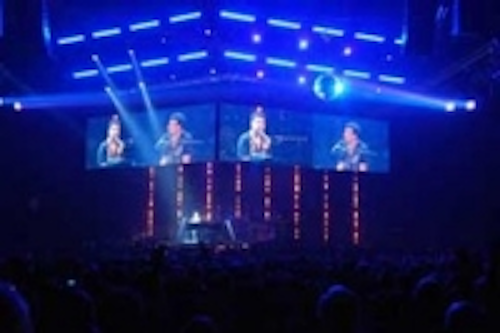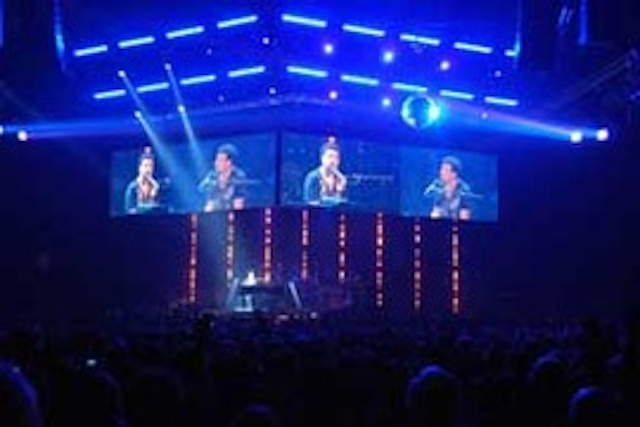 Date Announced: 11 Jun 2009
-- Lars Brogaard oversees superior design and production
Lionel Richie's recent European arena tour, his first since the sell-out Coming Home tour of 2007, also marked the artist's first collaboration with the highly experienced Lars Brogaard, who took on overall production management duties as well as mixing the house sound.
The tour was set up to promote and celebrate Richie's new album, Just Go, with shows in most of the major UK and European arenas, with production scaled down for the final theatre shows, which closed the tour.
Working with the artist's designers, Chris Medvitz and Jeffrey Hornaday, Brogaard renewed his long-standing relationship with Creative Technology. In conjunction with CT's managing director Dave Crump, a panoramic, three-dimensional stage set was conceived — based around Barco hi-resolution daylight LED screens and complex switching and layering from a Vista Spyder processor.
By the time production rehearsals commenced in early March a high-impact design had been evolved; this was based around two front landscape 'wings', butted into a 'V' shape and constructed from Barco OLite 612, 12mm DMD LED tiles, with seven columns of 1.5m wide by 6m high 24mm pixel pitch Barco MiTrix as the highly transparent lightweight stage backdrop.
Reverting from the original trapezoidal plan, the two front rectangular screens were positioned off centre — the display at stage left measuring 15m wide and 2.8m high, the smaller one spanning an 11-metre width. By using simple geometrics the design team ensured maximum bang for the budget, without the need to resort to expensive custom effects.
Completing the displays were two outflanking soft IMAG fast-fold screens, addressed by a pair of Barco FLM R20 20,000 lumens projectors, which were added in at the rehearsal stage.
CreatIve Technology deployed an experienced team in order to maximise the effect. Willis Spencer was appointed video director — migrating from the corporate world in view of his advanced knowledge of the Vista Spyder 5-in/3-out 353 processor. Spencer, who had also worked on the Lee Evans Big tour, was perfectly positioned to exploit the full capacity of the multi-format system.
He was supported by John Basile (vision engineer), Ray White (LED technician), Rob Brewer (LED technician) and Paul Barry (LED and projection), while CT's project manager was Stuart Young.
Every display was pixel-matched to fit the format, with all signals relayed in native resolution to ensure there was no image degradation. "Since there is a lot of video in the show we knew that scaling would have compromised quality," Dave Crump reasoned.
For the most part the wing screens displayed pre-recorded custom content, created by the artist's long-term lighting designer Chris Medvitz, although when these displayed live camera feeds, Willis Spencer was able to exploit the full facility of Spyder.
"This was ideal territory for Spyder," stated Dave Crump. "It's a multi-format, multi-switching compositing system which is far more powerful than anything else we have. We invested heavily in this, principally for the corporate sector — but in the entertainment environment everyone who uses it loves it, particularly the way in which the system was conceived."
CT supplied a three-camera PPU in the shape of manned Sony DS55 cameras and two Sony remote pan and tilt minicams. These were fed through a conventional production environment, based around a FOR-A 2M/E vision mixer.
The company also supplied the Martin 1920 x 1080 HD Maxedia content server which stores all the pre-recorded content and handles the pixel-mapping. This was triggered by lighting board operator Joel Young from his Martin Maxxys desk.
While one channel of Maxedia fired all the content, pixel-matched onto the MiTrix the second output provided a DVI feed to the Vista Spyder, which also took direct inputs from each camera and the vision mixer.
"Spyder is configured to enable us to drop in PIP's (picture-in-picture), showing the live camera as a single image or up to five live images running at the same time. All the output is in the same format so there is no scaling whatsoever."
Summing up, Dave Crump says, "Lionel Richie's production wanted optimum image quality and the ability to show multiple images, with good vertical resolution and minimal latency. "This is exactly what we gave them, and everyone was over the moon."
As for the lighting, Neg Earth mixed generics with automated fixtures, including quantities of Coemar Infinity XL wash lights, HES Studio Command 1200s, Martin Mac 2000 (Profiles and Washes) and Mac 700's … punctuating this with Thomas Pixelline 110ec battens and Color Kinetics Color Blaze 72 LED effects.
They also supplied all the trussing and chain hoists for the LED screens, with Neg Earth's crew chief Steve Arch supported by Jim Mills, Chris Lambourne, Dennis Gardner and Ty Brooks.
For sound reinforcement, Lars Brogaard specified a Meyer MILO line array system with 700HP subs and UPA-1A for front fills. Mixing consoles — stationed at both FOH and monitor city — were the new Digico SD7's.
Brogaard first worked with Richie back in 1983-84 when the artiste left The Commodores to go solo, and more recently supplied his touring sound systems, before becoming involved again on a personal basis. "This tour has been unbelievable," he said. "I have had the best crew from the get-go. It's been one big happy family — and Lionel is the easiest guy in the world to work with."
Contact
CT London Dave Crump, Marketing, CTUK dcrump@ctlondon.com +44 (0)1293 582000 Jerry Gilbert, JGP Public Relations +44 (0) 1707 258525 CTUS, Sandra DeMond Marketing +1 818 779 2475
E-mail:sdemond@ctus.com
Web Site:www.ct-group.com