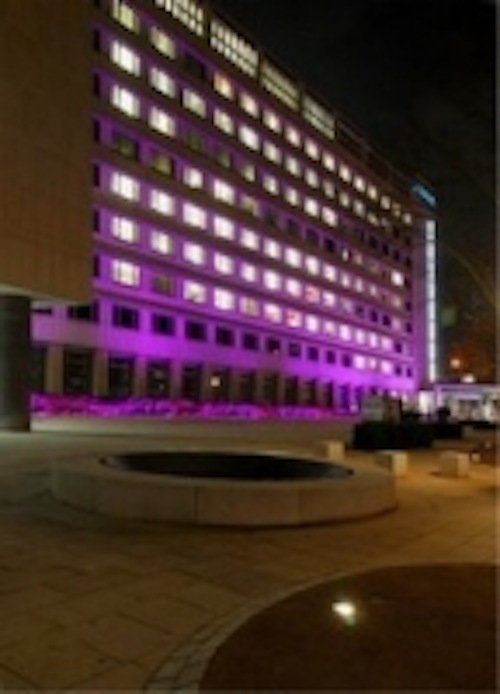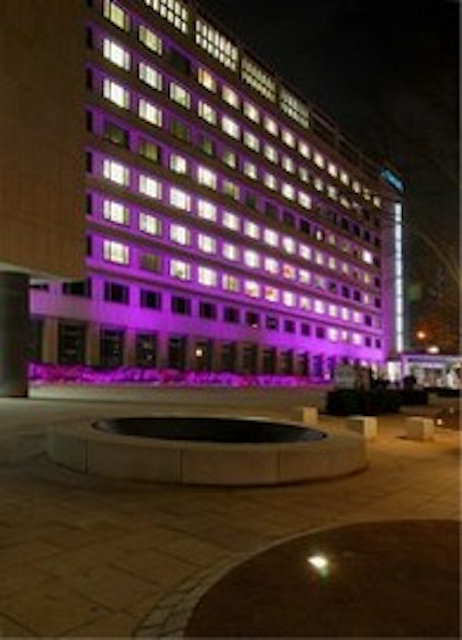 Date Announced: 03 Jun 2009
Colour LEDs produce amazing effects
Siemens has long been based at Lindenplatz in Hamburg's St. Georg district. To redesign the square the company has joined other local businesses in a public-private partnership project in collaboration with the city of Hamburg. Contemporary LED solutions from Munich lighting manufacturer OSRAM, part of Siemens' Industry business unit, showcase the square and the Siemens building in the evening hours and at night.
At night, a 70-metre long OSRAM LED band immerses the façade of Siemens' office building and the hedges on the square in alternating colours from yellow to green, blue, red and lilac. The installed RGBLED modules are capable of showing around 16 million different colours. Apart from the façade, LED also illuminate two water features with cascades on the side of the square. Nautilus Midi Ostar LED builtin floor lights were also used to mark the driveway up to the Siemens building and to highlight the five linden trees on the eponymous square.
Hamburg's Göpotec company supplied a total of 80 Linearlight-Dragon Colormix individual circuit boards (LD18A-RGB) with 14x22° lens attachments for the fa çade lighting alone set in specially produced lamps and combined to make a light band. The Linearlight-Dragon Colormix modules by OSRAM are ideal for dynamic colour applications and lighting effects in architecture. Their lens attachments, which are also used on Lindenplatz, enable impressive wall-wash effects and coved lighting.
The 18 Golden Dragon high-performance LEDs (six each in red, green and blue) per module provide intensive colour effects. The LED lamps come with OT 75 E 24V-Optronic ballasts and OTi Dali DIM Dali Easy II control units. They make the harmonious change in colours possible.
OSRAM's Easy Color control software allows the light to be designed and controlled in the process. The Lindenplatz makeover adds even more value to the St. Georg district. Apart from the new lighting system, the square was also surfaced in granite and had new benches and more hedges added. What 2/2 was once a dark street corner has not only become a bright and ingeniously lit square but an inviting place for local residents to spend time in and enjoy.
[Photo: LED modules by OSRAM immerse the Siemens office on Hamburg's Lindenplatz in alternating colours.]
ABOUT OSRAM
OSRAM is part of Siemens' Industry sector and is one of the world's two leading lighting manufacturers. In FY 2008 (to 30 September 2008) it generated business worth €4.6 billion, of which 88% was in other countries. OSRAM is a high-tech business in the lighting industry – over 65% of its business is in energy-efficient products today. This globally oriented company employs over 43,500 people worldwide, supplies customers in around 150 countries and manufactures at 46 production facilities in 17 countries.
Contact
Osram
E-mail:l.stuehlen@osram.com
Web Site:www.osram.com