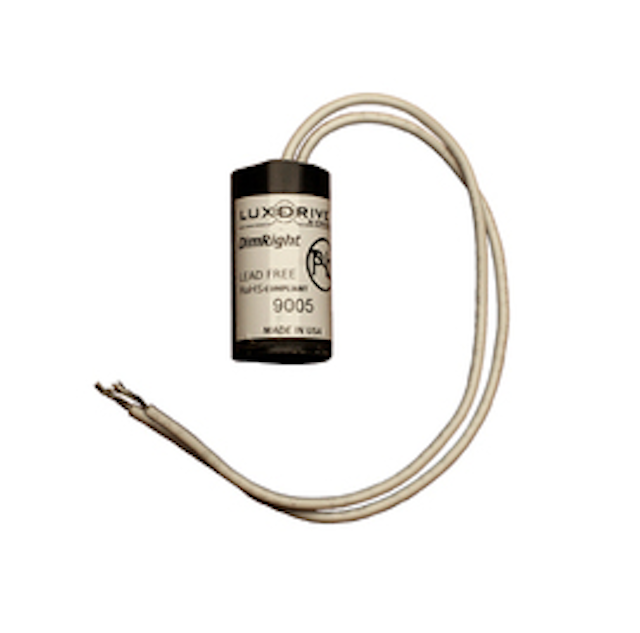 Date Announced: 29 Jun 2009
LEDdynamics, Inc. of Randolph, VT, manufacturer of LUXdrive drivers, light modules and control systems for the solid state lighting industry, announces the introduction of three new products:
DimRight 9005, Acriche Dimming Module
Can't get your LEDs to dim properly? The new LUXdrive DimRight dimming module allows smooth and complete dimming, from 100% of light output all the way down to 0%, with no changes to the wiring or to the Triac dimmer. Made for use with the Seoul Acriche AC LEDs, a single DimRight module allows dimming of any number of LEDs connected in parallel, uses ¼ watt typical, and no expensive circuitry needed to handle the non-linear LED loads. 12.6mm dia. x 25mm H. Made in the USA.
Endor Star 7007, Tri-Emitter LED Light Module
The electrically isolated Endor Star can deliver 540 lumens and its thin, low profile package, just 2.9 mm high, integrates easily into numerous fixtures and OEM applications. Uses the Luxeon Rebel LED, single or tri-emitter white, red, green, blue and RGB. Typical currents 350-1000 mA. 19.8mm dia. x 2.9mm H. Made in the USA.
Star K2 5027 TFFC, LED Light Module
The electrically isolated Star K2 module uses the popular Luxeon TFFC K2, able to deliver over 300 lumens per LED (in 6500K cool white). Available in warm, neutral and cool white. Currents available from 350-1500mA, with operating junction temperatures up to 120 C and a 50,000 hour life at 1000mA. Uses the same footprint as the Luxeon I, III and V stars. 19.8mm dia. x 7.6mm H. Made in the USA.
Contact
Please contact one of LEDdynamics' application support team members for more information on these and other LUXdrive products by calling 802-728-4533(Mon-Fri, 8-5 EST), e-mail sales@LEDdynamics.com, or visit us at www.LUXdrive.com for more complete information.
E-mail:sales@leddynamics.com
Web Site:www.LUXdrive.com