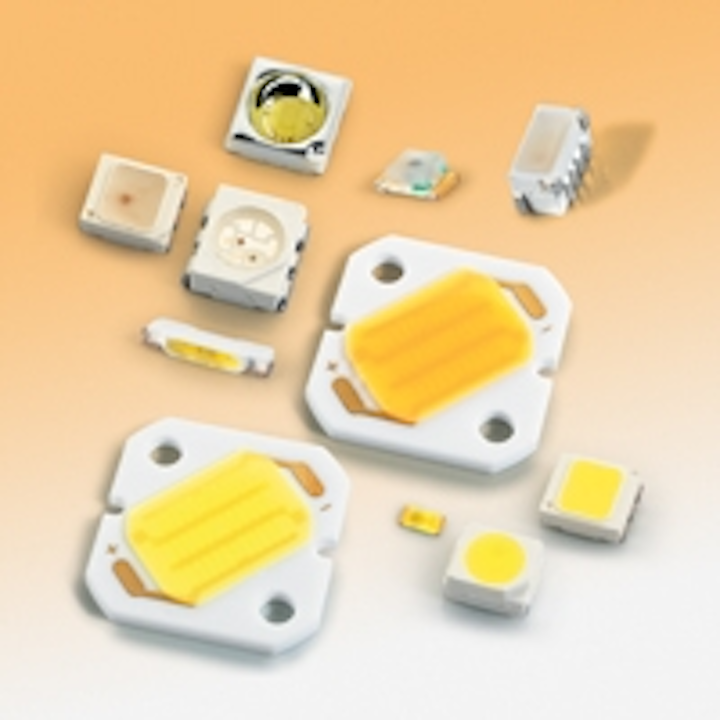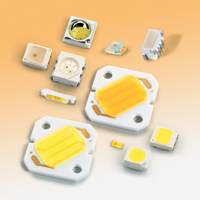 Date Announced: 22 Jun 2009
In addition to the LED Lighting Module "Zenigata", Sharp is expanding its LED portfolio with white and RGB high brightness chip LEDs. Consisting of 21 different white light LEDs and 11 monochrome and RGB LEDs.
Due to the light performance of up to 90 lumen per watt (depending on model), LEDs from Sharp are among the leading components in terms of brightness and energy efficiency. Providing an extremely long service life; depending on type, 40,000 h at substrate temp of up to 80°C.
The new LED components from Sharp are ideal for use in applications requiring high brightness and a compact form factor.
• Colour temperature of white LEDs 2.200K to 11.500K
• CRI up to 90
• Radiation angles of 120° and 130°
• Light output up to 6.4cdat power consumption 0.01 to 0.2W
• Standard 3228 package height of 1.9mm and 0.9mm
• Ultra small package 1.6 x 0.8mm, minimum height 0.2mm
Sharp is offering brick-shaped multi-chip LEDs, Flash Bricks, that can be processed by reflow soldering. Despite their small size dimensions of 2.6 x 1.6 x 0.7 mm they provide a high light performance of up to 39 lumen. They are particularly suited for applications which require a high brightness but allow limited space for design-in at the same time.
Flash LEDs as well as Side Shoot LEDs, which are used for mobile phones and other portable applications will complete the portfolio of white light LEDs. Sharp is also offering a portfolio of monochrome colour and RGB LEDs. They are available in different packages and size; 3228 models for general lighting applications as well as side shoot and ultra small LEDs.
Sharp continues to add to its family of white Light Emitting Diodes (LEDs). These High Brightness (HB) LEDs are specifically designed with small packages for space-limited applications such as display illumination for hand-held or portable devices. The LEDs are well suited for many consumer and commercial lighting applications that have traditionally used conventional incandescent or other technologies, but offer long operating life and low power consumption.
Contact
For technical assistance contact Alan Marsh, APC hero 01480 226644 For commercial assistance contact Angie Parker, AC hero 01480 226603
E-mail:sales@apc-hero.co.uk
Web Site:www.apc-plc.co.uk