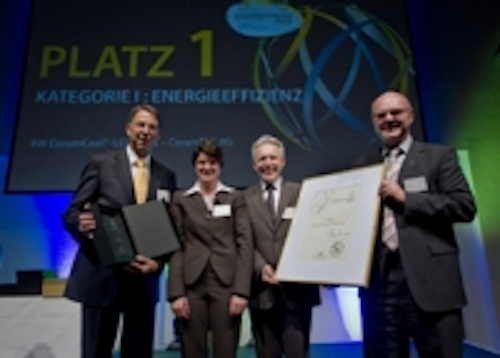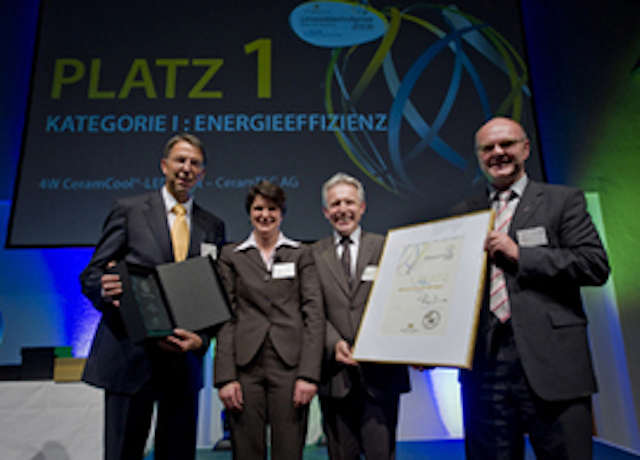 Date Announced: 26 Jun 2009
Stuttgart-Römerkastell, June 24th, 2009. Environment minister Tanja Gönner awards the 1st prize of the Baden-Württemberg environmental technology award to CeramTec AG, based in Plochingen.
This means the CeramCool LED Spot, made entirely of ceramic, is the winner in the energy efficiency category! The Environment Ministry is awarding the prize in 2009 for the first time for outstanding and innovative products in environmental technology.
"Our winner, the CeramCool LED Spot, is a further symbol of the environmental friendliness and innovative strength of CeramTec AG. We are proud of this honor," said Rolf Michael Mueller, head of finance at the company.
LEDs are environmentally friendly but tend to get overheated. Due to this, the failure rate in the first 1,000 hours acts as a disincentive to purchase.
Even more environmental benefits are provided by the award-winning CeramCool LED Spot, thanks to its high reliability. It is of full ceramic construction and eliminates thermal barriers thanks to its metallic solder joint between ceramic and LED. This powerful connection pays dividends, as early failures due to delamination are eliminated.
What's more, due to its efficient thermal management the temperature at the hot-spot is measurably reduced, which increases component life and luminous flux. Using the CeramCool LED Spot saves energy by around 90% and reduces waste by 90% in comparison to halogen lamps.
Contact
CeramTec AG
E-mail:R.Herrmann@ceramtec.de
Web Site:www.ceramtec.com