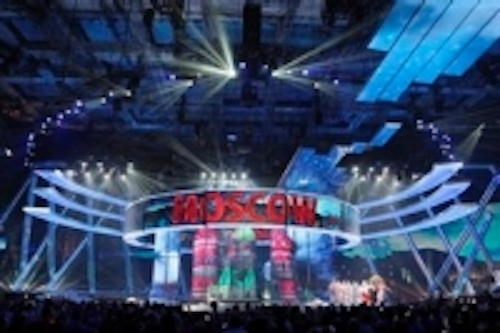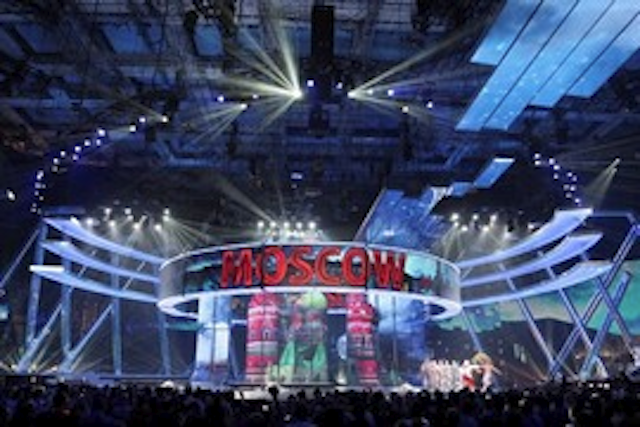 Date Announced: 02 Jun 2009
Over 1,100 m2 of LC panels team with nearly 500 MAC luminaires and more on Europe's annual premiere music competition
Martin Professional again played a starring role in the Eurovision Song Contest, this year with a remarkable 1,120 m2 Martin LC Series™ LED panel backdrop specified by award-winning UK lighting designer Al Gurdon of Incandescent Design.
But that's not all. The rig was dripping in other Martin gear: 400 MAC 2000 Washes™, 76 MAC 600™ washlights and 112 Atomic 3000™ strobes with an extra 20 MAC 600s adding color to the VIP Green Room. Main technical supplier for the Eurovision Song Contest was PROCON Event Engineering GmbH. PRG served as a secondary supplier with a local Russian contractor also supplying some equipment. Supervising all of this was Rich Gorrod, overall gaffer from Incandescent Design.
Apart from the opening ceremony of the Beijing Olympics, perhaps no event has featured so much LED surface; 2.000m² in total. Other numbers were also huge: over 750 moving heads and over 100 km of various cabling. PROCON sent 42 trailer trucks with technical equipment and a team of more than 70 people to this year's event.
After two semi-final shows, the final was held on Saturday, May 16th from Olimpiysky Arena in Moscow with Norway crowned as this year's champion.
Dynamic backdrop
Gurdon's company Incandescent Design was contracted to provide the core team (17 in all) to deliver the 'creative front end' for the production. The amount of square footage of video was unprecedented for this type of show with the LC wall the key background element of the set design. "The set was an environment that was almost entirely video and my job as lighting designer was to make the most of that, to work with it and integrate the lighting with it," explains LD Al Gurdon.
Gurdon says he started with the video as the key or base to the look of each song and then built the lighting around it. Sometimes the video was changed dramatically to better underpin the musical tone and dynamics.
The LC wall served as a powerful and customizable dynamic background. It was made up of three overlapping sections (for set change purposes), each section about 35 meters long and 11-12 meters high.
"The LED panels had to be something relatively low res and low cost but still sufficient," Gurdon stated. "Weight was also a significant factor. There were weight issues in the arena and we couldn't hang them so they were supported by a large scaffold wall. Something higher res obviously would have been greater cost and heavier."
At only 19.4 kg per panel (LC 2140), the LC is easy to handle, cutting costs and time. And with standard Prolyte CCS6 conical truss connectors, connecting the lightweight units together is simple. The panels require no external power supplies or drivers; each unit comes with everything it needs built in.
Painting video on a large canvass
This year's Eurovision was seen by an estimated television audience of 105 million from across Europe and beyond. TV images were consistently impressive, the camera picking up on even the slightest graphical detail.
"Generally the LC wall worked very well as there was a sufficient distance from the camera and it worked in relation to the rest of the set," Gurdon summarizes. "We deliberately organized it so the high res LED was closer to the camera and the low res further away. It worked very well."
Most video content was created by a Russian team of about 10 people who worked round the clock for months. The creative input came principally from Andrei Boltenko, who directed the show.
"I think they did a fantastic job," Gurdon says. "My content creator / technicians were also making some supplementary content. We did three of the songs entirely, but the main job was to prepare the content we received for the screens configuration that we had, to time code it, and to modify it and re-render it where we felt that it needed it (most songs had modifications of some description from the original delivered to us).
"I think that's what made it very successful, rather than using video gobos or just graphics wallpaper. It allowed us to give the set an architecture that had relevance to each song."
Head of Incandescent Design's department for all things video related was Ian Reith. He commented, "The LC was an excellent product to use, especially on such a huge scale. It was both reliable and provided the show with some epic scenes, being such a huge backdrop to the stage. It's not often you get to paint video on such a large canvas as we had with this large configuration of LC so we made the most of this occasion and hope one day we can do so again."
And lighting, too
The show's visual component was by no means only video. As far as the lighting scheme, Gurdon began work on lighting looks before knowing what songs he would be dealing with "as that's just the reality of schedules and deadlines," he says. "When we did get the songs, a few weeks before the show, we broke them down into musical sections and went from there."
Gurdon had over 750 moving lights as well as conventionals at his disposal. "There are moments in the show when the lighting takes precedence and moments when the video takes precedence, although you can't see them as separate elements. Sometimes we darkened the video content down in order to give more contrast to the people on stage, to give the lighting more prominence at certain points," he states.
The bulk of the 400 MAC 2000 Washes were used for audience lighting and were positioned in truss above the LC wall with a line at the bottom of the LC screen. The MAC 600s provided color onto cycs with most of the Atomic strobes adding punch from behind the LC wall.
Martin Equipment:
400 x Martin MAC 2000 Wash™
96 x Martin MAC 600™
112 x Martin Atomic 3000 DMX™
560 x Martin LC Series™ (2140)
4 x Martin Maxedia PRO™
Incandescent Design
Lighting Designer: Al Gurdon
Lighting Programmers: Andrew Voller, Ben Cracknell
Catalyst Operator / Additional Content: Ian Reith
Catalyst Technician: Nev Bull
Catalyst Technicians / Additional Content: Lauren Cahill, Dave Newton
Lighting Gaffers: Rich Gorrod, Dave Hallett
Administrative Assistant: Kerrie-Ann Keogh
Green Room Lighting Board Operator: Dave Hallett
Spot Callers: Peter Canning, Olga Ostrovskaya
PROCON
Production Manager: Ola Melzig
Assisting Production Manager: Tobias Åberg
Technical Production Manager: Matthias Rau
Crew Chief Lighting: Frank Karpinski
Crew Chief Video: Marco Scholwin, Hans Cromheecke
Lighting System Engineers: Dennis Drewen, Johannes Wahl
Media Server Managers: Jan Schröder, Mike Redmer
Production Management
M & M Production Management
Photos courtesy of M & M Production Mgmt
Martin Professional
Founded in 1986 and headquartered in Aarhus, Denmark, Martin Professional is a world leader in the creation of dynamic lighting solutions for the entertainment, architectural, and commercial sectors. Martin lighting solutions are industry standard on top tours and events, grace prestigious theatres, energize nightclubs, and decorate major television studios around the globe. Other important areas of application are indoor and outdoor architecture and commercial settings where Martin products are increasingly being used to transform spaces through dynamic light. Martin also offers a range of advanced lighting controllers and media servers, as well as a complete line of smoke machines as a complement to intelligent lighting. The company operates the industry's most complete and capable distributor network with local partners in nearly 100 countries.
Contact
PR Coordinator Larry Beck Martin Professional
E-mail:larry.beck@martin.dk
Web Site:www.martin.com