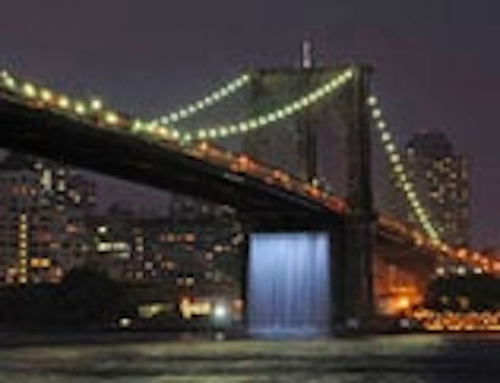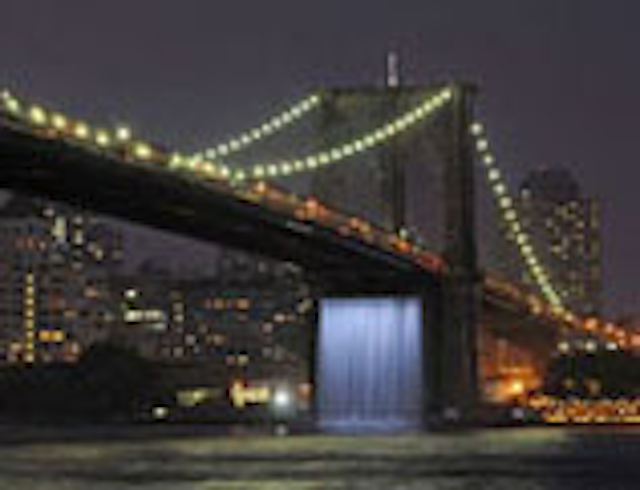 Date Announced: 24 Jun 2009
The New York City Waterfalls exhibition was commissioned by the Public Art Fund, which is organizing the public art work in collaboration with City of New York. (For further details, see
www.publicartfund.org
)
The spectacle will be one of four manmade waterfalls built on the shores of the city's East River. The water will course over scaffolding 90 to 120 feet high, from June 26 to Oct. 15, from 7 a.m. to 10 p.m. daily, and will be illuminated after sunset. The locations will be the Brooklyn base of the Brooklyn Bridge, Governor's Island, Pier 35 in Lower Manhattan, and between Piers 4 and 5 in Brooklyn.
Leading the construction team was Tishman Construction Corporation, a privately-held firm headquartered in New York City with operating subsidiaries located across the United States. Tishman Construction worked with the Public Art Fund, engineers and contractors to help create the installation. Lighting designer was Jaros Baum & Bolles. Enterprise Lighting was the lighting representative firm.
Boca SBL-HO Brick Lights were selected for their ability to withstand wet conditions, very easy plug and go installation, brightness of the LEDs and on board power supply and DMX.
"Boca is honored to be involved as the lighting product manufacturer in the Public Art Funds' newest monumental art installation," said David Urban, VP of Sales. "We also pride ourselves in that our LED lighting products were able to meet the design challenges and contribute to the overall effect the artist envisioned."
About the Artist
Olafur Eliasson was born in Copenhagen in 1967, and grew up in both Iceland and Denmark. Throughout his career, he has taken inspiration from natural elements and phenomena, such as light, wind, fog, and
water, to create sculptures and installations that evoke sensory experiences.
Boca Flasher, Inc.
Boca Flasher is an USA developer and manufacturer of LED lighting systems. Our LED fixtures, strip lighting, lamps, bulbs and unique products have been integrated into large and smaller scale architectural, entertainment and other applications.
Contact
Boca Flasher Dave Urban VP of Sales Boca Raton, FL 561-982-8327
E-mail:info@bocaflasher.com
Web Site:www.bocaflasher.com