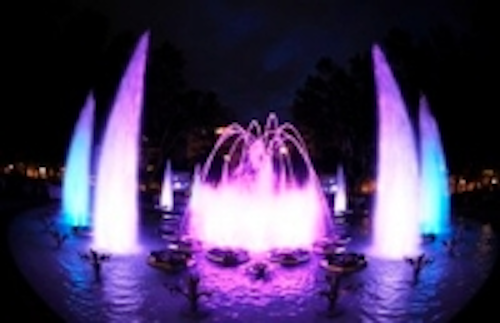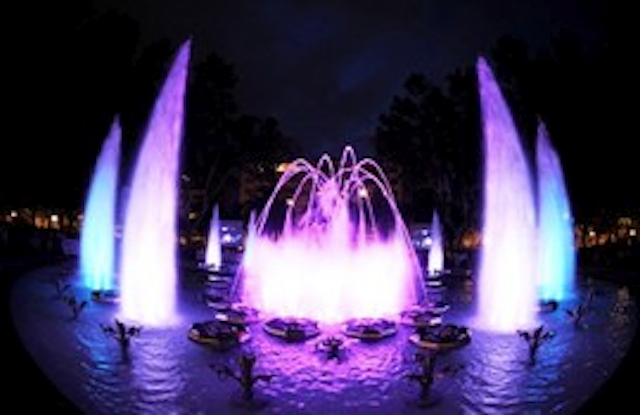 Date Announced: 11 Jun 2009
This summer, the residents and tourists in Perpignan, located in the south of France, can enjoy a unique, dramatic fountain that uses computer controlled luminaires with LUXEON LEDs to create a light and water show. The distinctive design of the fountain, built by Sacopa, occupies a space 30m in diameter in the center of the city, incorporates 217 separate water jets and 900 centrally-controlled LUXEON LED points of light.
The choreography required to create the stunning new fountains started with a simple but challenging brief from the Perpignan city council, which commissioned the work: Create a spectacular, permanent water-and-light show that would be a regional attraction—like the London Eye or the Pompidou Center in Paris—and thus attract tourists and other visitors to Perpignan.
The city provided the land and infrastructure, and the design and construction would be done by Fluidra, the Spanish multi-national dedicated to developing applications for sustainable water use. The lighting solutions for the new fountain were designed and built by Sacopa, a Spanish division of Fluidra that specializes in the development of LED lighting for aquatic applications and already had expertise in the design of distributed control systems that integrate color-changing light schemes, sound, and water effects.
The designers and engineers at Sacopa understood that the small size and the longevity of LEDs were the only solution that would allow the creation of a vast installation covering a wide floor area with an unusually large number of individual light sources. This would satisfy the requirement for a spectacular and novel effect, since fountain lighting is traditionally designed with small numbers of large spotlights illuminating a few water sources.
Each of the fixtures, which can produce 16,000,000 colors, is connected to a DMX network controller. Sacopa's DMX controller uses the LEDs' ability to be blinked, dimmed, flashed, and (in tri-color configurations) color-changed, to produce routines in which this vast array of water jets leaps and dances in synch to music—with flashes or washes of light turning on and off, fading and changing color in time.
The excellent thermal performance of the flower fixtures and of the LUXEON K2 LEDs also enhances the efficiency of the lights: at full power, each LED consumes 3W, and each RGB luminaire consumes 11W in total. Thus the complete installation consumes 9,900W (maximum).
Sacopa expects their lighting solutions for the Perpignan fountains to last ~27 years, assuming five hours of use a day, 365 days a year.
The installation went live in July 2008, and has since been thrilling crowds of townspeople and visitors nightly.
About Philips Lumileds
Philips Lumileds is the world's leading provider of power LEDs for illumination solutions. The company's leading light output, efficacy and thermal management are direct results of the ongoing commitment to advancing solid-state lighting technology and enabling lighting solutions that are more environmentally friendly, help reduce CO2 emissions and reduce the need for power plant expansion. Philips Lumileds' LUXEON LEDs are enabling new solutions for shop lighting, outdoor lighting, office and school lighting, and home lighting.
About Royal Philips Electronics
Royal Philips Electronics of the Netherlands (NYSE: PHG, AEX: PHI) is a diversified Health and Well-being company, focused on improving people's lives through timely innovations. As a world leader in healthcare, lifestyle and lighting, Philips integrates technologies and design into people-centric solutions, based on fundamental customer insights and the brand promise of "sense and simplicity". Headquartered in the Netherlands, Philips employs approximately 116,000 employees in more than 60 countries worldwide. With sales of EUR 26 billion in 2008, the company is a market leader in cardiac care, acute care and home healthcare, energy efficient lighting solutions and new lighting applications, as well as lifestyle products for personal well-being and pleasure with strong leadership positions in flat TV, male shaving and grooming, portable entertainment and oral healthcare.
Contact
Philips Lumileds through Future Lighting Solutions
E-mail:americas@futurelightingsolutions.com
Web Site:www.philipslumileds.com