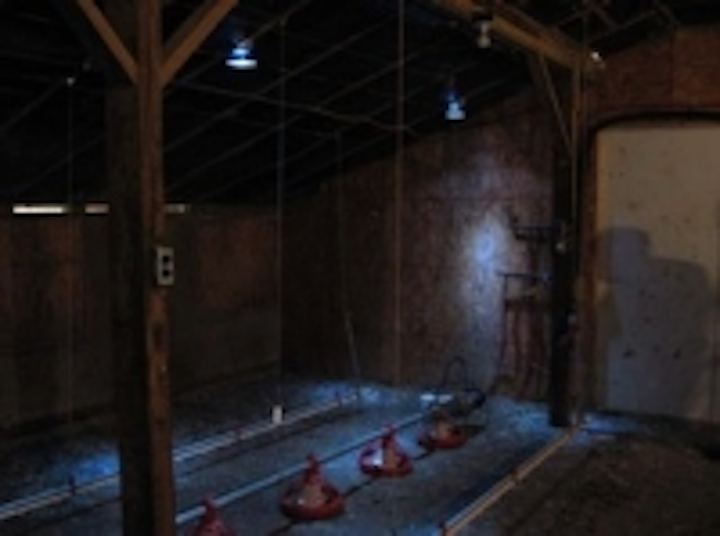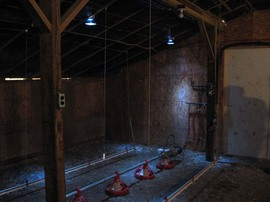 Date Announced: 19 Jun 2009
The AviLighting™ System is a unique LED lighting system (with solar power option) for animal rearing facilities developed by poultry scientist and agricultural engineer, Dr. James L. McNaughton. This system provides super-bright, low wattage lighting, while allowing animal producers to save tremendous energy expenditures and recoup equipment and installation costs in approximately less than two years.
Each LED fixture has been designed, built and engineered specifically for use in poultry houses by Dr. James McNaughton, who has over 30 year's experience in the poultry industry. Historically, there has been little progress in using LED lighting in poultry rearing facilities for multiple reasons. First, prior to now, there have not been LED fixtures that can provide the needed consistent brightness levels (foot candles) high enough to maintain adequate bird health, performance (weight gain & feed conversion), or be considered humane light levels. University tests have been conducted which show there is no drop in bird performance with the use of the AviLighting™ System.
Since poultry houses have ceilings that are up to 11 feet high, brightness has been one limiting factor in product development. Also, since poultry houses can be up to 40 feet wide and 650 feet long, the problem has been too much variation with LED light intensity along the lines when using direct AC power. AviLighting™ LED Light System was specifically designed to prevent voltage drops.
Dr. McNaughton has developed a digitally-controlled lighting system that steps down 110-120VAC power to 24DCV via junction boxes close to the fixtures within the house itself. This has guaranteed enough light intensity and consistency for proper poultry growing operations. The AviLighting System can also be supplemented with solar panels to reduce even more the reliance on AC power from the grid.
Benefit
Each LED fixture in the AviLighting™ System draws between 1 and 1.7 W, which is significantly lower and much more efficient than incandescent, cold cathode, or fluorescent bulbs. This is a tremendous savings in energy, and with the solar option, even more so.
Current market status
AviLighting™ System has been on the market for approximately two months. There is already significant interest in the USA and abroad, orders have been placed and a few systems have been installed.
System specifications
- LED fixtures may be powered either by solar or AC power.
- Each 24VDC AviLighting™ System LED fixture draws apx. 460 amps.
- One typical house circuit with 250 AviLighting™ System LED fixtures would consume less than 400 watts of power.
- Electrical wires are plugged into a wiring harness fitting about 12.7cm lead on each fixture.
- AviLightingTM System can be switched on by either timer or manually.
**The photo shows the lighting system within a poultry house. The brightness on the floor was consistently measured at 3-4 foot candles. The picture may not convey the brightness correctly, but 3-4 foot candles is enough to humanely rear poultry without any drop in performance. In fact, many poultry integrators use below 3-4 foot candles with incandescent or fluorescent.**
Contact
Damon Fodge Sales & Marketing DF International, LLC USA Traders for Rational Sustainability mobile: +001 202 365 3852
E-mail:damonfodge@gmail.com
Web Site:www.azomiteinternational.com