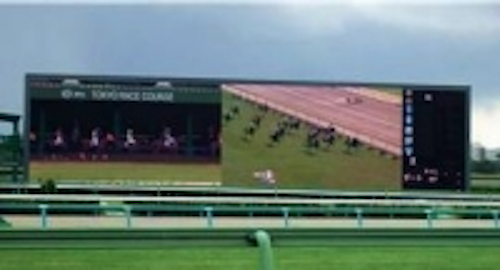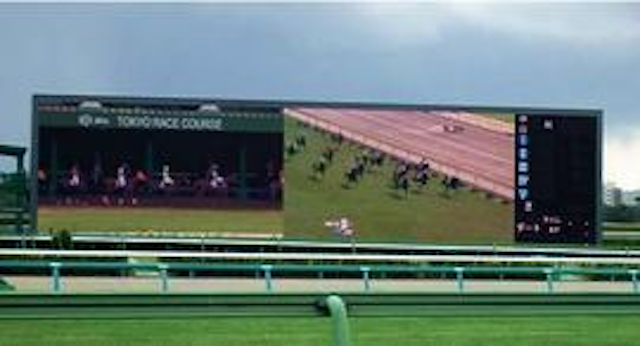 Date Announced: 02 Sep 2009
Mitsubishi Electric announced today that it has completed installation of two multi-screen Diamond Vision systems at the Japan Racing Association's (JRA) Nakayama Racecourse in Funabashi City, Chiba Prefecture, Japan. Dubbed "Turf Vision", the new screens will go live for the first time on September 12th for the opening day of the Fourth Nakayama Keiba horse race.
Based on Mitsubishi's 12.5mm dot pitch LED screen technology and its latest digital screen controllers, the two Turf Vision screens are able to display a mixture of high-quality video content and a variety of useful information to race course visitors. The 40.8 m wide and 9.6 m high Turf Vision 1 is installed on the left-hand side of the front stand. This screen can be divided into two parts, to simultaneously display separate content such as dynamic real-time media streams and race results. The Turf Vision 2 screen installed on the right-hand side is 14.4 m wide x 8.0 m high, and will feature displays of the race track, paddock and racing odds.
Mitsubishi Electric Diamond Vision screens have been incredibly successful in Japan in a wide variety of applications including baseball and football stadiums, horse racing courses and other sporting venues. Recent installations at racetracks in Japan include the 204sq.m screen for the Biwako Kyotei (boat race) in March 2008, the 206 sq.m screen for the Utsunomiya Keirin (bicycle racetrack) in March 2009, the 59 sq.m screen for the Maebashi Keirin in April 2009 and the 101 sq.m screen for the JRA Sapporo Racecourse in June 2009.
Contact
Ralph Shephard European marketing manager - VIS Mitsubishi Electric Europe BV Travellers Lane Hatfield AL10 8XB United Kingdom Issued in the UK by EIDO Public Relations
E-mail:mitsubishi@eido-pr.eu
Web Site:www.mitsubishidisplayengineering.com