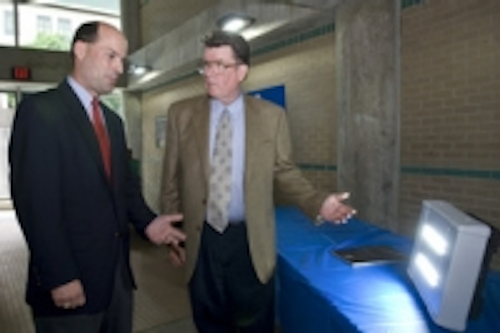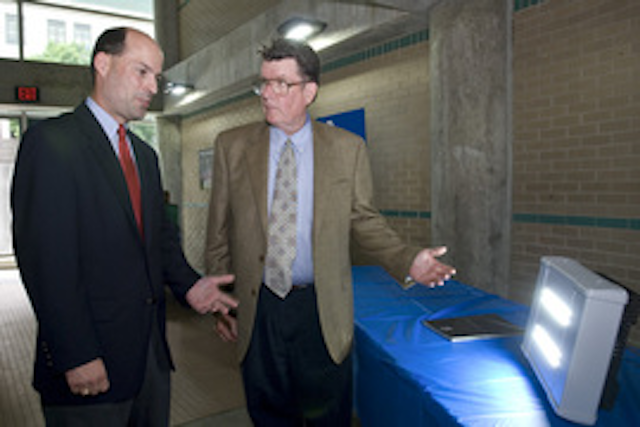 Date Announced: 07 Sep 2009
MILWAUKEE, Wis. -– Milwaukee Area Technical College (MATC) recently completed replacing high pressure sodium fixtures with LED luminaires in a six-story, 900-vehicle facility at its downtown Milwaukee campus.
The 511 new BetaLED fixtures are anticipated to reduce energy consumption by 55 percent and virtually eliminate maintenance costs for 20 to 25 years in the facility.
"This project is another sign of Milwaukee Area Technical College's commitment to sustainability," said Dr. Vicki J. Martin, MATC interim president. "Not only are we reducing our energy consumption with the new LED fixtures, but we also have added sensors that will provide a more economical method of lighting a portion of the parking facility."
According to Bloomberg.com, in 2008 energy costs for U.S. colleges and universities soared 14 percent in a one-year period. Typically, lighting is viewed as a fixed expense but with the tremendous advances in technology there are opportunities to save on energy and maintenance costs.
"Using an advanced optical design, BetaLED parking fixtures illuminate with whiter light and better uniformity increasing visibility and safety for pedestrians and motorists," said Al Ruud, president of Beta Lighting.
LED fixtures have longer life-spans, reduced maintenance and greater efficiency than traditional lighting fixtures. And with no warm-up time, greater clarity and no mercury content, LED fixtures offer an attractive option for parking garage applications.
The project was completed by Johnson Controls, who engaged Electrical Systems & Services, a minority-owned electrical contractor based in Sturtevant, Wis., to perform much of the installation work. The LED fixtures were manufactured and distributed by BetaLED, a company that dedicates resources to the emerging use of LED technology for general illumination that is also based in Sturtevant, Wis.
About MATC
The largest technical college in the state, Milwaukee Area Technical College is a key driver of the economy in southeastern Wisconsin. MATC offers 200 degrees, diplomas, certificates and apprenticeships, plus nearly 400 transfer options leading to bachelor's degrees. A large pre-college program enables people to complete high school and prepare for higher learning. The Office of Corporate Learning provides customized training to incumbent workers. Approximately 48,000 students per year attend the college's four campuses, numerous evening centers and community-based sites, or learn online. Overwhelmingly, MATC graduates build careers and businesses right here at home. Visit www.matc.edu.
About BetaLED
BetaLED, a brand of Beta Lighting, was established to dedicate resources to the emerging use of LED technology for general illumination. Beta Lighting, a division of Ruud Lighting, Inc., provides the lighting market with high-quality, specification-grade luminaires for exterior lighting applications. For additional exterior LED luminaire information, visit www.betaled.com.
Contact
Kathleen Hohl MATC Communications and Events Director (414)297-6208 Caryn Melton, PR Counsel, BetaLED (414)305-5541
E-mail:hohlk@matc.edu; caryn_melton@yahoo.com
Web Site:www.betaled.com