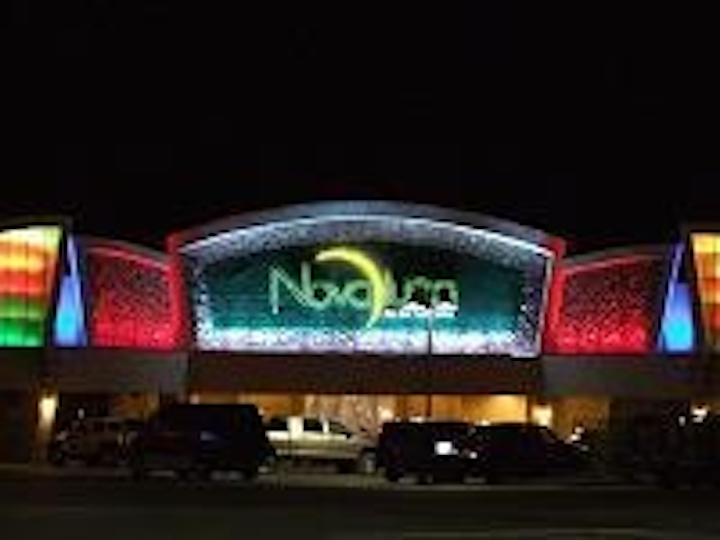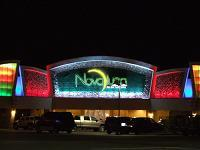 Date Announced: 10 Sep 2009
EL PASO, TX -- You don't have to be in Las Vegas to find a Vegas-style club -- but what about a shopping center that looks like it's a Vegas club? El Paso developer Alex Diaz has created both eye-popping visual experiences with his new Windmill Shopping Center complex, a 12-storefront strip center aglow with 600 ft. of LEDs across its frontage, and a hot live music club, Nova Luna (also owned by Diaz), in its most prominent spot.
On any given night, the Windmill center's color-changing LED light show stops traffic, drawing gawkers into the parking lot to watch mesmerizing chases and patterns play across the building's front. Those in a clubbing mood (and who isn't after getting juiced up by the lights!) can step into Nova Luna itself, where they'll enjoy live Spanish alternative rock, sushi, and more breathtaking visual effects, such as a strobing fighter jet above the bar.
The lighting for both the Windmill Shopping Center and Nova Luna Ultra Bar was designed by H.B. Electronics (El Paso), using products from Elation Professional and its sister companies Acclaim Lighting and American DJ. Although the project wound up being massive -- more than 650 units of 20 different lighting fixtures from the three suppliers – it didn't start out anywhere near that scope, says H.B. Electronics' Esteban De La Torre.
"The owner came in saying he wanted something pretty basic – maybe just 20 color bars to light up the building," recalled De La Torre. "But when we looked at the project and saw all the different possibilities and showed them what we could do, they wound up going for it."
Those "different possibilities" were inspired by the center's unique architectural style, which features contrasting designs and materials across the tops of the storefronts. There are four sections that resemble grids, one at each end of the building and two on either side Nova Luna, which occupies the central position. In between the grids are sections made of two different materials – rocks and artificial turf. The idea behind having these varying textures was so that the building would "not be so much of a monotone in the daytime," said De La Torre. "So we thought the different sections should be lit up differently at night, too."
To light the four grid sections, H.B. Electronics installed a total of 310 Acclaim AL-Bar 875s, a 35" long IP-65-rated linear RGB SMD LED bar. The AL-Bars are used to create a checkerboard-like effect on the grids, with the individual squares programmed to change colors and chase independently of each other. For the rock and artificial turf sections, a 1-meter outdoor RGB LED bar from Elation was used, the ELAR EXBAR, which comes in die-cast aluminum housing and is rated at IP44. A total of 110 ELAR EXBARs provide color-changing effects on the rock and turf, as well as fill-in lighting in the gaps between the sections. Two additional IP65-rated Elation ELAR RGB LED products, the EXPAR par can and EXFLOOD floodlight round out the exterior lighting gear.
Initial programming of the building exterior took about a week and was performed by De La Torre, with help from his Elation sales rep Red Walter of Professional Sound and Lighting Products, using Elation's Compu 2048 PC-based DMX control system. The result, says De La Torre, is like "something you'd see in Las Vegas at the big casinos." A different set of scenes plays each day of the week (Monday, Tuesday etc.), then repeats itself the following week. The next month, all-new shows are featured for each day.
Interestingly, it was the Windmill center's archi-tainment lighting that served as the inspiration for its owner's launching of the Nova Luna club. Initially, Diaz was "just going to be a landlord and rent out space," said De La Torre. But as plans got more elaborate for the exterior lighting, "the idea came up, why not bring what's going on outside to the inside and open a nightclub."
That said, Nova Luna looks like anything but an afterthought. The 500-person-capacity club's visual effects are just as distinctive and spectacular as the exterior. Stepping inside, patrons are greeted by what looks to be a gigantic F-15 fighter jet over the bar, with 5 American DJ Mega Flash DMX strobes on each of its wings. To give the "jet" a glowing effect, each of its wing sections is outlined with Elation Flex LED tape, a thin RGB LED circuit strip, that makes it look "very futuristic, kind of like a UFO," said De La Torre.
The club's 25' x 30' stage is lit up with Elation Design Spot 250 hybrid wash/spot DMX moving heads and American DJ Punch LED Pro RGB panels. The stage's backdrop is a huge video wall, created with 24 Acclaim X Panel low-res RGB LED tiles, which "allows the engineers for the bands to incorporate their logos and a bunch of graphics," said De La Torre.
Another unusual visual feature is a giant grid-like matrix in the VIP section, consisting of 90 Acclaim X-Dome LEDs, which are mounted in aluminum plates. Using the plates "triples the size of the effect we get from each X-Dome," said De La Torre, "and makes it look like giant circles lighting up." There are also 5 American DJ 20" Mirror Balls mounted on overhead circle trussing, which are lit by 20 American DJ LED TriSpots. The TriSpots are LED pinspots that each contain a 3-watt tri-color LED, which can produce a variety of color effects.
"Between the moving heads and the LED TriSpots, we're able to get two very different effects with the mirrorballs," said De La Torre. "With the LEDs, we can do some real low ambient lighting, but with a lot of color changing going on. The moving heads give us that real bright-impact disco mirrorball look." Like the lighting on building's exterior, the effects inside Nova Luna are run with an Elation Compu 2048 system.
As traffic-stopping as the Windmill center's light show is now, plans call for morphing it into an even more impactful entertainment experience in the future, De La Torre said. "We will be installing speakers outside, and having a light show play across the shopping center in sync with the music for special occasions such as Christmas and the 4th of July."
To see the Windmill Shopping Center's lights in action, click link below:
http://www.youtube.com/watch?v=frCdcjd5jSg
Contact
For more information on Elation Professional, call 866-245-6726 or visit www.elationlighting.com For more information on Acclaim Lighting, call 323-317-9800 or visit www.acclaimlighting.com For more information on American DJ, call 800-322-6337, or visit www.americandj.com For more information on H.B. Stage Productions, call 915-775-2552 or visit www.hbstageproductions.com
E-mail:abby@fucinipro.com
Web Site:www.americandj.com www.acclaimlighting.com www.elationlighting.com