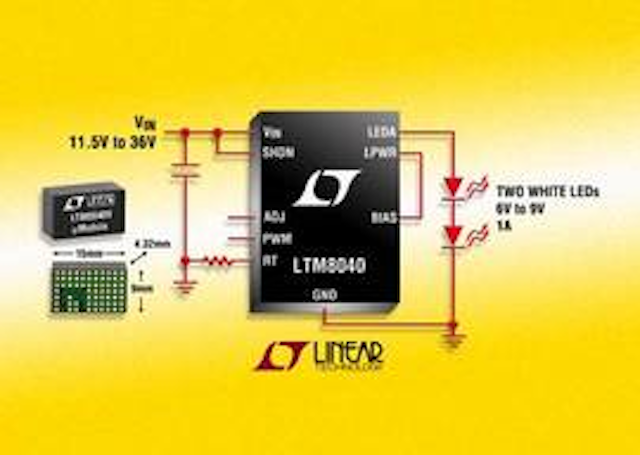 Date Announced: 10 Sep 2009
Linear Technology has introduced the LTM8040, the first of a new family of DC/DC µModule LED drivers that contains all the circuitry, including the inductor, in a compact 9 x 15 x 4.32 mm surface-mount package.
Driving an LED string with the LTM8040 is as simple as adding the input capacitor and connecting the LED string. The LTM8040 can drive from 0A to 1A through a string of LEDs with ±2% accuracy at full load current.
The device protects against an accidental open LED string with its output voltage clamp circuitry and against short-circuit incidents with a frequency foldback scheme.
The LTM8040 has applications in 2-cell Li-Ion battery packs, rectified 12VAC and industrial 24V for LCD backlighting, portable lighting, and wide area lighting.
The LTM8040 can convert an input voltage range of 4V to 36V to a lower voltage ranging from 2.5V to 13V, suitable for driving a wide variety of color and white LEDs with different voltage-drops (VD).
The device also features both analog and True Color PWM™ dimming, allowing a 400:1 constant color dimming range. The LED current amplitude can be linearly controlled from 0A to 1A with a single resistor. The default switching frequency is 500kHz, which can be adjusted with a resistor for up to 2MHz operation.
The LTM8040 is housed in a 9 x 15 x 4.32 mm land grid array (LGA) package and is offered in two temperature grades of 0°C to 125°C and -40°C to 125°C (internal package temperature). 1,000-piece pricing starts at $7.45.
For more information, visit www.linear.com.
Summary of Features of the LTM8040:
· Complete 1A Step-Down Switching LED Driver & Current Source Circuit in a Single Package
· 4V to 36V Operating Input Range
· Precision LED Current Control from 0A to 1A
· Open LED & Short-Circuit Protection
· Less than 2uA Shut-Down Current
· Small Footprint, Low Profile 9mm x 15mm x 4.32mm LGA
Contact
UK, Ireland, South Africa and Israel: Alastair Boyd, Linear Technology (UK) Limited Tel: +44 (0)1628 477066 E-mail: aboyd@linear.com North America and General Information: Doug Dickinson, Linear Technology Corporation Tel: (408) 432 1900 ext. 2233 E-mail: ddickinson@linear.com
E-mail:uksales@linear.com
Web Site:www.linear.com