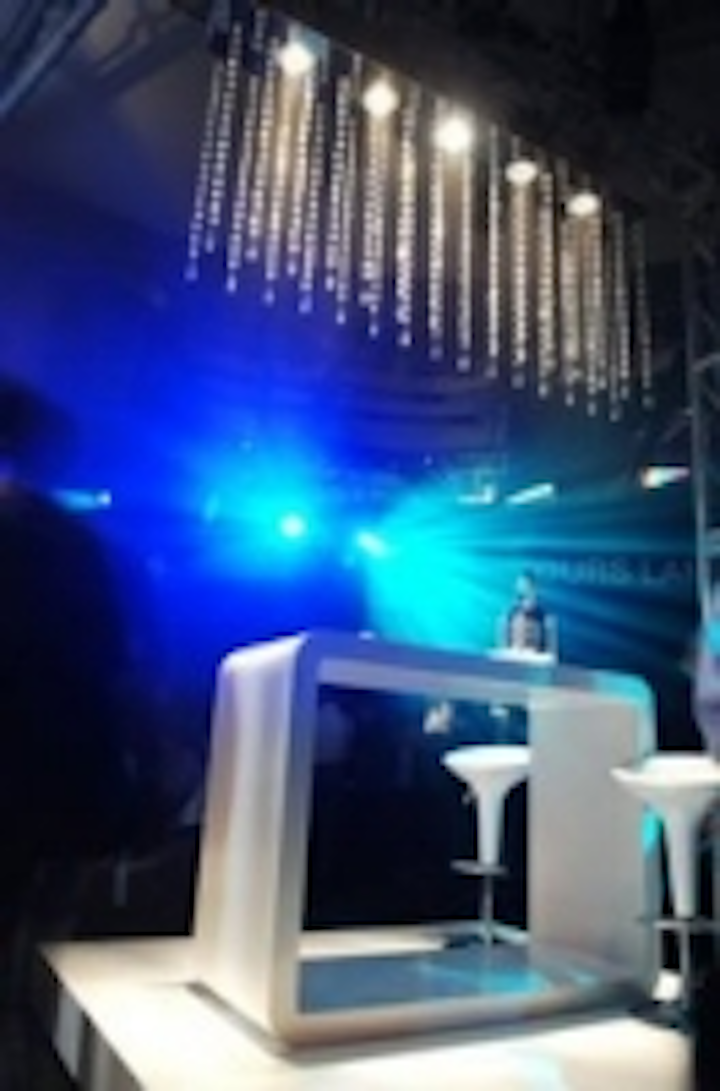 Date Announced: 28 Sep 2009
-- Leader in eco-friendly lighting products unveils the next generation of LED lighting technology in dazzling "Life in Light" event
Hong Kong -- MEGAMAN®, a leader in eco-friendly lighting solutions, has today unveiled its latest LED Reflector Series in the presence of over 200 distinguished guests, including top-notch architects, interior designers and real estate developers, as well as leading retail chain operators and prominent hoteliers, in an enchanting show event at Cyberport.
Guests of Honour attending the occasion include Mr. William Yue, Director of Corporate and External Affairs from Giordano International Limited, Mr. Peter Young, Head of Technical Services from Hongkong Land Limited, Mr. Kinney Chan, Chairman of the Hong Kong Interior Design Association, and Mr. Howard Ng, Senior Marketing Manager of MEGAMAN®.
Consistently standing at the forefront in the development of revolutionary lighting products that are greener and safer for the planet and mankind, MEGAMAN® has once again overwhelmed the industry with its newest breakthrough in LED technology. The new series offers more lumen output than other LEDs for the same wattage, achieving energy savings of up to 80% and a lamp life of up to 30,000 hours.
These ground-breaking lamps offer a direct one-for-one replacement for halogen lamps in terms of colour temperature and intensity. Taking advantage of its patented design and Thermal Conductive HighwayTM (TCH) technology, they offer a colour tolerance of just +/-100K shift in colour temperature – compared to an average of +/-400K for most other LEDs.
Making use of a very light heat sink, they will not tilt when installed in track spots. Moreover, the LEDs offer outstanding heat dissipation – in fact the LED chip can be touched during operation without danger of burning.
Powerful, highly efficient, and extremely long-lasting, the products are ideal for a myriad of retail, hospitality and household applications in creating the perfect ambience and decorative effects, significantly reducing electricity and relamping overheads.
The event commenced with an intricately choreographed medley of ballet, hip-hop and tap dances, featuring a young couple weaving in and out of various settings. From eye-catching spotlights in fashion stores, to the soothing ambience of an art gallery and the sophisticated mood lighting at a club scene, the versatility and quality performance of the new LED Reflector Series are presented in a novel and stunning "Life in Light" Lighting Parade.
"We are most pleased to see such a huge breakthrough in our technology. Our new LEDs outperform the existing LEDs in the market, making new applications possible and opening new horizons for our clients." remarked Mr. Howard Ng, Senior Marketing Manager of MEGAMAN®. "We are constantly striving to change the landscape of the lighting industry through research, product development and social awareness initiatives. Tomorrow is what we build of it today. We make it our mission to make every contribution possible."
Mr. William Yue from GIORDANO attested from a client's perspective. "Optimising lighting efficiency in our stores without compromising the visual appeal of the shopping environment has always been a challenge. Since October 2007, we have adopted the energy-saving propositions put forth by MEGAMAN® in 27 of our stores, including 2 that employed the new LED series, in alignment with our brand's environmental objectives."
Mr. Peter Young from renowned real estate developer Hongkong Land limited reinforced the importance of responsible use of energy. "Typically lighting consumes around 30% of energy use within buildings, and is an area where retro-fits can be done relatively easy, with new advances in LED technology now offering real opportunities to both efficiently reduce operational costs and reduce carbon footprints."
Mr. Kinney Chan, Chairman of the Hong Kong Interior Design Association, reinforced the future of LED lighting, "With such advancement in LED technology, designers will enjoy greater freedom in their lighting projects. In addition, many governments around the world are adopting policies in promotion of energy efficiency, with LED lighting central to many of such initiatives. As a result, I see immense potentials in the future of this technology."
Over the years, MEGAMAN® has been a staunch advocate in protecting the environment and building sustainability for future generations. Through responsible use of only eco-friendly components including lead-free glass tubes, recyclable plastic, water-based adhesive, liquid mercury free AMALGAM and RoHS compliant materials, in developing its range of energysaving lighting products, the Company is committed to reducing landfill waste and greenhouse gas emissions that contribute to global warming.
Contact
Gladys Ho Neonlite Electronic & Lighting (HK) Ltd MEGAMAN® Energy Saving Lamps Tel: (852) 2378 0073 Fax: (852) 2758 5957
E-mail:gladysho@neonlite.com.hk
Web Site:www.neonlite.com.hk