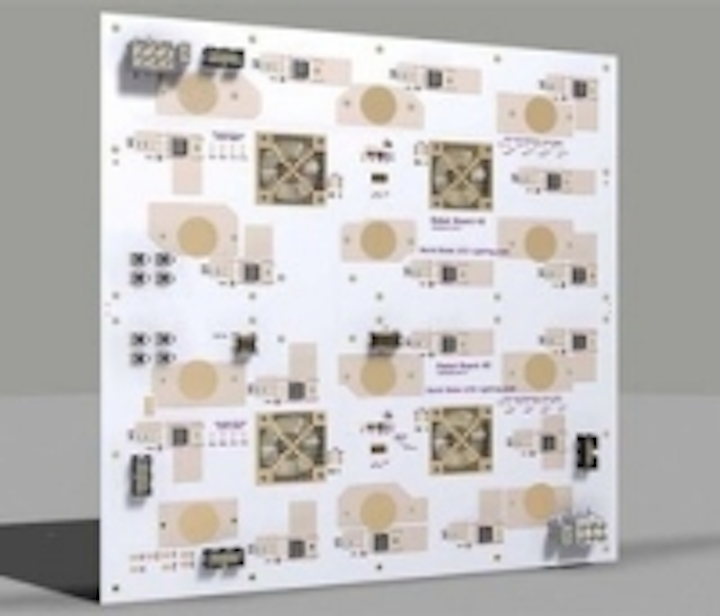 Date Announced: 30 Sep 2009
SolidStateLEDLighting.com today introduces a new All-In-One LED board product. This design utilizes up to 48 Luxeon Rebels and contains drivers, PWM dimming adjustment, and thermal control in one easy to manage and implement LED light board. The customer simply applies 12 volts and sets the light levels with push buttons to adjust 4 independent color circuits. Cooling control is automatic and self adjusting.
The Rebel Board 48 is a universal and modular offering designed to serve the needs of over-head lighting, out-door signage, video/photography, aquarium lighting, plant growth lighting, and a variety of other applications.
Features:
1 Foot Square (304mm x 304mm x 22mm)
Typical delivery of 5,760 Lumens with 48 Luxeon Cool White LXML-PWC1-0100 (400mA)
On-Board PWM control
Clustered LED design with 4 circuits for maximum color mixing
On-board thermal control and fan cooling capability
Operating board temperatures less than 65 degree C
Extremely low in cost
24 Volt Configuration Optional
Off-Board PWM Configuration Optional
Off-Board Driver Configuration Optional
About SolidStateLEDLighting:
Formerly AsianSignals, SolidStateLEDLighting.com is an American managed Thai company operating out of Asia. We specialize in larger scale computer controlled and programmable LED lighting systems. We also offer custom design services for those who need unique LED lighting assemblies. Our in-house product lines include LED mounting boards, computer control, and now All-In-One board products.
Contact
For more information on the Rebel Board 48 and our other LEDs offering please contact us at WebSales@AsianSignals.com or visit us as www.SolidStateLEDLighting.com
E-mail:WebSales@AsianSignals.com
Web Site:www.SolidStateLEDLighting.com