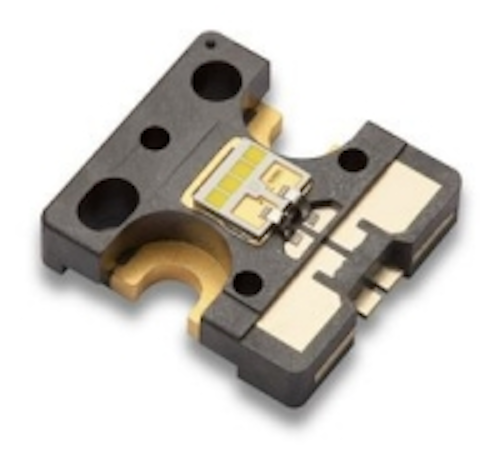 Date Announced: 08 Sep 2009
SAN JOSE, CA—Philips Lumileds today officially moved automotive forward lighting ahead with release of its LUXEON® Altilon power LEDs. Now, vehicle headlamp designers are free to use the latest solid-state technology to rethink the look and function of forward lighting.
Its small size, high brightness, and lower energy consumption make LUXEON Altilon a perfect choice for the next generation of advanced forward lighting solutions, high and low beam applications, daytime running lamps, static bending lamps and position lamps.
"LUXEON Altilon enables our automotive customers to provide forward lighting solutions that deliver never before possible performance and features while at the same time provide unique visual identities for their vehicle brands," said Steve Barlow, Executive VP of Sales and Marketing for Philips Lumileds.
"Using Philips Lumileds' Thin Film Flip Chip die to deliver superior performance, the LUXEON Altilon is the brightest automotive LED available".
Already implemented in the Audi R8 for low and high beam functions, LUXEON Altilon can deliver more than 850 lumens and 60 MNits at 1000mA and is AEC-Q101C qualified. The color temperature is 5600K and conforms to both ECE and SAE specifications.
Specifications and information about LUXEON Altilon are available in a product brief and datasheet. Both documents are available via the world-wide web at www.philipslumileds.com/solutions/automotivelighting.
About Philips Lumileds
Philips Lumileds is the world's leading provider of power LEDs for illumination solutions. The company's leading light output, efficacy and thermal management are direct results of the ongoing commitment to advancing solid-state lighting technology and enabling lighting solutions that are more environmentally friendly, help reduce CO2 emissions and reduce the need for power plant expansion. Philips Lumileds' LUXEON LEDs are enabling new solutions for shop, outdoor, office, school, and home lighting applications. More information about the company's LUXEON LED products and solid-state lighting technologies can be found at www.philipslumileds.com.
Contact
Tracy Annandale, TKO, tracy@tko.co.uk +44 (0)1444 473555 Heather Kelly, SSPR, heather@sspr.com +1 719-634-8274
E-mail:heather@sspr.com
Web Site:www.philipslumileds.com/solutions/automotivelighting