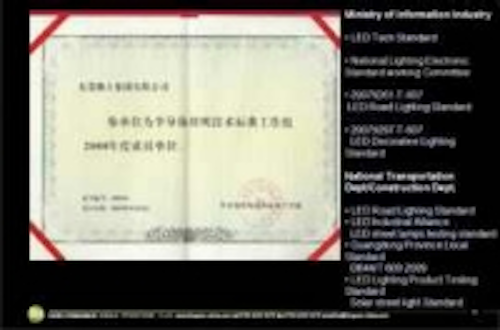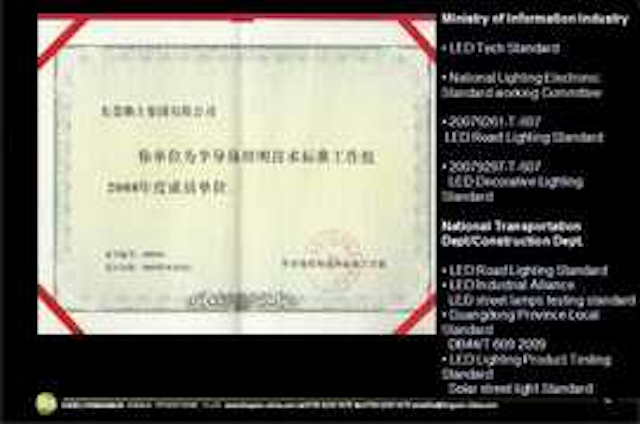 Date Announced: 15 Sep 2009
Good news from China News Guangdong Net. "Local Standard of LED Street Lamp in Guangdong Province" is effective from July, 1st, 2009. It is the first time for Guangdong Province to issue the local standard of LED street lamp which was launched and drafted by Kingsun Optoelectronics Co., Ltd!
Statistic shows that the quantity of LED lighting enterprises in Guangdong Province have occupied 40% in China LED lighting industry and its industrial scale is growing bigger and bigger day by day. However, the rapid development of LED industry brings new challenge, too. In recent years, different kinds of LED manufactures emerges in the market. Without LED industrial criteria for a long term, it is almost inevitable that the market is full of all kinds of products with different styles, low or good quality. Some factories even dump the goods. All these have very bad efffect on speed and quality of LED industry development.
As Lack of LED criteria, enterprise is difficult to manufacture and run the business,even when it takes the 3C certifying,the testing laboratory have no idea on it. In order to avoid wasting resources and cut-throat competition, the market needs the industrial criteria to frame the behavior itself. General Manager Huang in Kingsun Optoelectronics Co.,Ltd commented that, by making the local criteria of LED industrial, the enterprise would have the regulation to follow, which would help corporation improve the technology and make products with higher quality. Meanwhile, the enterprise could make mass production without any worry and the end consumer would get more confidence on the product. Thus, competiveness of enterprise in the market would be actually promoted and healthy developemnt of LED insustry could be achieved.
Last June and July, the drafting work initiated in Guangdong Province. The criteria was drafted by 35 enterprises and related bureaus including Kingsun Optoelectronics Co.,Ltd, Tsinghua University, Dongguan Quality and Auditing Bureau, South China University, Guangdong Province Lighting Association and so on. The draft team had several meetings in Dongguan on the issue of LED technology requirements, LED major function, testing standard and so on. Meanwhile, based on "LED street lamp application requirement in Guangdong Province"and the experiment and measurement by Kingsun Optoelectronics Co.,Ltd within three years, absorbed a lot of opinions from other companies, strictly referred to the initial report of "Street illumination of LED Road Lamp", combined technology theory and practical application, this criteria can play a guiding role in macro dirction and micro instructions.
After puting out the "Local Standard of LED Street Lamp in Guangdong Province", although some companies wil be eliminated by the market, it will make Guangdong LED industry enter into
standardlized debugging period in advance and lead LED industry into regual circulation from chaos to order, from non-regulation to criteria.
Contact
Ms.Sherry Wang Kingsun Optoelectronic Co.,Ltd TEL: (86)769-83395678 EXT.828
E-mail:sales@kslights.com
Web Site:www.kslights.com