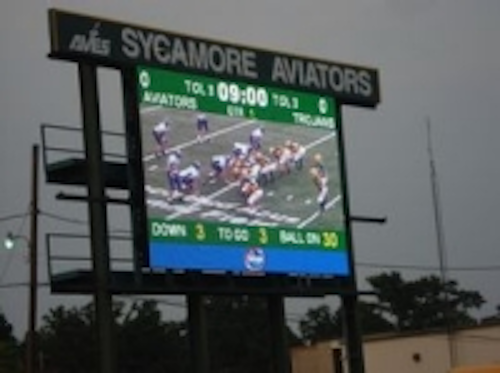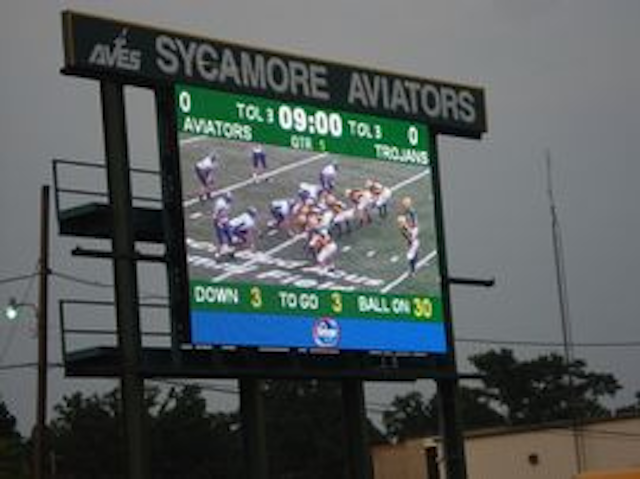 Date Announced: 17 Sep 2009
North Canton -– With the season under way, Sycamore High School football fans are enjoying the newest addition to Sycamore Stadium -- a 20mm LED video display measuring in at almost 15' tall by 22' wide.
This visually dynamic LED display brings fans instant video replays, player stats, community messaging and virtual scoreboard technology. "The scoreboard technology allows for tracking game progress and its' digital capability will enhance our fans' overall experience." Said Jim Stoll, Athletic Director at Sycamore High School. The LED display produced by LSI Industries is replacing a traditional fixed digit scoreboard with a time clock. While this new LED display is a major departure from the old scoreboard, LSI's pixel block design utilized in this display only draws 62.5 watts.
The new display was purchased by Eventz for Charity, Inc. (EFC) a nonprofit organization that emphasizes supporting the local community. EFC then contracted with ReachUSA, a Blue Ash, Ohio advertising company, to sell and produce the graphics and video for the state-of-the-art LED display. This will create a "long-term revenue stream that will allow Sycamore to continue funding programs for the districts sports." Said Bob Slattery, CEO of Reach USA.
LSI Industries Inc. is an Image Solutions company, dedicated to advancing solid-state LED technology in lighting and graphics applications. We combine integrated technology, design, and manufacturing to supply high quality, environmentally friendly lighting fixtures and graphics elements for commercial, retail and specialty niche market applications. LSI is a U.S. manufacturer with marketing/sales efforts throughout the world with concentration currently on North American, South American, Australian, New Zealand, Asian and European markets.
Building upon its success with its Crossover® LED lighting fixtures and SmartVision® solid-state LED video boards, LSI is committed to producing affordable, high performance, energy efficient lighting and graphic products for indoor and outdoor use. We have a vast offering of innovative solutions for virtually any lighting or graphics application. Further, we can provide design support, engineering, installation and project management for custom graphic rollout programs for today's retail environment.
LSI's major markets are the commercial/industrial lighting, petroleum/convenience store, multi-site retail (including automobile dealerships, restaurants and national retail accounts), sports and entertainment markets. LSI employs approximately 1400 people
in facilities located in Ohio, New York, North Carolina, Kansas, Kentucky, Rhode Island, Tennessee, Texas and Montreal, Canada. The Company's common shares are traded on the NASDAQ Global Select Market under the symbol LYTS.
References:
Aves football season begins Aug. 28, Boosters donate new scoreboard
Contributed By Erika Daggett/Sycamore Community Schools
Contact
Sharron Hilles DIrector of Marketing LSI Graphic Solutions Plus 330-494-9444
E-mail:sharron.hilles@lsi-industries.com
Web Site:www.lsi-industries.com