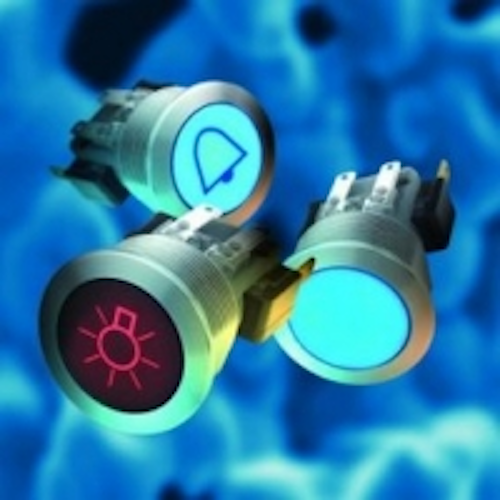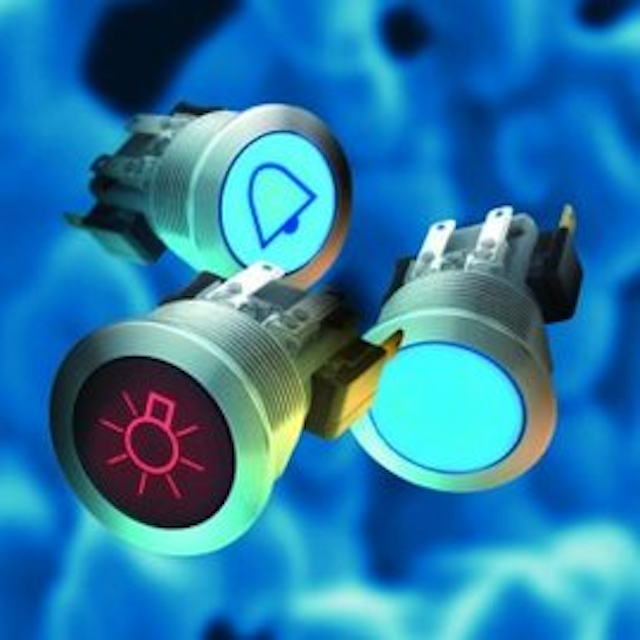 Date Announced: 09 Sep 2009
Ceramic material enhances illumination, thwarts destructable elements, is biocompatible
Santa Rosa, California, September 8, 2009 - Schurter is pleased to announce the first of its kind metal pushbutton switch, touting an actuator made of highly durable ceramic. The new MSM CS with ceramic surface is new to switching technology and provides enhanced features such as: full illumination of the actuating surface; resistance to scratches, abrasions, impact and chemicals; hypoallergenic to touch.
The switch is available with or without illumination. The non-illuminated version offers a translucent white actuating surface. Black lettering can be applied directly onto the ceramic material. The composition of the base material, and the lettering process, accounts for the actuator's resistance to scratches and common cleaning agents. The illuminated version is uniformly lit across the entire surface of the actuator. Lettering and symbols can be applied for a positive effect or conversely through the use of negative lettering to produce the inverse effect. These new innovative features extend the range of application possibilities in products such as vending equipment, ticketing machines, restaurant processing equipment, public restrooms and other sanitary utilities, as well as medical equipment designed for hypoallergenic environments.
The MSM CS stands up to vandal attacks. It has a very low profile of 1.7mm, which prevents impact to the switch from the side. The switch front withstands a high level of impact with a rating of IK07 and has an IP 69K protection class rating for seal-tight protection against liquids and common chemical agents. The MSM CS microswitch is UL, CSA and ENEC approved and is available in 19 mm and 22 mm mounting diameters. Different switch configurations are offered over a range of 30 VDC to 250 VAC. Current rating ranges from 0.1 to 10 A, depending on switching voltage. The MSM CS is equipped with quick connect terminals to allow for easy assembly. The microswitch is pre-wired in the assembly and then snapped onto the switch housing.
The MSM CS is packaged 10 pieces per box and pricing starts at around $18.00 per piece in quantities of 100. Information on the new switch can be found at www.schurterinc.com/new_switches. For sales and product information, contact Cora Umlauf at 800 848-2600 or info@schurterinc.com.
About Schurter Inc.
The Schurter Group, founded in Switzerland in 1933, is an internationally recognized manufacturer and supplier of electronic components for the high-tech industry. Schurter's product innovation focuses in four strategic business areas including fuses, connectors including EMC filter components, circuit breakers for equipment, and human to machine input systems. Schurter, Inc. Santa Rosa, California, is the exclusive North American sales and distribution office for the Schurter Group.
Contact
Marjorie Tibbs Schurter Inc. mtibbs@schurterinc.com
E-mail:info@schurterinc.com
Web Site:www.schurterinc.com