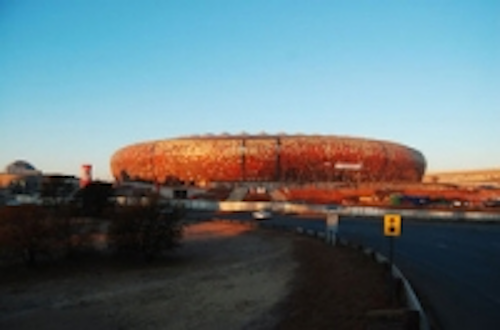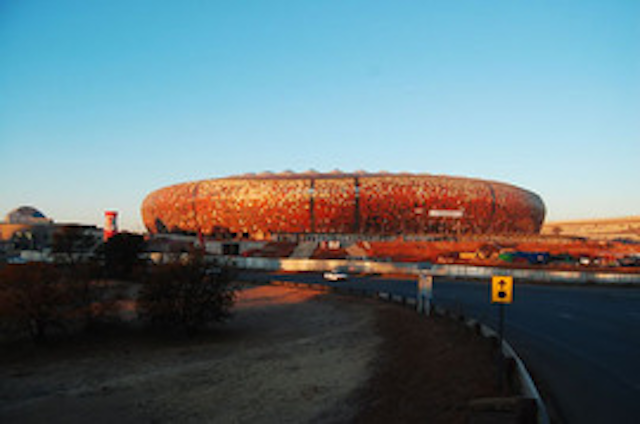 Date Announced: 09 Sep 2009
System Solutions, part of the Gearhouse South Africa Group of Companies, has been awarded a 39 million South African Rand contract by the City of Johannesburg to supply and install a High Definition IPTV, digital signage video distribution system as well as two large format, high resolution outdoor LED screens at the brand new flagship Soccer City Stadium venue.
Offering a 95,000 capacity, Soccer City is located near Soweto, and will see a major part of the 2010 FIFA World Cup action, including the Final and the tournament's Opening and Closing Ceremonies.
System Solutions won a competitive tender for the installation, pitching against the leading companies in the industry.
Outdoor LED Screens
The two 86m² Lighthouse R16i/o-II screens will be comprised of 224 lightweight LED panels, fed by a Vista Spyder video control system, running in conjunction with Christie Digital's newly released Vista Universal Routing Switcher (URS-1608). The control system has been designed for maximum flexibility, with all common formats accommodated at the input and output stages.
Control System
AV Stumpfl ISEO will be the main control platform, pulling all the elements of the installation into one master control system. This has the ability to operate and communicate with all other systems, devices and applications plus monitoring devices, providing detailed fault reporting and analysis to the stadium's property and building management systems. The Venue Operations Manager can override all elements of the AV system for emergency purposes as required.
ISEO will also control the video mixing and switching and all playback devices involved, and will allow a single input to control the entire video flow to the main LED Screens, Digital Signage and IPTV systems.
HD Digital Signage/IPTV System
The high definition video control system, digital signage and IPTV signal distribution systems will put the stadium at the cutting edge of modern technology. System Solutions will supply approximately 160 AV Stumpfl ISEO digital signage systems in all public areas of the stadium for general information and commercial advertising purposes. This will display constantly updated information and pre-recorded media content playback. This together with multiple broadcast mixes can be streamed live to any layer on any display.
System Solutions will also provide a multi channel high definition and standard definition IPTV distribution system comprising high definition hardware encoders, DVB Gateways at the head end and high definition receivers and display screens to all the back of house, VIP and hospitality suites.
The Team
System Solutions has amassed a specialist team to design, engineer and integrate all elements involved in this prestigious contract, headed by UK-based project manager Sally Penney.
Stephen Woodroffe is head of technical, chief systems designer and digital signage specialist on the project. Joe Hayes is the on-site works manager and IT network specialist. Mike Tempest, a highly skilled video technician is in charge of the video control and IPTV Systems. Charles Naidoo is the senior installations Technician, co-ordinating the specialised equipment installation and systems integration.
Moses Mabhida Stadium, Durban
Following the success of its work at Soccer City, System Solutions has just won another 20 million ZAR contract to supply similar technology and services to the 70,000 capacity Moses Mabhida Stadium in Durban. Sean Stewart comments, "It is a privilege for us to be working in the two biggest stadia for 2010. Moses Mabhida is being built as an Olympic Stadium, and with its impressive arches has become an iconic landmark in the area. Its footprint is by far the biggest of all the stadiums in the country. This installation will be a lot easier for SS because all the research and development has been done for the previous stadium, and implementation should go very smoothly."
Contact
For more press information on System Solutions or Gearhouse South Africa, please call Louise Stickland on +44 (0)1865 202679/+44 (0)7831 329888/louise@loosplat.com. To contact Gearhouse SA direct, call Robyn D'Alessandro on +27 (0) 11 482 8981/ +27 (0)83 607 3010 robyn@gearhouse.co.za.
E-mail:louise@loosplat.com
Web Site:www.gearhouse.co.za