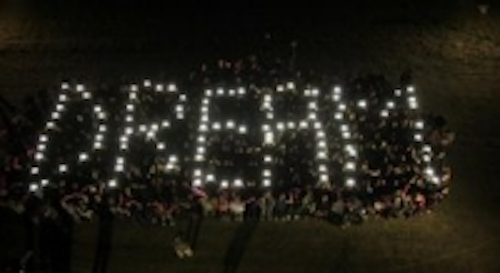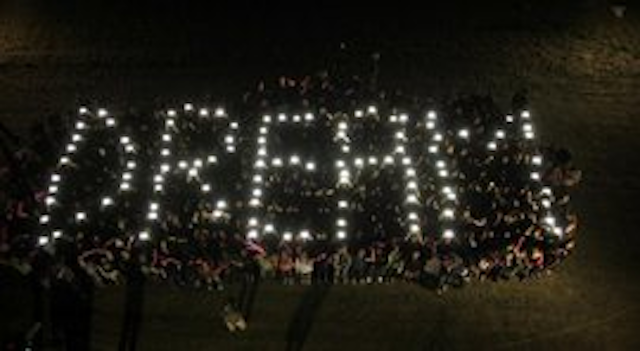 Date Announced: 30 Sep 2009
-- With more than 1,200 donated LEDs, the Schulich School of Engineering communicates with the International Space Station
OSRAM Opto Semiconductors partnered with the Schulich School of Engineering at the University of Calgary, Canada to help a team of 600 students send an LED illuminated message to the International Space Station as it passes overhead.
On September 19th, 2009, in the dark of night, the students gathered in a remote field to send their message to the International Space Station as it passed over Calgary, 300 km (186 miles) above the earth's surface.
Using OSRAM Opto Semiconductors LEDS, University of Calgary, Schulich of Engineering students sent an illuminated greeting to the International Space Station as it passed over Calgary on September 19th.
Bob Thirsk, a Canadian astronaut and Schulich School of Engineering graduate, is on a six-month mission with the International Space Station. Using the LED lights provided by OSRAM, students communicated with Thirsk via their light message to express their support for him and his crewmates on their voyage.
The Schulich School also wants to demonstrate their gratitude for Thirsk's dedication to higher education through their project entitled, "Lift up Your Eyes".
"Through the use of LED technology, we wanted to collaborate with students to recognize one of the best role models we could have," said Elizabeth Cannon, Dean of the Schulich School of Engineering. "We are tremendously grateful for OSRAM Opto Semiconductors' generosity and adventurous spirit, in their support of our students in making sure they could be successful in this engineering student event."
Using OSRAM's donation of 300 units (boards), each containing 4 new OSLON high brightness LEDs, the students delivered their message with an estimated total brightness of 400 lumens per board = ~120,000 lumens. Each board uses two 9V batteries and contains a simple switch allowing the students to manually flash the LEDS to send a signal to the space station.
"We wanted the students to have free range of expression and provided LED units which can be arranged in a multitude of ways enabling the students to send their unique, illuminated message to the international space station," said Tom Shottes, President and CEO of OSRAM Opto Semiconductors, Inc.. "We are just thrilled to be part of this inspiring event and to support the engineers of the future in reaching their goals, however far reaching they may be."
The support given to the Schulich School of Engineering to pull off this event furthers OSRAM Opto Semiconductors' commitment to the educational community and demonstrates a true involvement in shaping the future of lighting. As educators and enablers of LED technology, the company supports the educational community through the donation of products, expertise and engineering support.
ABOUT OSRAM OPTO SEMICONDUCTORS
OSRAM is part of the Industry sector of Siemens and one of the two leading lighting manufacturers in the world. Its subsidiary, OSRAM Opto Semiconductors GmbH in Regensburg (Germany), offers its customers solutions based on semiconductor technology for lighting, sensor and visualization applications. OSRAM Opto Semiconductors has production sites in Regensburg (Germany) and Penang (Malaysia). Its headquarters for North America is in Sunnyvale (USA), and for Asia in Hong Kong. OSRAM Opto Semiconductors also has sales offices throughout the world. In the 2008 fiscal year (to the end of September) OSRAM Opto Semiconductors employed more than 4600 people and achieved sales totaling 529 million euros. For more information go to www.osram-os.com.
Contact
Kate Cleveland Tel: +1 (248) 277-8018 Fax: +1 (248) 596-0395
E-mail:kate.cleveland@osram-os.com
Web Site:www.osram-os.com