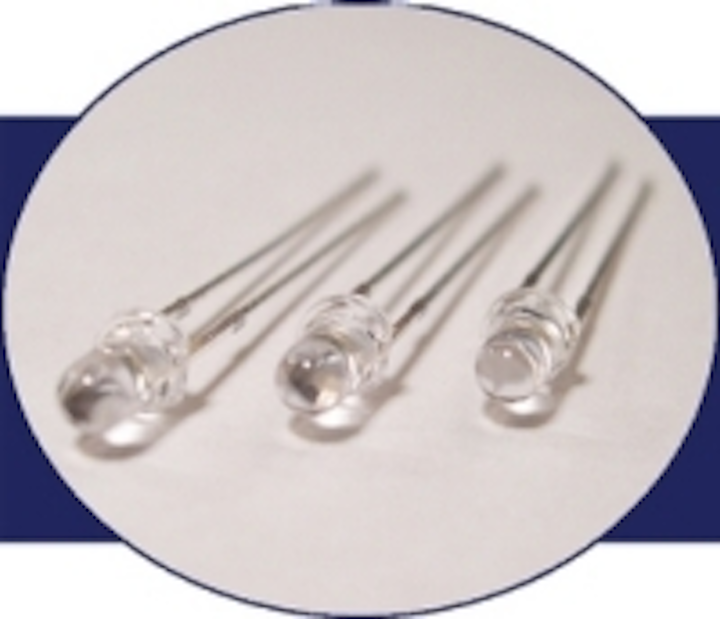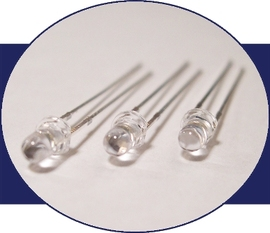 Date Announced: 02 Sep 2009
Greater durability, more focused light beam and longer life cycle among the many benefits of UV LEDs
IRVINE, CA — There are many industrial applications ideally suited for, and already embracing, ultraviolet (UV) LEDs including counterfeit currency detection, fingerprint identification, fluorescent ink, and leak detectors. However, Bivar, a leading specialty provider of LED indication products and solutions, has seen a marked increase in the adoption of its UV LED product family for applications that until recently relied upon fluorescent UV lights.
Bivar launched its high-efficiency UV LED series in 2008 and has consistently gained traction with medical equipment manufacturers looking for competitively priced, yet high performing UV LEDs for a variety of applications including phototherapies for the skin, dental devices, hand-held medical devices, and imaging. Bivar points to the small size, more focused beam of light, longer life cycle, and durability as key features driving the adoption of UV LEDs.
According to Yole Development Research Group, UV LEDs are challenging the traditional UV lamp technology and making headway due to the compactness, lower cost of ownership and environment-friendly composition of LEDs. The research firm anticipates that UV LEDs will continue to replace traditional lamps and open doors to new applications, especially portable ones. By 2015, the firm estimates the UV LED market will reach $250 million.
"The benefits of LEDs in general are well-known and companies in a broad range of industries are designing with LEDs to realize these many benefits," said Michael Finn, vice president of sales and marketing, Bivar. "Like standard LEDs, UV LEDs bring a wide range of benefits to a different class of products. Our key differentiation is in our technology and our approach. We work closely with our customers to understand their designs and provide a solution that brings the highest performing UV LED at a competitive price point."
Bivar's unique differentiation is in its proprietary manufacturing process, which enables its UV LEDs to maintain their radian power at the specified wavelength much longer than previous versions and competitive offerings. With a tight tolerance of +/- 2.5nm, compared to alternative solutions with a tolerance of +/- 5nm or wider range, Bivar UV LEDs experience less degradation and therefore, optimal product performance. In addition to tight tolerance, Bivar has enhanced the encapsulation process to improve overall product performance.
Bivar's UV LED product family is available in 3mm (UV3TZ) and 5mm (UV5TZ) through hole packages, each comprised of four tightly binned wavelengths, 390, 395, 400, and 405 with a wavelength tolerance of +/- 2.5nm. The UVTZ series provides 10-20 mW output while consuming only 15ma of current and has a rated operational life of 10,000 hours compared to 1,000 to 2,000 hours in alternative solutions. Both packages are available with a narrow 15 degree and slightly wider 30 degree viewing angle. Each LED contains an integrated Zener diode to provide enhanced ESD protection. All Bivar UV LED devices demonstrate high resistance to shock and vibration versus traditional filament based light sources. Like all Bivar LEDs, the UVTZ series is RoHS compliant.
Bivar is not surprised by the appeal for UV LEDs and is encouraged by the successful deployments of its product line thus far. "We are addressing an expressed need for high functioning, highly efficient and cost effective solutions," added Finn. "When it comes to UV LEDs and end user applications, even the slightest degradation can mean a significant decrease in killing germs or tanning of the skin."
For more information on Bivar's UVTZ product family please visit www.bivar.com. For application assistance and samples, please contact Bivar Sales at sales@bivar.com.
About Bivar
Bivar is a leading specialty provider of LED indication products and solutions with a long-standing history of more than 40 years of innovation in the optoelectronics industry. With a global base of customers in 35 countries, Bivar's products are designed to meet the increased demand for point-to-point indication and address a growing range of industrial markets and applications. Bivar's focus is on moving and positioning light. An employee-owned company, Bivar's corporate headquarters are located in Southern California, with manufacturing in California, China and Taiwan. Bivar's Asia Pacific production and logistics centers offer scalable capacity, execution, control and movement of product around the world. Bivar is widely supported by a highly qualified network of authorized representatives and distributors.
Contact
Bob Menzies Lages & Associates Inc. 949/453-8080
E-mail:sales@bivar.com
Web Site:www.bivar.com