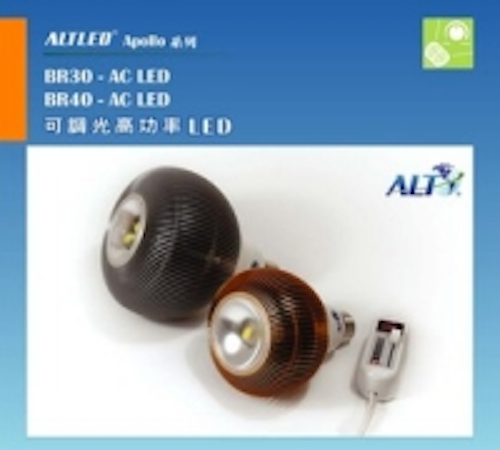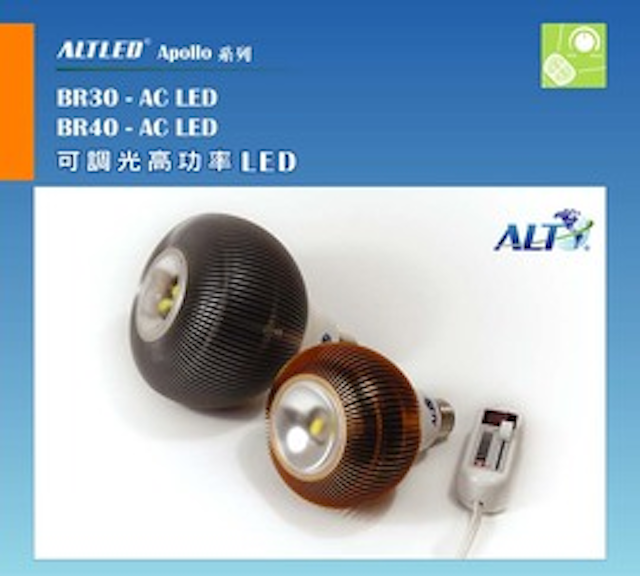 Date Announced: 06 Nov 2009
Aeon Lighting Technology (ALT) today announced the launch of a brand new LED lighting product series for the final part of 2009, including seven cutting-edge indoor lighting products of AC MR16, AC BR, MR16 25°, LED T8, and MR16 based globes. Among the highlights is ALT's exclusive dimmable technology, which has successfully integrated in to the new series of MR16's and PAR 30 and 38's.
During the product launch event, held at Taipei's Dandy hotel, James Liang, CEO of Aeon Lighting Technology, outlined ALT's product strategy for 2010, focusing primarily on main lighting products for both indoor and outdoor applications, as well as indoor dimmable lighting products.
"This without doubt is where the trend of the whole LED lighting industry is heading," Mr. Liang explained. "As a pioneer of the LED field, we will be investing large amounts in to the development of cutting edge products that will keep ALT at the front of the pack."
ALT's exclusive linear dimmable technology, which has been implemented in to the newly-launched dimmable LED lighting products — AC MR16 and AC BR series—allows users to adjust the brightness without any flickering, which has been a major fault in many manufacturers' products. Additionally, the 25° MR 16, which implements ALT's advanced technology and is available with either Cree or Lumileds High Power LED chipsets, has become ALT's best performance light offering an impressive 520 lm and 2160 lux—a significant improvement compared with similar products.
The environmentally-friendly T8 LED tube, which offers 900 lm and 214 lux with superiour performance in efficiency and product lifetime compared with traditional T8's, is a perfect alternative for business or home lighting.
"Many companies provide LED lighting products, but the quality varies," said Liang. "While many LED companies in Taiwan and Mainland China are competing in pricing, the product quality is often neglected. However, those who provide quality products still occupy much higher market share even if their product price is twice that of other brands," Liang continues, "That's why we always place 'quality' as the first priority in R&D, and is what has established our brand recognition and value."
When talking about the future product roadmap, Liang concluded that ALT will continue to invest in R&D and provide more stable, long-life, high-brightness, and competitive High Power LED products in the near future, aiming to be one of the leading companies in LED lighting industry.
About Aeon Lighting Technology
Aeon Lighting Technology was founded in 2007 under the principles of a pursuit for perfection whilst at the same time ensuring a cleaner and greener environment. Thanks to a close partnership with Supermicro, the world's 3rd largest server manufacturer, the company was able to develop a range of LED lighting products for internal and external applications. Focusing on the high power LED segment of the market, all products meet the highest international standards having been awarded CE, RoHS, FCC, LVD and laser testing certification. The company has grown from humble beginnings to now having its entire range of products available through its network of distribution partners on all continents.
Contact
Headquarters: 16F-8., No.2, Jian 8th Rd., Chung-Ho City, Taipei County 235, Taiwan (R.O.C.) Tel:+886-2-8226-1289 Fax:+886-2-8226-9066 Media Relations: Joyce Wu Tel:+886-2-8226-1289 ext.3003 Fax:+886-2-8226-9066 e-Mail:joyce.wu@aeonlighting.com Branch Offices: US branch office 3086 Balmoral Dr. San Jose, CA 95132 U.S.A. e-Mail:info@aeonlighting.com China (Ningbo) branch office No. 181, Zhongnong xin Building, Ningbo city, Zhejiang P.R. China 315010 Tel:+86-1378-007-1077
E-mail:info@aeonlighting.com
Web Site:www.aeonlighting.com