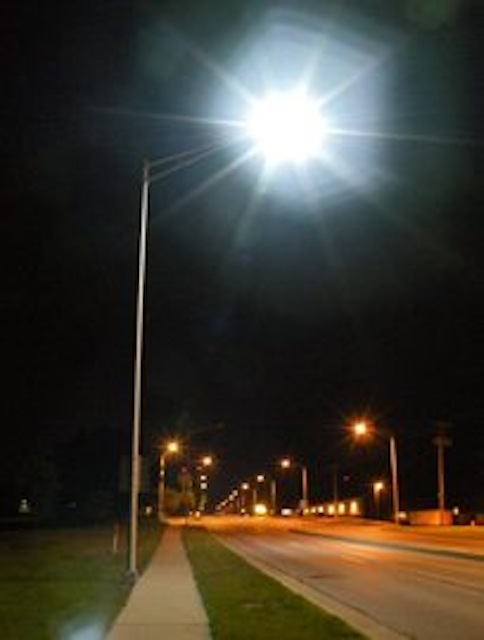 Date Announced: 10 Nov 2009
City of Naperville, IL Report 4 Month Test Results
NAPERVILLE, IL. –– PolyBrite International, Inc. creator of Borealis LED Lighting Systems, announced today that the installation of Borealis LED streetlights has saved the City of Naperville up to 60% in energy usage for each of the four months of usage. The City of Naperville has been monitoring Borealis LED streetlights since June and they will continue to do so until January 2010.
The Borealis LED streetlights are installed along the south side of Diehl Road, between Country Club Boulevard and Fairway Drive. The city's Department of Public Works is monitoring seven 120 watt Borealis LED streetlights with a like number of 350 watt, high pressure sodium (HPS) streetlights. One meter in the streetlight controller monitors the power consumption of the LED lighting, with a second meter monitoring the power consumption of the HPS lighting. To date, measured results from the study have tabulated Borealis LED streetlights have consumed 57.2% less energy than the HPS streetlights. The meter readings have also indicated that the Borealis LED streetlights monthly energy consumption was 382 while the HPS was 892.
"We are very pleased with the City of Naperville's findings to date," said Carl Scianna, President and CEO of
PolyBrite International. Mr. Scianna further noted that "With a life expectancy of 50,000 hours, Borealis LED streetlights will last five times longer than the HPS lights the city is currently using and they produce a safer, cleaner light that improve the overall appearance, night time safety and night time visibility. Having no arc tube or filament, Borealis LED streetlights are a true solid-state lighting product!"
PolyBrite's patented LED technology, which is used in all Borealis lamps and lighting systems, will reduce the city's operating costs, including lower energy usage and reduced maintenance. Borealis LED Streetlights do not produce a glare and feature an instant "on" with no cold starting as compared to traditional street lighting. Each Borealis LED Streetlight will use 1,137 fewer kilowatt hours of electricity per year than the HPS. This reduction in electricity will reduce carbon dioxide emissions by 646 grams per year, nitrogen oxide emissions by 1,121 grams and sulfur dioxide emissions by 3,968 grams per year per streetlight.
Residents have been asked by the city to give their opinion on PolyBrite's Borealis LED street lighting by contacting the City of Naperville Public Works Department through January 2010. PolyBrite International anticipates that continued savings projections will be achieved during this six-month demonstration.
About PolyBrite International: PolyBrite International, Inc. headquartered in Naperville IL, serves its international and domestic customers by providing the highest quality, environmentally-friendly "green" lighting products known as Borealis® LED Lighting Systems. PolyBrite and has been recognized as the leader in LED lighting industry and all Borealis LED lighting products are entirely under the control and management of PolyBrite to ensure the highest quality. More information on PolyBrite's LED Lamps, Lighting Systems and products is available on the Internet at www.polybrite.com or www.borealislighting.com or by calling 1-800-320-3801.
Contact
Tula Kareotes, Marketing Coordinator PolyBrite International, Inc. 630-717-6700
E-mail:tula@polybrite.com
Web Site:www.polybrite.com