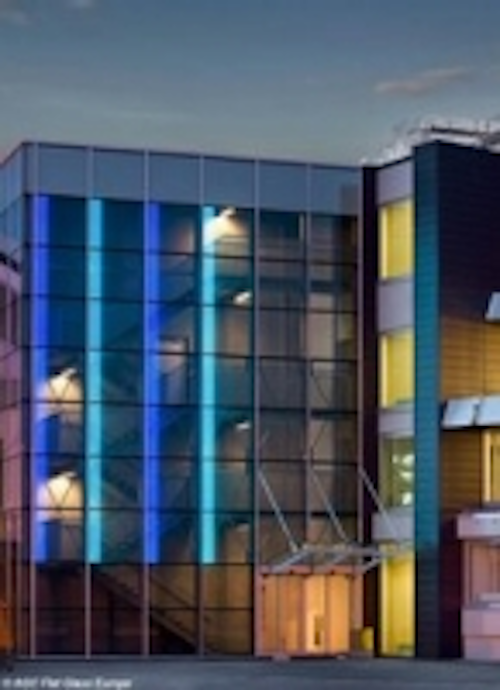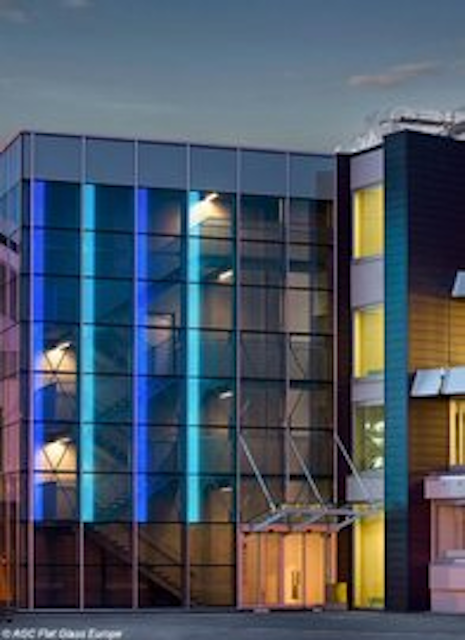 Date Announced: 19 Nov 2009
Brussels National Airport recently renovated a wing of its old terminal to house the offices of its management. This building breaks new ground with its façade animated by Glassiled RGB electroluminescent glass – a world first produced by AGC.
With a total surface area of 70 m², the façade of the renovated airport building comprises 28 panes of Glassiled RGB* double glazing (AGC glass containing LEDs).
Linked to a computer system, this sophisticated technology recreates all kinds of colours on the façade based on a random or programmed animation pattern. The project's architects, Storme & Van Ranst, opted for a simple but elegant design featuring vertical lines. The colours and animation sequence are the product of close cooperation between the architects and AGC engineers.
In addition to its aesthetic function (its main purpose), Glassiled RGB has many technical advantages. First of all, Glassiled RGB can be installed in double glazing. Therefore, to meet the airport's acoustic, safety and thermal requirements, laminated Glassiled glass was installed in a low e TopN + glass.
Secondly, Glassiled RGB can be integrated into a metal frame in the same way as any other double glazing, meaning that façade builders have a glass product they can handle with their usual working methods. Lastly, installing the whole structure (frame + Glassiled double glazing) in the building is also very easy, with AGC always on hand to provide technical assistance with implementing the project – especially with regard to connector technology.
The result at the airport is spectacular, with the transformation of the glass façade from completely transparent during the day to luminous, colourful and dynamic at nightfall. Passengers can watch this light show from the road when arriving at the airport and from the sky when taking off and landing.
Brussels National Airport now literally shines in all its glory at night. You really must see it!
Architect: Storme & Van Ranst
Façade builder: Belgometal
Glazier: Polypane
Glass manufacturer: AGC Glass Europe
AGC Glass Europe, a European leader in flat glass
AGC Glass Europe makes and processes flat glass for the construction industry (exterior glazing and interior decorative glass), the automotive industry and specialist sectors. Based in Brussels, Belgium, it is the European branch of AGC Glass, the world's leading producer of glass.
Its baseline - 'Glass Unlimited' - reflects the possibilities and scope offered by:
glass as a material that meets a growing range of requirements (comfort, energy control, health & safety, appearance) and that is being used for an increasing number of applications;
its innovative products resulting from ongoing R&D in advanced glass technology;
its production facilities comprising 30 factories and some 100 processing plants in Europe, from Spain to Russia ;
its worldwide marketing network.
AGC Glass Europe currently employs around 10,600 people.
For more information, go to www.agc-glass.eu/ (corporate site) and www.yourglass.com/ (site specifically for construction glass).
Contact
Costacurta Stefano AGC Glass Europe +32(0)499 54 75 73
E-mail:sales.glassiled@eu.agc-flatglass.com
Web Site:www.yourglass.com