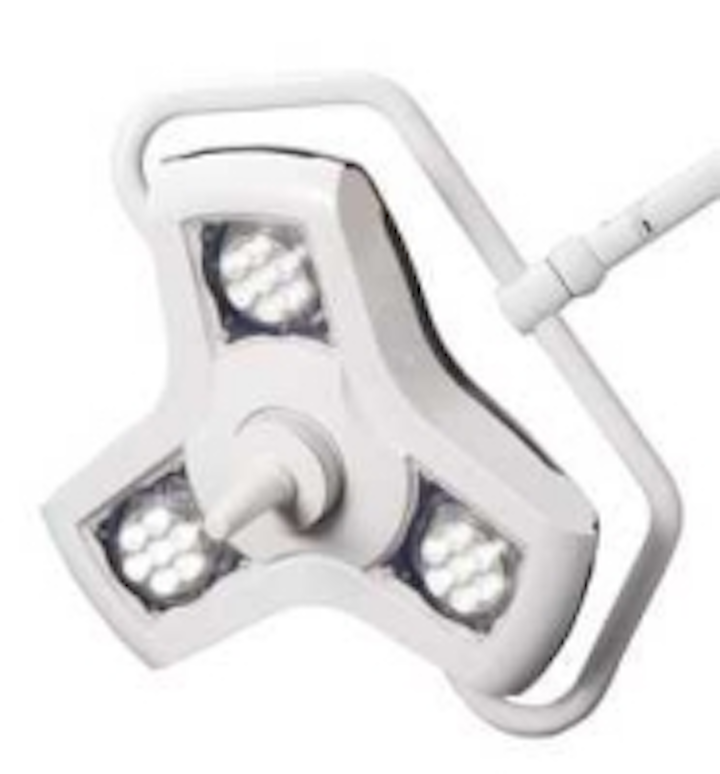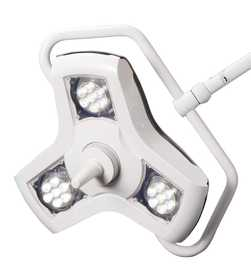 Date Announced: 02 Nov 2009
CHATSWORTH, Calif. -- With unsurpassed value and energy efficiency, the AIM LED provides 10 times the life and uses 55 percent less energy when compared to halogen light sources. Burton Medical Products, Inc. has developed a revolutionary diagnostic and examination light, the AIM LED, by combining the smart and versatile design of their existing AIM lights with the efficiency and longevity of an LED light source.
With 21 individual LEDs in 3 modules, the AIM LED provides 10 percent more illumination (45,000 Lux at 1 meter) than even the high performing AIM-50® while only requiring 84 watts of power. It offers a CRI of 92 and a color temperature of 4300 Kelvin. In addition, the AIM LED has 10 times greater (20,000 hours) lamp life than traditional light source products and it saves more than $1,000 in bulb replacements alone over the life of the product.
The AIM LED has a unique Y-shaped design that minimizes the obstruction of light into the surgical field and provides a larger and adjustable light pattern without casting shadows. As the most versatile and efficient diagnostic light in the market, its 360-degree, limitless arm-and-mounting-system rotation provides a maximum reach of 63 inches and a diameter of 10 feet. This allows the AIM LED it to illuminate the patient
from head to toe with no drift.
To meet different needs and installation requirements, AIM LED is available in four models, including Floorstand, Single Ceiling, Double Ceiling and Wall Mount. In addition, it is supported by an industry-leading five-year limited warranty. The advanced features of the new AIM LED from Burton Medical makes it the right light for examinations.
Burton Medical, Inc., located in Chatsworth, Calif., is a medical device manufacturer of high quality, American-made exam, diagnostic and surgery lighting equipment. Since its inception in 1928, Burton has been known for superior quality, exceptional value, and long-lasting solutions to complex lighting issues facing physicians, surgeons and veterinarians throughout the world. Engaged in designing, manufacturing and distributing, Burton Medical is an FDA-registered facility and certifies products to meet or exceed FDA, Health Canada, UL, and CE requirements. Burton has over 200,000 lights installed in the United States alone and continues to grow based on its quality, reliability, and its extraordinary five-year warranty. For additional information, visit www.burtonmedical.com.
Contact
George Preston Burton Medical Products, Inc. 1-800-444-9909,
E-mail:gpreston@burtonmedical.com
Web Site:www.burtonmedical.com