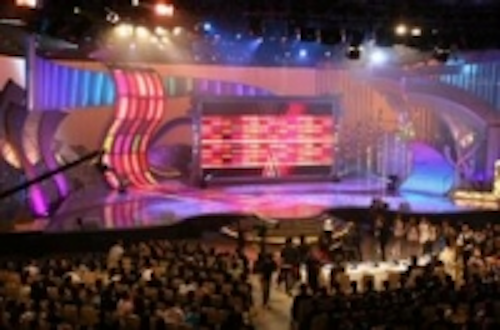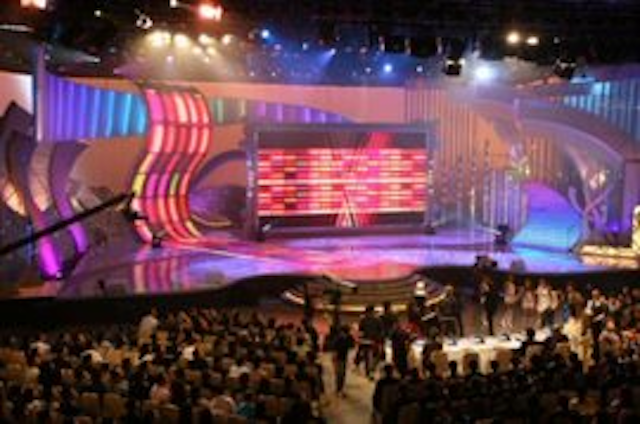 Date Announced: 16 Nov 2009
Hong Kong, CHINA, -— BARCO, a world leader in visualization and display solutions, announces the recent deployment of its ILite 6BK LED backdrop for the Miss Asia Pageant 2009. The event, whose grand final competition took place on 1 November 2009 in Hong Kong, was produced by Asia Television in cooperation with Barco rental partner, AV Promotions Limited Corporation (AVP).
The ILite LED tiles were all provided by AVP and deployed in a complex configuration to help illuminate the event in a grand, exciting manner. AVP worked closely with the Asia Television design team and production crews to configure the visual display stage backdrop in a relatively short period of time. What's more, as is standard with all Barco rental partners, along with the visual solutions, AVP also provided the full range of professional technical support 24/7 throughout the event to insure its flawless execution. The team effort paid off, as the show was a resounding success, and Miss Xu Ying, from the Chinese Mainland, walked off with the crown as Miss Asia 2009.
Barco products proved to be the right choice for the event creating a vibrant atmosphere. The true black Barco ILite 6BK LED tile backdrop operated flawlessly. Its 22x12 format backdrop consisted of two moveable parts. Fifty-three square meters in size, it utilized 264 Barco true black ILite 6BK tiles. The ILite 6 BK is a 6mm, black LED display based on the established ILite technology that has become the industry standard in the rental and staging marketplace. It offers a slim, sleek design that allows for the build up of displays in nearly any shape and size. To realize multiple image affects throughout the evening, image processing was driven by Barco's Encore System, the most advanced video processing and presentation controller on the market today.
Miss Asia Pageant has been held since 1985. This year marks the 21st anniversary of the pageant.
"It is an honor for us at AVP to have served Asia TV for so many years," says Elton Wong, Director of AV Promotion Ltd. "And this year, the Miss Asia Pageant 2009 is certainly one of Hong Kong's marquee events. Needless to say, we are happy to see the beautifully vibrant stage backdrop, not only for its visual effect, but how it helps frame the beautiful contestant in an exciting way."
"It's really exciting to witness the success of the Miss Asia Pageant 2009," says Frank Christiaens, President of Barco for Greater China. "We are pleased that both Asia TV and our valued rental partner, AVP, have great confidence in Barco products and solutions. These are the type of dynamic events that help Barco to continue focusing on innovation and on the development of successful strategies to help our industry partners and end-users succeed."
About AV Promotions
AV Promotions Ltd was established in 1991 and is a leader in the audio-visual and the staging rental industry. The company provides expertise in audiovisual equipment, lighting systems, graphic design and 3D computer aided designs. AVP offers specialized teams of professionals that cater to new product launches, promotional events, video programming and various multi-media productions. The company also provides complete management of presentations and tradeshows from conception, planning and staging to execution.
About Barco
Barco, a global technology company, designs and develops visualization products for a variety of selected professional markets. Barco has its own facilities for Sales & Marketing, Customer Support, R&D and Manufacturing in Europe, North America and Asia Pacific.
Barco (NYSE Euronext Brussels: BAR) is active in more than 90 countries with about 3300 employees worldwide. Barco posted sales of 725 million euro in 2008.
Contact
Nancy Xiao, Press & PR Manager APAC Phone: +86 10 8012 0885 nancy.xiao@barco.com Johanna Ocampo, Press & PR Specialist North America Phone: +1 916 273 5301 johanna.ocampo@barco.com Sophie Hautekeete, Press & PR EMEALA Phone: +32 56 36 80 59
E-mail:sophie.hautekeete@barco.com
Web Site:www.barco.com