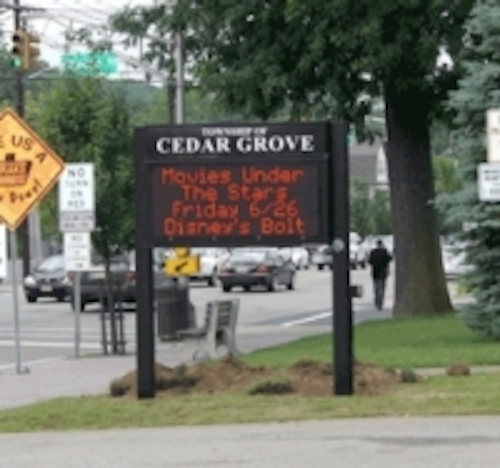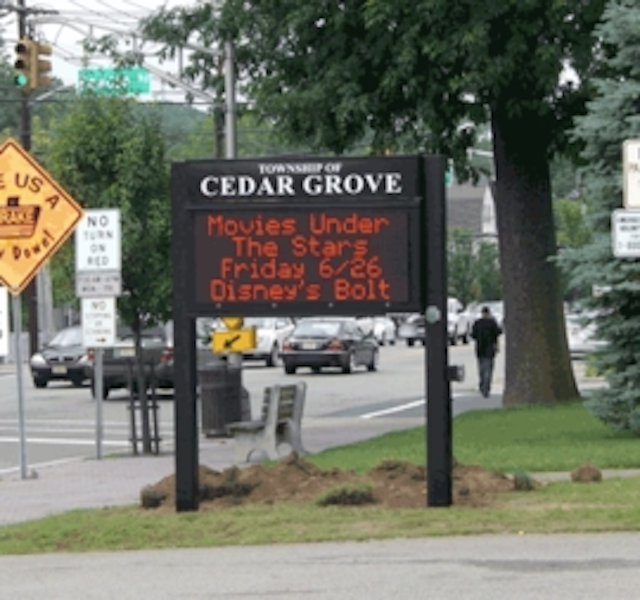 Date Announced: 23 Nov 2009
Cedar Grove, NJ (November 2009) The Township of Cedar Grove has invested in a real-time electronic message center to provide the community with up-to-the-minute information about the happenings in the Town. The recently installed, cutting-edge, LED display designed, produced, and installed by Millennium Visual Systems sits outside Cedar grove's town hall.
"Cedar Grove could not be happier to have our new LED display," said Tom Tucci, Cedar Grove's Town Manager. "This sign is the best thing that has happened to Cedar Grove in 50 years," he continued. "It is great for the public, great for this town." Tom was especially enthusiastic about how so many different organizations in town have taken advantage of this easy way to communicate with the population.
Becoming more and more popular by the day, LED programmable displays are the fastest way to communicate critical information to people on the road. They offer an energy-efficient and aesthetic way for towns, restaurants, schools and retail businesses to display real-time information. Cedar Grove's double-sided display in front of Town Hall will be used for community messages regarding the municipality, as well as athletic teams, organizations, and information about the Town. In addition, when necessary, emergency alerts will be posted on the display to quickly notify the public. Unlike the previous municipal sign, the new display can be updated in seconds from Town Hall.
Millennium Visual Systems, headquartered in Woodcliff Lake, NJ with Business Operations in Chestnut Ridge, NY, designs, produces, sells, and services electronic signs and programmable displays that are widely use in restaurants, convenience stores, retail businesses, schools, hospitals, offices, factories, and government facilities. Millennium Visual Systems is a 12 year-young company with expert staff that assists clients with every aspect of a project. From concept development to installation to follow-up, Millennium Visual Systems ensures customer satisfaction with ongoing hardware and software support and service. For more information please call (845) 356-4100 or visit www.millenniumvisuals.com, Facebook, Twitter, or Linkedin.
###
Contact
Millennium Visual Systems 100 Red Schoolhouse (A-11) Chestnut Ridge, NY 10977 (845) 356-4100
E-mail:dag@millenniumvisuals.com
Web Site:www.millenniumvisuals.com