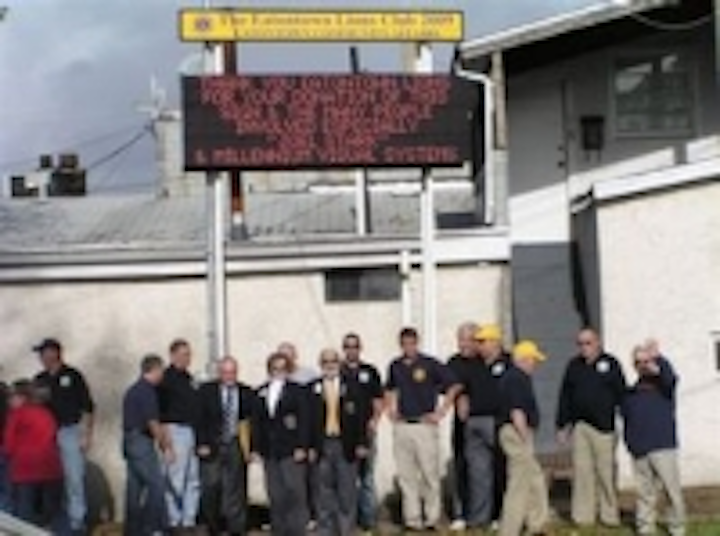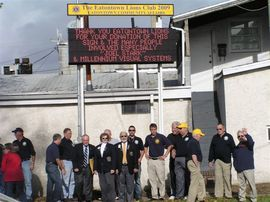 Date Announced: 11 Nov 2009
Chestnut Ridge (November) - The Lions Club of Eatontown, an organization dedicated to serving the community, has donated a Millennium Visual Systems programmable display to the Borough of Eatontown. The display is the newest in a long list of contributions the Lions Club has made throughout its years of service to Eatontown.
On October 31st the LED display was formally dedicated. Among the attendees were Mayor Gerry Tarantolo, Lions Club Members, and people from the Borough. At the ceremony the Mayor presented Toby Stark, the President of the Lions Club in Eatontown, with a certificate of appreciation for all that the Club does to support Eatontown. Toby said the display has brought the town "flexibility for communicating with the public". He continued saying the LED display is a "500% improvement" on the old sign.
Millennium Visual Systems was excited to work with the Lions Club on such a community-orientated mission. The display represents the Clubs' mission of serving the community and making a difference. The display will be updated regularly with various town events and announcements.
Millennium Visual Systems, headquartered in Woodcliff Lake, NJ with Business Operations in Chestnut Ridge, NY, designs, produces, sells, and services electronic signs and programmable displays that are widely used in restaurants, convenience stores, retail businesses, schools, hospitals, offices, factories and government facilities. Millennium Visual Systems is a 12 year-young company with expert staff that assists clients in all aspects of a project. From concept development, to installation, to follow-up, Millennium Visual Systems ensures customer satisfaction with ongoing hardware and software support and service. For more information please call (845) 356-4100 or visit at www.millenniumvisuals.com, Facebook, Twitter (MillenniumSmart), or Linkedin.
###
Contact
Meghan Sheehan Millennium Visual Systems 100 Red Schoolhouse Rd (A-11) Chestnut Ridge, NY 10977 (845) 356-4100
E-mail:ms@millenniumvisuals.com
Web Site:www.millenniumvisuals.com