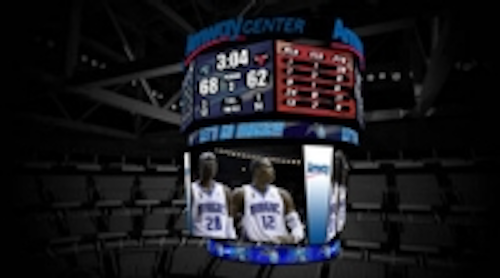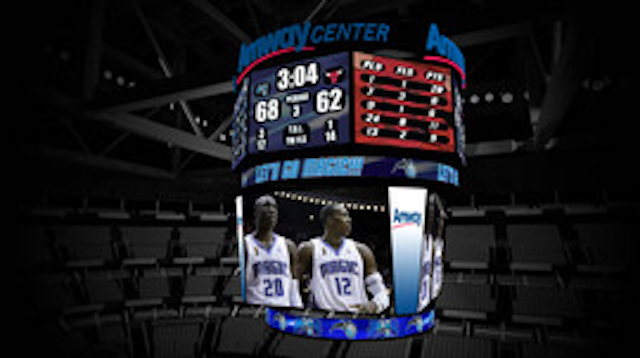 Date Announced: 12 Nov 2009
BROOKINGS, S.D. –– Daktronics Inc. (Nasdaq-DAKT), in conjunction with the Orlando Magic and the City of Orlando, announced today that it will provide an integrated scoring, video and advertising display system for the new Amway Center scheduled to open in Orlando in the fall of 2010. Installation of the first displays of the multi-million dollar system will begin in early 2010.
"The new venue will be a technological showcase," said Alex Martins, Orlando Magic Chief Operating Officer. "Our incorporation of the latest digital displays by Daktronics is another example of the entertaining and exciting technology that awaits patrons of the new Amway Center. Daktronics was chosen because of its experience and reputation in the industry, its ability to deliver truly integrated scoring and video display systems in a turnkey fashion, and its ability to provide service for the life of the equipment. Next year our fans, and the millions of visitors to the venue in the future, along with our corporate sponsors, will truly love this high definition super system."
Daktronics will design and manufacture more than 50 full-color LED displays for the Amway Center, including one of the world's largest suspended scoreboards.
The centerhung scoreboard alone will include four primary high definition LED video displays with 840 lines of resolution (approximately 17 feet high by 24 feet wide), eight auxiliary video/scoring/statistics displays, and two LED ring displays. The venue will be the first in the world to utilize high resolution 6 mm surface mount LED pixel technology on all of the centerhung digital displays. More than 9 million individual LEDs will be used in the 18 displays incorporated into the centerhung scoreboard. Overall dimensions of the centerhung scoreboard are 42 feet by 41 feet by 41 feet (HxWxD), making it the largest and most capable of any in NBA venues.
Complementing the primary scoreboard will be two LED ribbon boards mounted on the interior fascia of the seating decks. One 360-degree display will encircle the entire seating bowl and measure more than 1,100 feet in circumference. The second will measure more than 750 feet in length. Daktronics LED ribbon boards are extremely popular with fans and sponsors alike because of their ability to present exciting motion graphics and real time content, including in-game statistics, out-of-town scores, closed captioning information, animation and video clips. Both ribbon displays will take advantage of Daktronics patented ProRail® attachment system with a design that provides improved sight lines and reduced material and construction costs.
Another unique aspect of the display system will be a network of portal displays on various levels of the arena. Twenty-seven smaller full-color digital displays will provide additional information and recognize sponsors at various entrances between the seating bowl and concourse and other gathering areas.
The integrated display system will continue on the outside of the building. The Amway Center will be the first sports and entertainment venue in North America to use Daktronics ProPixel® freeform LED technology on the exterior. This unique technology will be mounted on the exterior of the building in an open-air concourse area. Full-color ProPixel® LED strips allow for great visibility and image clarity for those viewers in front of the display, while allowing those behind the display to see through it. This exterior display, measuring approximately 46 feet high by 54 feet wide, will reach millions of motorists traveling by the Amway Center on Interstate 4.
"We are excited to provide this unique super system for the Amway Center and Orlando Magic," said Brent Stevens of Daktronics. "Working very closely with the Magic and the City of Orlando, we've developed a system that will 'wow' fans and provide the programming flexibility required to manage a busy multi-use venue."
A curved LED display on the building's corner "tower", near the entrance to the future Magic retail store, will promote events and other items to the public. The display will measure approximately 8 feet high by 80 feet wide, utilizing Daktronics HD-12 technology.
Additional full-color HD-12 exterior displays include a digital marquee attached to the parking garage and one above the box office area. Fourteen smaller flat panel displays will be mounted near ticket windows to direct ticket buyers to the proper windows for quick service, and will also provide additional information.
Daktronics powerful new Show Control System will be front and center in the video control room. Its robust software suite allows users to design, edit and produce an endless variety of colorful digital content and instantly deliver clips to the displays throughout the venue. Show control works with other Daktronics control components including the scoring, timing and statistics systems to keep track of the basketball action and other sporting events that will take place in the Amway Center. Daktronics' NBA statistical interface provides the ability to immediately present an incredible variety of player and team statistics, in text and graphic formats. Transparent LED shot/game clocks, time expiration light strips on the backboards, 41 digital clocks located in the locker rooms and throughout the venue, and scoreboards for the basketball practice court are also part of the integrated super system.
Additional Display System Facts
• The displays on the main centerhung scoreboard include more than 9 million individual LEDs, creating
more than 3,800 square feet of viewable surface area (nearly equal to 1000 37" flat panel televisions)
• Approximately 11.5 million individual LEDs will be used in all the interior and exterior displays within the
integrated system
• Video displays have the capability to show 4.4 trillion different shades of color
• An estimated 10 miles of wiring will provide power and signal to the system's displays
• The centerhung scoreboard will weigh more than 40 tons and be suspended, raised and lowered with a
85,000 lb. capacity Vortek® hoist, manufactured by Daktronics at its New York facility.
About the Orlando Magic
Orlando's NBA franchise since 1989, the Magic's mission is to be world champions on and off the court, delivering legendary moments every step of the way. On the court, Orlando has won four division championships (1995, 1996, 2008, 2009), had five 50-plus win seasons, and won the Eastern Conference title in 1995 and 2009. Off the court, on an annual basis the Orlando Magic gives more than $2 million to the local community by way of sponsorships of events, donated tickets, autographed merchandise, scholarships and grants. Orlando Magic community relations programs impact an estimated 75,000 kids each year, while a Magic staff-wide initiative provides more than 5,000 volunteer hours annually. In addition, over the last 19 years nearly $15 million has been distributed to local non-profit community organizations via the Orlando Magic Youth Fund (OMYF), a fund of the McCormick Foundation since 1994, which serves at risk and disadvantaged youth. Ticket highlights include: 7,569 seats priced $25 or under per game; a $27 lower bowl ticket; and tickets priced at $10 per game. For ticket information log on to orlandomagic.com or call 407-89-MAGIC.
About Daktronics
Daktronics systems are currently at work at 19 of 29 NBA arenas and in a majority of NHL, NFL and MLB venues. Daktronics is recognized as the world's leading provider of full-color LED video displays. Daktronics began manufacturing large screen, full-color, LED video displays in 1997. Since then, over 5,800 large screen video displays have been sold and installed in sporting and commercial facilities around the world. Since 2001, independent market research conducted by iSuppli Corp. lists Daktronics as the world's leading provider of large screen LED video displays. Daktronics designs, manufactures, markets and services display systems for customers around the world, in sport, business and transportation applications. For more information, visit the company's World Wide Web site at: http://www.daktronics.com, e-mail the company at sales@daktronics.com, call (605) 692-0200 or toll-free (800) 325-8766 in the United States or write to the company at 331 32nd Ave. PO Box 5128 Brookings, S.D. 57006-5128.
Contact
Mark Steinkamp Marketing & PR Director Daktronics 605-692-0200
E-mail:mark.steinkamp@daktronics.com
Web Site:www.daktronics.com