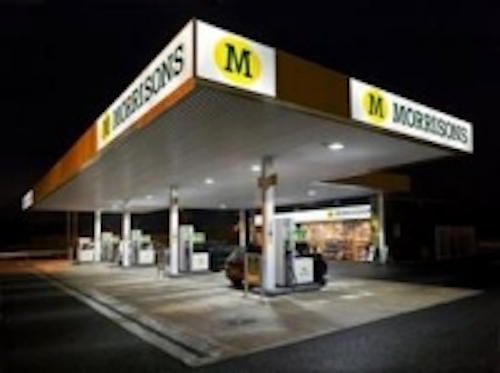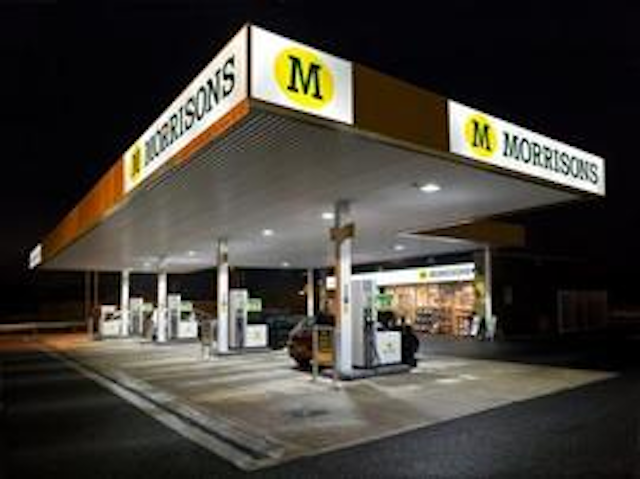 Date Announced: 24 Nov 2009
The Morrisons' Illingworth petrol forecourt is the first site to unveil its new LED lighting approach. The Philips LED lighting solution adopted by Morrisons shows the versatility which LEDs offer for both internal and external applications. Over and above that it has allowed Morrisons to make substantial energy efficient gains without compromise to performance. Here we take a closer look at this unique project.
Listening to the needs of supermarket retailer, Morrisons, the new Philips LED lighting design encompasses the entire site from petrol canopy and carwash right through to signage and forecourt kiosk including chiller cabinets. In all, by selecting an LED solution as the preferred choice, Morrisons can now enjoy impressive energy savings of approximately 45% across the installation.
This site will be the first one in Europe that will be lit 100% with LEDs and is a major breakthrough in petrol filling station (PFS ) lighting.
For the under canopy lighting, utilization was made of the original luminaire spacings within the canopy itself to reduce refurbishment costs. Thus, the old style 250 W metal halide fittings have been replaced with IP65 rated Philips Mini 300 luminaires using high performance LEDs, complete with movement detection for maximum energy savings.
With operating margins under constant pressure in the highly competitive petrol station market, the exceptional efficiency and reliability offered by Philips' robust, low maintenance lighting solution makes a significant contribution to keeping lifetime costs down. Of equal importance is that gains achieved in energy efficiency are not at the expense of good illumination levels.
As Ian Jagger, Group Electrical Services & Environmental Engineering Manager, for Morrisons explains, "We wanted to ensure that within the fuel bay, the petrol pumps are clearly illuminated. Everything is visible, pumps, people, columns and cars. We were extremely impressed with the new LED scheme which has shown that illumination levels are almost the same as those achieved using conventional light sources." Indeed, a critical factor for good under canopy lighting is balancing high vertical light levels and natural colour rendering to allow visitors to see information with the need not blind drivers with unwanted glare.
A similar lighting treatment, this time using symmetric Mini 300 luminaires, has been used within the car wash area. The electrical installation to both the petrol station and car wash was undertaken by Pitts Wilson Electrical Limited. Since completing their first electrical installation at Keighley in 1968, Morrisons and Pitts Wilson have continued their working relationship with Pitts Wilson carrying the full electrical design and installation to the complete Illingworth Supermarket Development.
The signage requirements on site were realized using the revolutionary new Philips Poster Box Module 300 Series (patent pending) in all of the forecourt canopy, kiosk, car wash and gantry illuminated signs. Aluminium profiles wash light across the sign and make optimal use of the light by re-cycling it in the box. The result is a uniform light without the stripes usually associated with fluorescent tubes.
David Williamson, Philips UK LED Sign and Display Business Development Manager worked closely on the design of the petrol forecourt signage with Morrisons preferred signage partner Butterfield Signs. As Williamson comments "Whilst maintaining the strong Morrisons brand image, Philips together with Butterfield Signs have managed to reduce energy consumption by over 75% and due to the long service life of the product, significantly reduced ongoing signage maintenance costs."
As well as having good levels of illumination across the site, it was also important to create a unified look across both the petrol station and the shop kiosk itself. Reflecting consistent brand values in retail applications is particularly important, making customers feel at ease and putting them in a buying mood. After all, good lighting is key to a shop's success, large or small. LED technology now means that good visual impact can be created in store whilst significantly impacting on running costs. This is of major benefit for petrol stations since they have extended hours for customer convenience placing even more demands on lighting. Travelers want to feel safe when making a late-night fuel stop. Station operators in the meantime strive to create an inviting environment that will encourage patrons to browse the station shop before driving on.
At Illingworth, the ambient lighting within the kiosk and stockroom was provided by the latest LED 19 W Luxspace downlights. To highlight selected merchandise such as motoring accessories and seasonal goods accent lighting was achieved utilizing adjustable 10 W Spot LEDs. The long life of LED light sources means that maintenance costs are significantly reduced since no re-lamping should be required throughout the life of the store.
The chiller cabinets at the Morrisons flagship store have been manufactured by George Barker (An EPTA refrigeration company). These cabinets use the best in class Philips LED chiller canopy solution which is the world's first LED canopy light to deliver up to 40% energy savings over fluorescent tubes. The LED chiller canopy solution is a maintenance free solution with a long life time of over 50k hours and an uncompromised light distribution across the shelves.
"The unique styling of the LED canopy solution enhances the visual appeal of the merchandise on display," commented Atul Wahi , Philips UK Business Development Manager – LED Lighting who worked with George Barker to see through the integration into their cabinets.
As Ian Russell, Philips UK Retail Business Development Manager for the project sums up, "We are delighted that Morrisons took the decision to implement the Philips LED lighting system for the complete site and hope that other retailers take the lead set by Morrisons."
Contact
0845 601 1283
E-mail:lighting.uk@philips.com
Web Site:www.philips.co.uk