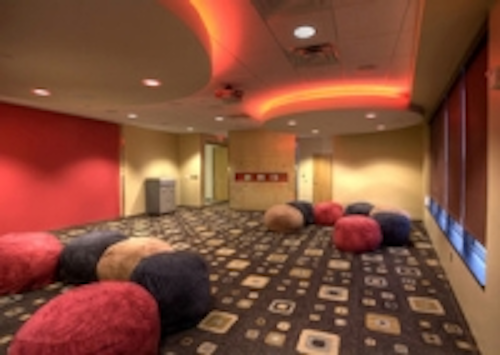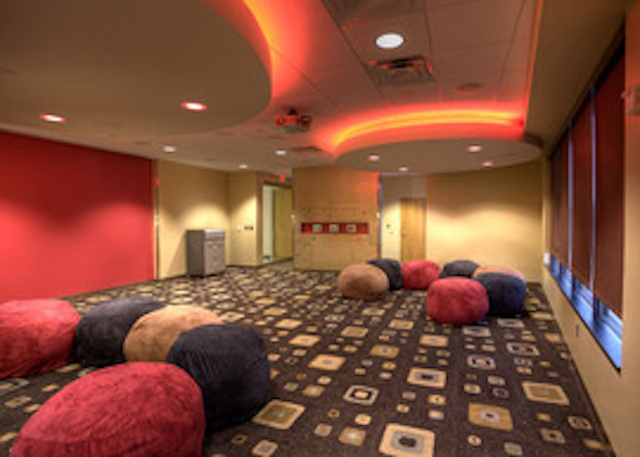 Date Announced: 17 Nov 2009
Imagine walking into a hip, new place lined with a cool, patterned carpet. You see comfy beanbags scattered playfully around the room and notice the soft glow of colorful lights overhead. In one room, the kids are playing tennis on Wii. In another room, some kids are seated in a circle participating in, what appears to be, an animated
discussion. The third room is smaller still, and as you peak your head in the doorway, you see kids playing games and hear laughter as one child loses her pawn to a friend in a game of Sorry!.
This isn't a private school or a new kid's educational area at a library; this is the newly redesigned youth center at St. Michaels & All Angels Church in Dallas, TX. St. Michaels is not only a striking gothic church by itself, but it also has a 150,000 square-foot campus which is used to support its 5,000 members. One of these buildings is the youth center. The church wanted to upgrade the center's interior facilities to a more engaging and fun environment for its youth to
socialize, watch performances, and participate in discussion groups.
The award-winning Dallas architectural and interior design firm, t. howard + associates(THA), was brought in to redesign the interior
of the growing youth center.
Expertly using light, color and materials, THA designed visually engaging rooms of various sizes that would be comfortable and fun for kids. In addition to the colorful, patterned flooring and inviting seating, lighting also played a key role in this redesign. To make select gathering spaces more dynamic and interesting, THA selected iLight's LED Plexineon Color Series in cool blue, soothing green, sizzling red, and vibrant magenta to add fun accents of color to these particular areas.
The Plexineon fixtures were ordered as custom bends, designed to perfectly match the curvature of the drop ceilings in these rooms. The church staff uses each color to identify the different age
groups - the 5th graders convene in the "Red Room," and the 9th and 10th graders meet in the "Green Room." The kids have responded to the colorfully redesigned rooms with excitement, spending more of their free time at the center hanging out, playing games, and
participating in discussions. The church, and the kids, couldn't be happier with the new space.
Designer: t. howard + associates (THA) & Meinhardt USA
Photograph: Jay Brousseau
Contact
Elizabeth Randgaard Director of Marketing T: 312.876.8630 erandgaard@ilight-tech.com
E-mail:info@ilight-tech.com
Web Site:www.ilight-tech.com