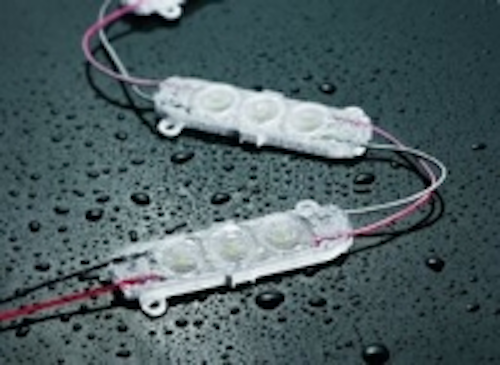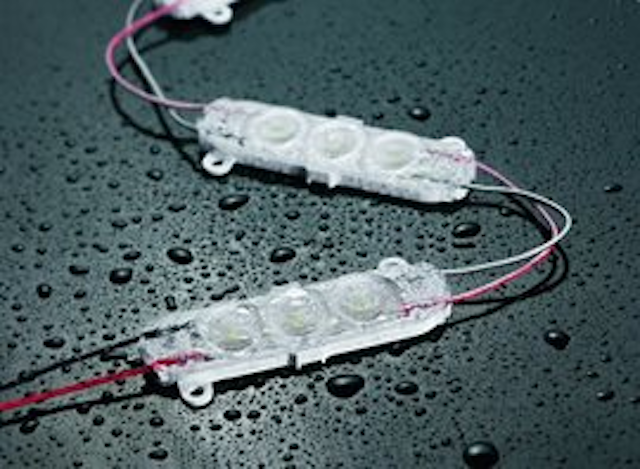 Date Announced: 23 Nov 2009
-- Setting new standards in brilliant white light
Dornbirn -- Signage elements should attract attention and improve
the recognition factor for brands or companies. To do this they must be brightly and uniformly lit. TridonicAtco has made a significant breakthrough with the TALEXXchain CRYSTAL LED chain which raises the quality of white light to a completely new level. TALEXXchain CRYSTAL appears much whiter and brighter than traditional LED chains.
Perfect white – crystal white
The white light of TALEXXchain CRYSTAL is superior to conventional LED light because of its luminance and brilliance. The quality standard for illuminated white lettering or an illuminated white surface is uniformity. Even the smallest nuances in colour tone or
differences in brightness spoil the overall impression of white objects. The constant colour location of the TALEXXchain production series guarantees a uniform colour impression, even if individual modules in a signage application are added or replaced at a later date.
Balanced distribution of light – crystal shape
TALEXXchain CRYSTAL offers a balanced distribution of light thanks to its innovative diffusion lens: crystal shape. It can be placed with a high degree of flexibility so that lettering and logos can be illuminated with great precision and uniformity. Like a crystal it shines into the tiniest corner of every letter. Because the chain is so flexible even delicate curved or low-profile signage elements such as letters and logos can be accurately and evenly illuminated.
Robust and efficient – crystal solid
TALEXXchain CRYSTAL is extremely robust just like a crystal: crystal solid. It is resilient to moisture and fluctuations in temperature and protected against the ingress of dust and water.
This makes designing and installing the signage much simpler, and means that the chain is the first-choice light source for such applications. The long life of the TALEXX modules keep maintenance costs to a minimum, and the high efficiency of the system reduces energy consumption.
Company profile:
TridonicAtco, headquartered in Dornbirn/Austria, develops, manufactures and markets equipment for a wide range of light sources, lighting management systems, LED solutions and connectors. Products from TridonicAtco enable customers to create innovative applications and solutions throughout the world. In the 2008/2009 fiscal year, 1900 employees in 52 locations achieved sales of 366 million euros. 160 development engineers create intelligent lighting concepts based on sophisticated systems and products. More than 200 inventions and over 1280 patents are ample evidence of the powers of innovation of TridonicAtco. Customers include luminaire manufacturers, architects, electrical system designers, lighting planners, electrical contractors and wholesalers.
The history of TridonicAtco stretches back more than 50 years and is a success story with many highs. Today, TridonicAtco is true to its slogan "a world of bright ideas" and is synonymous with outstanding products and services relating to the fascinating subject of light, supporting its customers in the development of energy-efficient lighting solutions. For more information go to www.tridonicatco.com
Further information:
Contact
TridonicAtco GmbH & Co KG Mirjam Jäger, Global Marketing Communication, Press Officer Dornbirn, Austria Tel. +43 5572 395-4315
E-mail:mirjam.jaeger@tridonicatco.com
Web Site:www.tridonicatco.com