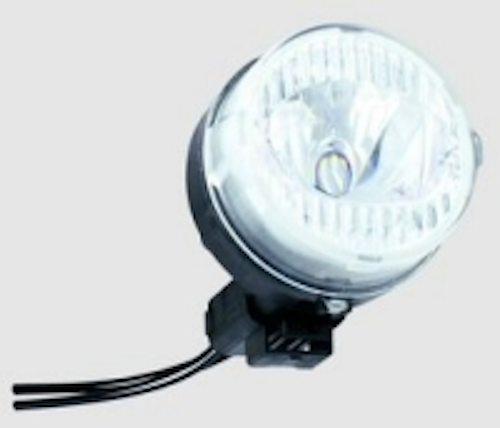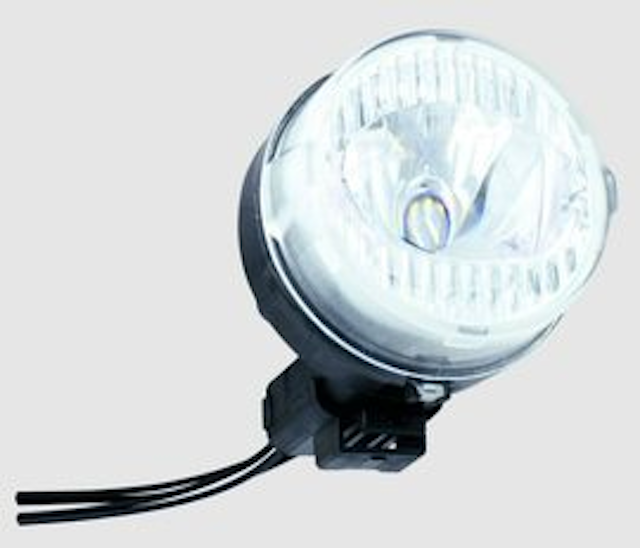 Date Announced: 23 Nov 2009
-- Efficient and durable headlamps with OSRAM Joule JFLCF2 LED modules are replacing the conventional halogen-based technology.
OSRAM's highly efficient LED modules are used in fog lights on BMW motorcycles. The modules are very resistant to shocks and vibrations with a lifespan that usually exceeds that of the motorcycle itself. Therefore, headlamps with LEDs need to be maintained far less often than conventional halogen-based lamps.
With just 14 watts of power input per fog light, the LED module is considerably more efficient than the halogen version's 55 watts.
The design of the JFLCF2 modules with integrated lenses ensures ideal fog-light distribution, which guarantees relatively good vision even in thick fog and therefore greater safety for motorcyclists. The area in front of the bike and the edge of the road are illuminated far better. Plus, other road users can see motorcyclists better.
Even motorcycles that were unsuitable for conventional halogen fog lamps due to their battery or wiring can be fitted with the Joule JFLCF2 LED module.
The JFLCF2 modules, a version of the JFL2, are available in series production since November 2009. As they already include lenses, which meet the requirements of the new EU directive ECE R19 F3, they can be integrated into fog lights easily and inexpensively.
The fog lamps can be customised with heat sinks or assembly fixtures and offer customers the possibility of adjusting the design to their needs.
"By using LEDs, customers can develop new and innovative fog lamps within a very short time, which definitely enhance rider safety and are environmentally friendly, as they reduce energy consumption by more than 80 watts per bike compared with the current halogen technology", says Christian Meier, product manager of Joule LED systems.
OSRAM's Automotive Lighting division and the LED specialist OSRAM Opto Semiconductors have jointly developed the Joule JFL2 LED module. Lighting solutions of both companies for the car and motorcycle industry range from individual LEDs to standardised systems such as Joule. The motorcycle fog lights were developed as part of a BMW and OSRAM joint project.
OSRAM's Joule LED modules can also be used in other lighting functions such as dipped and main beams, braking, indicator and reverse lights. The high-performance diodes consume far less energy than conventional car and motorcycle lamps and can be included in new, platform-independent vehicle models.
ABOUT OSRAM
OSRAM is part of Siemens' Industry sector and is one of the world's two leading lighting manufacturers. In FY 2008 (to 30 September 2008) it generated business worth €4.6 billion, of which 88% was in other countries. OSRAM is a high-tech business in the lighting industry – over 65% of its business is in energy-efficient products today. This globally oriented company employs over 43,500 people worldwide, supplies customers in around 150 countries and manufactures at 46 production facilities in 17 countries.
Contact
OSRAM Lars Stühlen Tel: +49-89-6213-2597 Fax: +49-89-6213-3457
E-mail:l.stuehlen@osram.com
Web Site:www.osram.com