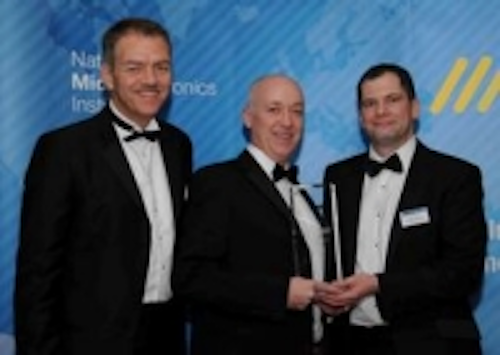 Date Announced: 12 Nov 2009
Dallas, Texas – November 11, 2009 –-- Diodes Incorporated has received the 'Manufacturing Site of the Year' award from the National Microelectronics Institute (NMI). The award was presented to the company at the NMI's prestigious annual awards dinner held in London.
Derek Boyd, CEO of the NMI said, "The award this year has been revised to take into account the severe economic conditions currently facing the industry. We wanted to recognise organisations that have managed to innovate their way through the recession, through development of new products, new processes, operational efficiencies, cost reductions or a combination of all of these factors."
"Diodes' wafer fab in Oldham was able to demonstrate a range of impressive achievements resulting in improved productivity, a reduction in carbon footprint of 30% and enhancements to process and product capabilities to access larger markets. Congratulations Diodes!"
Mick Conlon, UK Operations Manager at Diodes said, "In response to harsh global economic conditions, our UK manufacturing operation has had to undergo dramatic and radical change over the last 12 months. Thanks in no small part to the perseverance of the entire workforce in accepting change, we are now very well equipped to capitalise on the opportunities arising as we emerge from the downturn."
Commenting on the award, Dr. Keh-Shew Lu, President and Chief Executive Officer of Diodes, stated, "I am very pleased to receive this award in recognition of the manufacturing excellence that has served as the cornerstone to Diodes' success over the years. I am particularly proud of our team in Oldham for their resiliency during the economic downturn that will contribute to our improved performance and profitable growth in the future."
In its 7th year, the NMI awards dinner attracted 300 guests from throughout the UK and around the world. A highlight of the evening was a keynote address from Anand Chandrasekher, Senior Vice President and General Manager of Intel Corporation's Ultra Mobility Group.
Picture caption:
Diodes Incorporated wins the NMI's Manufacturing Site of the Year Award for 2009. Pictured Left to Right are Derek Boyd, CEO of the NMI, Rob Davies, Equipment Engineering Manager Diodes Incorporated and Peter Eardley, Project Manager of Award Sponsor Merit Merrell Technology.
PR ref: DI0589
About Diodes Incorporated
Diodes Incorporated (Nasdaq: DIOD), a Standard & Poor's SmallCap 600 and Russell 3000
Index company, is a leading global manufacturer and supplier of high-quality application
specific standard products within the broad discrete and analog semiconductor markets,
serving the consumer electronics, computing, communications, industrial and automotive
markets. Diodes' products include diodes, rectifiers, transistors, MOSFETs, protection devices,
functional specific arrays, amplifiers and comparators, Hall-effect sensors and temperature
sensors, power management devices including LED drivers, DC-DC switching regulators, linear
voltage regulators and voltage references, along with special function devices including USB
power switch, load switch, voltage supervisor and motor controllers. The Company's corporate
headquarters are located in Dallas, Texas. A sales, marketing, engineering and logistics office
is located in Westlake Village, California. Design centers are located in Dallas; San Jose,
California; Taipei, Taiwan; Manchester, England and Neuhaus, Germany. The Company's
wafer fabrication facilities are located in Kansas City, Missouri and Manchester; with two
manufacturing facilities located in Shanghai, China, another in Neuhaus, and a joint venture
facility located in Chengdu, China. Additional engineering, sales, warehouse and logistics
offices are located in Taipei; Hong Kong; Manchester and Munich, Germany, with support
offices located throughout the world. For further information, including SEC filings, visit the
Company's website at http://www.diodes.com.
About the NMI
The National Microelectronics Institute (NMI) is the premier trade association representing the semiconductor industry in the UK and Ireland.
Its aim is to help build and support a strong micro and nanoelectronics community by acting as a catalyst and facilitator for commercial and technological development.
A not-for-profit organisation funded by its members, the NMI has a membership that spans the supply chain and includes fabless semiconductor manufacturers, IDMs, foundries, design services, IP providers, business associates, research and academic institutions.
The NMI's work includes:
• Encouraging innovation, communication and collaboration through networking, funding, brokering and sign-posting activities.
• Representing the micro and nanoelectronics sector to government, policy makers and regulators.
• Supporting skills development, education and training.
• Improving operational efficiency through benchmarking and best practice initiatives.
• Providing an industry specific information flow.
The NMI also welcomes collaborations on a national and global basis, to ensure it delivers the very best service to its members and partners. More information can be found at: www.nmi.org.uk
# # #
Contact
For further information and reader enquiries: Rishi Vig, Diodes Incorporated, Zetex Technology Park, Chadderton, Oldham OL9 9LL,UK Tel: +44 (0)161 622 4444 E-mail: rishi_vig@eu.diodes.com Fax: +44 (0)161 622 4469 Web: www.zetex.com / www.diodes.com. For further information or to discuss feature article opportunities: Rob Davies, Publitek Limited, 18 Brock Street, Bath, BA1 2LW, United Kingdom Tel: +44 (0)1225 470 000 E-mail: rob.davies@publitek.com Fax: +44 (0)1225 470 047 Web: www.publitek.com
E-mail:rob.davies@publitek.com
Web Site:www.publitek.com