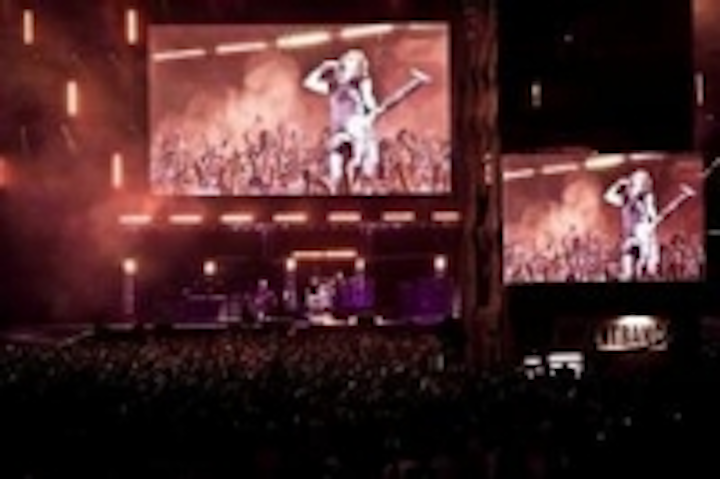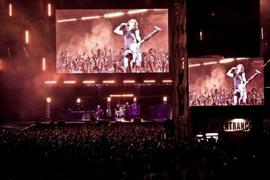 Date Announced: 12 Nov 2009
A host of celebrities descended on the capital for the historic 2009 Formula 1™ Etihad Airways Abu Dhabi Grand Prix over the last weekend of October. The day-night race, the first ever held at the brand new 5.6 km Yas Marina circuit was televised all over the world.
Alongside the race a series of Yasalam, or Fantastic, concerts and events organised by Flash Entertainment for all race ticket holders saw live performances by the likes of Beyoncé, Jamiroquai, Kings of Leon and Aerosmith.
Thousands of fans crowded into the Ferrari World Concert Arena built opposite the North Grandstand which holds up to 40,000 spectators, a capacity as big as that of the new circuit, to watch their favourite artists on each night of the racing weekend.
Contracted by long time client, Flash Entertainment, Damien McGurn, General Manager of CT Dubai, was asked to supply the LED screens and Camera systems and additional integration for each band performing on the successive nights of the Yasalam F1 Concerts.
On the main stage a 108 m2 Lighthouse R7 ER II screen was suspended providing the backdrop to the stage and was supported by a front of house 30 m2 R7 ER II relay screen. Five Sony widescreen SDI D50 cameras were used, three with Box lenses in order to get all the close-ups, one in the pit and one with a wide-angle on stage. In addition a 10mtr Jib was provided for the first night's concert. All performances were mixed through CT's digital Grass Valley mixer. Kings of Leon production supplied their own digital mixer that received CT's mixer camera feeds which were then fed into their Catalyst media servers to add effects, this then was sent to the screens.
The final race of this year's F1 ™ racing calendar was wrapped up by the rocking notes of a live performance by Aerosmith on the night of the 1st November.
Further down the road, CT was commissioned by a separate client, Eclipse LLC to provide 2 Lighthouse 6m x 4,5m R7 ER II LED screens which were positioned to the left and right of the main stage at the Gala Dinner held at Emirates Palace Hotel on 31st October. These screens were used for IMAG and fed locally from a mixer provided by another company.
Jilon Miah, CT Project Manager, commented "the screen at Emirates Palace had its challenges as the venue was a dome shaped temporary structure with restricted height at the edges".
Contact
Damien McGurn Creative Technology Dubai dmcgurn@ctdubai.com +971(0)4 885 6020
E-mail:marketing@ctdubai.com
Web Site:www.ctdubai.com