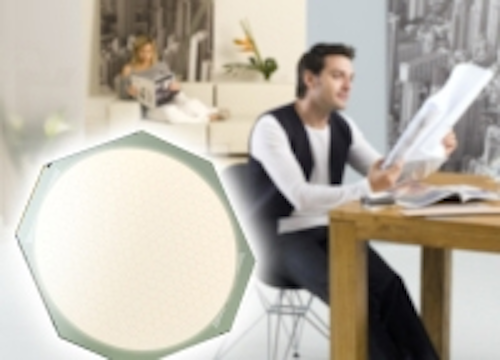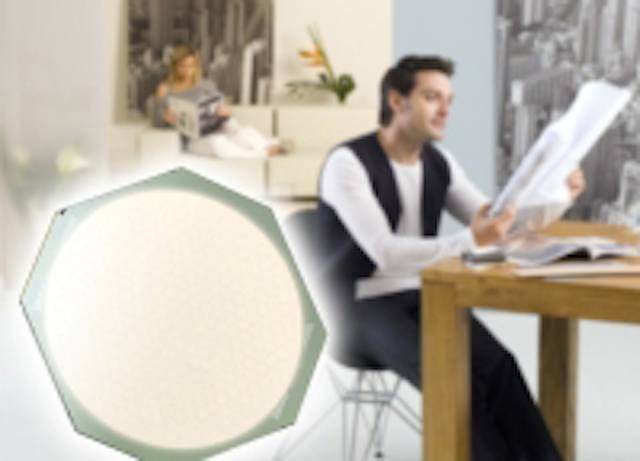 Date Announced: 30 Nov 2009
ORBEOS lighting tile is an exclusive introduction to RS
Corby, UK -– RS Components, the leading distributor of electronic, electro-mechanical and industrial products, today announced the launch of the new OSRAM ORBEOS OLED (Organic LED) lighting tile. OSRAM Opto Semiconductors has appointed RS to be the exclusive catalogue distributor for the ORBEOS across Europe and Asia, and the product is now available on RS websites.
The ORBEOS is a new lighting tile ideally suited to designer luminaires, decorative lighting and mood lighting. Extremely thin and flat, with very low heat dissipation, OLEDs can be embedded into most materials with ease. With an instant on/off function, plus high quality of light, this ambient light can become an integral part of objects and architecture.
Commenting on the RS launch of ORBEOS for OSRAM Opto Semiconductors Stephan Kreusel, Director of Distribution EMEA said: "OSRAM is pleased to be furthering its partnership with RS. Fuelled by the jointly driven 'OS Lightshop', which provides immediate access for customers to the whole OS product portfolio, RS' service and support helps the establishment of OSRAM technologies in new applications being developed by electronic design engineers."
For RS, Glenn Jarrett, Head of Electronics Marketing said: "RS is delighted to be selected as the preferred catalogue distributor for the ORBEOS OLED. We are committed to bringing our customers the latest technologies first and this agreement gives customers immediate access to leading edge OLED technology from a market-leading manufacturer."
The OSRAM ORBEOS OLED is available now from RS, and can be found online at rswww.com/electronics. Customers can link straight into the OSRAM Opto Semiconductors range and supporting technical information, then select and order direct from stock.
About RS Components
RS Components is a catalogue-based distributor of Electronic, Electrical, Electromechanical and Industrial Components. Founded in 1937, RS is part of the holding company Electrocomponents plc, a global business supporting over a million engineers. It has operating companies based in over 25 countries, including France, Italy, Germany and Denmark, with operations as far a field as Chile, Singapore, Australia and China, and distributes to over 160 countries worldwide.
Since it began, RS has had the simple objective of providing a part for every job, from research and development through pre-production to maintenance and repair. As those jobs have diversified and become even more complex, RS has developed its offering and services accordingly.
New technology also plays an important part. When RS launched http://rswww.com, it was the first UK plc in its marketplace with a fully integrated transactional web site. Operating in every market, its e-Commerce capabilities have seen over 50% of sales achieved over the Internet.
Based in Corby, Northamptonshire, RS employs over 2000 employees nationwide. Recent awards achieved include Regional Winner at the East Midlands National Training Awards 2008, and the award for Contact Centre of the Year at the Customer Service Awards 2008.
For more information please visit rswww.com/presscentre.
About OSRAM Opto Semiconductors
OSRAM is part of the Industry sector of Siemens and one of the two leading lighting manufacturers in the world. Its subsidiary, OSRAM Opto Semiconductors GmbH in Regensburg (Germany), offers its customers solutions based on semiconductor technology for lighting, sensor and visualisation applications. OSRAM Opto Semiconductors has production sites in Regensburg (Germany) and Penang (Malaysia). Its headquarters for North America are in Sunnyvale (USA), and for Asia in Hong Kong. OSRAM Opto Semiconductors also has sales offices throughout the world. In the 2008 fiscal year (to the end of September) OSRAM Opto Semiconductors employed more than 4600 people and achieved sales totalling €529 million
For more information please visit www.osram-os.com.
Contact
RS Components PO BOX 99, Corby Northants NN17 9RS Tel: 01536 209174 Fax: 01536 405682 JDK Marketing Communications Tel: 01959 562 772 Fax: 01959 564 848 joanne@jdk.co.uk www.jdk.co.uk
E-mail:tracey.taylor@rswww.com
Web Site:rswww.com/electronics