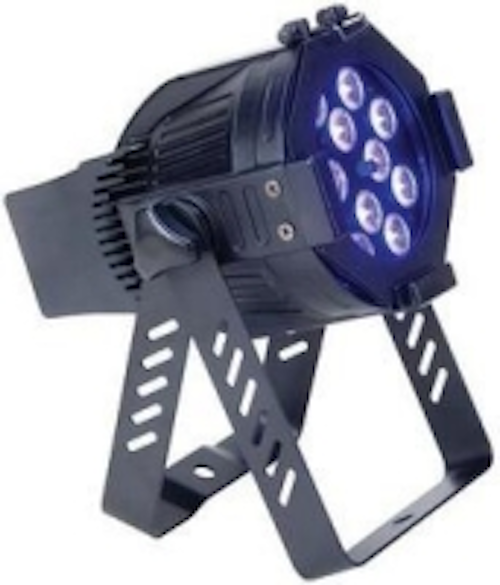 Date Announced: 18 Nov 2009
LOS ANGELES -– Elation Professional has added an ultra-violet LED par can to its top-selling series of Opti stage lights. A high-output blacklight, the new Opti 30 UV is powered by 12 1-watt ultra-violet LEDs, which produce extreme brightness while eliminating the heat associated with conventional par cans. The Opti 30 UV consumes far less energy than traditional halogen pars, too, drawing just 20 watts of electricity, despite its powerful beam.
Ideal for theaters, productions, churches, clubs, exhibits and trade shows, the Opti 30 UV fits into virtually any type of lighting application because it's lightweight, rugged, easy to set up and is very flexible. It can be operated manually or via DMX, can be hung or set on the floor, and offers multi-voltage operation: AC 100-240V/47-63 Hz.
Featuring a 25° beam angle, the Opti 30 UV produces intense, ultra-violet light over a wide coverage area. Other features include 0-100% Dimming and a Strobe effect, making it easy for users to add their own customized professional touches to a production or show.
"LEDs are capturing an increasing share of the par can market," said Eric Loader, director of sales for Elation Professional. "The Opti 30 UV was designed for those who want an ultra-violet version of an LED par can with the added bonus of featuring Elation's popular Opti stage light design.
"Thanks to the cool operating temperature of its LEDs, the Opti 30 UV will keep performers on stage more comfortable," added Loader. "Plus, its energy-efficiency allows you to save on electricity costs and avoid the problem of overloading circuits. We also designed the Opti 30 UV to be flexible enough to meet a variety of user needs."
Equipped with a 3-pin DMX connection, the Opti 30 UV operates on 2 DMX channels, one for controlling Intensity and the other for controlling the Strobe. A digital DMX display makes it very user friendly. As another easy option, the Opti 30 UV can be operated manually without a controller.
Made of sturdy high-impact aluminum, the Opti 30 UV is rugged enough to withstand touring production applications. It has an attractive black finish that complements virtually any setting. Its compact size of 10"L x 7.25"W x 5.75"H (250 mm x 185 mm x 145 mm), and light weight of just 5.3 lbs. (2.4 kg) make it easy to pack up, transport and install. The Opti 30 UV comes with double brackets that make it simple to set up the unit on the floor in addition to hanging it, for added versatility.
Like all LED fixtures, the Opti 30 UV's lamps have a long life (30,000 hours), allowing users to save on maintenance time and expenses. ETL approval is pending.
The MSRP of the Opti 30 UV is $399.95.
Contact
For more information, call Elation Professional toll-free at 866-245-6726 or visit www.elationlighting.com
E-mail:abby@fucinipro.com
Web Site:www.elationlighting.com