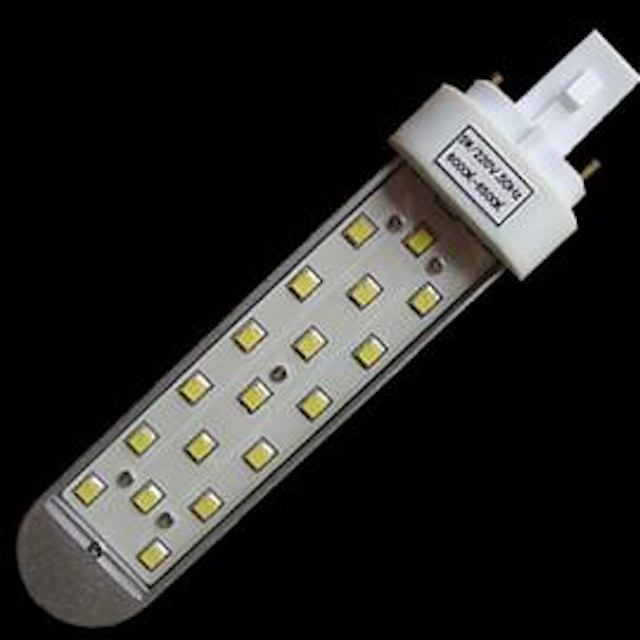 Date Announced: 16 Nov 2009
A light-emitting diode (LED) is a semiconductor chip that emits light when conducting current. LED's are very versatile due to their ability to emit nearly all spectrums of light. This has led to their nearly universal adoption as a light source for a wide range of applications from: status indicator lights, to traffic signals, to today's advanced direct replacement LED light sources.
Although, LED's that produce a practical spectrum of visible light have been under constant development since the 1960's, only recently have LED's that can produce acceptable levels of illumination - for a primary lighting source in a home or business - seen mass production. The pace of innovation in the field of LED illumination, also referred to as Solid State Lighting (SSL), is currently progressing at an amazing pace. The latest bulbs available from EarthLED did not even exist one year ago!
Now aisan electronics has one new style of g24 led downlights which can replace g24 plc energy saving lamp.For more information,please see here:www.led-light-aisan.com
Model Number: AIE- 7001(SMD PLC LED downlight)
Input Voltage: AC 85~264V/12VDC/24VDC
Lamp Base:G24
LED power:3W/5W/8w
LED Maintain Flux:300 LM /500LM/800lm
Contact
Address:8th floor,No.45,East Yannan Road,Shanghai,ChinaZip: 200002 Tel: +86-21-57659845 Fax: +86-21-63374402
E-mail:sales@led-light-aisan.com
Web Site:www.led-light-aisan.com