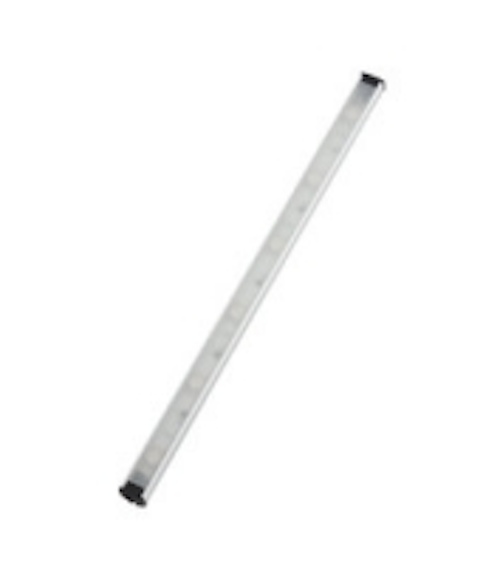 Date Announced: 26 Nov 2009
OSRAM continues to drive LED innovation with its new LINEARlight DRAGON® Slim LED module. Featuring a width of only 16mm, the high power LINEARlight DRAGON® Slim is perfect for flexible lighting applications where a compact, discreet LED system is required.
It offers high brightness and superior technology in a small unit which houses six Hi-flux Golden DRAGON® LEDs. This slim system fits seamlessly into any application and is ideal for applications such as shelf, cabinet or furniture lighting.
The LINEARlight DRAGON® Slim LED strip brings flexibility to interior lighting design thanks to its compact dimensions. In addition, it provides a neat and stylish finish that enables it to enhance the aesthetics of any application.
Significantly, each module features FineWHITE LEDs that emit the same homogenous white light with no visible colour deviations. By ensuring that each module comes from the same sorting grade, there will be no white tone variations throughout an application.
The inclusion of high-performance Golden DRAGON® LED technology within this slim LED strip makes it highly efficient. Characterised by a long lifetime of up to 50,000 hours as well as high brightness and efficacy levels, the Golden DRAGON® LED brings these benefits to the LINEARlight DRAGON Slim.
Dave Ellis, National Sales Manager – Specification at OSRAM says: "For people looking for a highly efficient, versatile LED module that requires as little room as possible to illuminate an application, LINEARlight DRAGON® Slim is the perfect solution. This product benefits from the superior nature of LED light sources while being compact enough to suit any application. Display cabinet, under-shelf, and furniture lighting applications can all enhanced with brilliant light through the installation of this module."
Featuring an easy plug and play connection and a robust aluminium housing, LINEARlight DRAGON® Slim benefits from easy and versatile mounting options. Up to three modules can be operated in series and each module is dimmable by pulse width modulation. To further optimise the performance of the LINEARlight DRAGON® Slim, it should be operated on OSRAM's OPTOTRONIC® control gear.
Contact
For more information, please call 01744 812 221, email csc@osram.co.uk or visit www.osram.co.uk.
E-mail:csc@osram.co.uk
Web Site:www.osram.co.uk