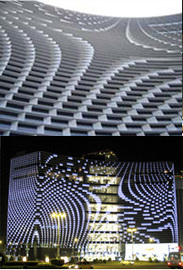 Date Announced: 06 Jan 2009
Talee Star Place was grandly opened in Taiwan the other day. The splendid and impressive LED wall attracts numerous people, the various changing lights and shades presents an extremely different vision effect on the exterior of the construction, which is now the new landmark of Kaohsiung city.
The case is completed after two years of cooperative planning by UN Studio in Holland and domestic LED lighting manufacturer, AOP. While AOP is responsible alone for the LED lighting design and manufacture, control system, and program development.
For successfully accomplishing this large-scaled case, AOP introduces the world famous lighting control system -- Ecue Lighting control system, the total numbers of LED Light Module used are around 2,500 pcs, and the totality of high power R/G/B tricolored LED reaches as high as 12,000.
The extremely large totem generated by the changing lights and shades on the exterior of the building is the essential element of this architecture design. How to effectively apply optical imaging technology in presenting the totem characteristics on the building is the primary difficulty required to be overcome.
Since the architectural design is with bay-shaped design, the Alliance Optotek Corp. has to plan in accordance with different length of tangents of main arched structure while devising the arrangement order of LED lighting,; consequently, the specifications of various LED lightings used reach as much as 200, signifying a highly complicated corresponding relationship between control system and lightings.
Alliance Optotek therefore employs the non-matrix layout rarely used globally at present in control system. The difficulties technically have been successfully overcome after 6 months of test, an important breakthrough in terms of architecture lighting technique is accomplished afterwards. In addition, for maintaining the overall esthetic appearance, all the installation and circuit of power supply/signals of LED are hidden design. High technique of installing LED devices in the main structure is required for precisely following the construction schedule of the building; hence the time of completing the case of LED design lasted two years.
Alliance Optotek Corp. is equipped with a strong and experienced R&D team, with comprehensive techniques in light, machinery, electricity, and heating control. AOP continuously focuses on developing a variety of products, such as LED indoor/outdoor lighting, and in constant cooperation with global top manufacturers for ODM development, in order to offering a wide-ranging solution program. The successful operation of LED building exterior wall of Talee Star Place embellishes even more the night of glorious Kaohsiung. The LED building lighting is expected to be the leading role in the glamorous city night in the very near future.
Contact
Alliance Optotek Corp. No.5,Lane191, Chung-Ho St., Chupei City Hsinchu 30267, Taiwan Tel: +886-3-5551100 Fax: +886-35555050
E-mail:ledsmagazine@aoptk.com
Web Site:www.aoptk.com