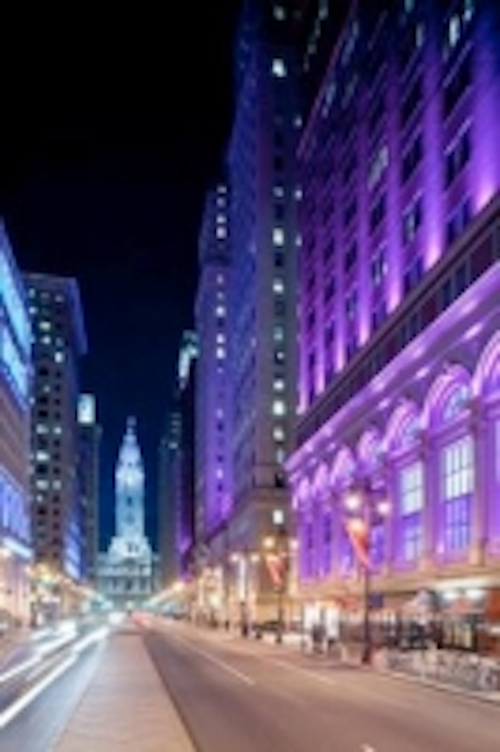 Date Announced: 29 Jan 2009
Recently, the Center City District in Philadelphia threw the switch on a celebratory holiday gift for the city, illuminating the historic façades along the Avenue of the Arts. Color-changing LED lighting, provided by Philips, transformed the streetscape into a multi-color canvas for the holidays and city-wide celebration.
On December 17, attendees gathered to see the unveiling of the lighting display, which synchronized the score of The Nutcracker to color-changing light shows that danced along buildings along the intersection of Broad and Walnut Streets. In between the sound and light shows, coordinated lighting changes moved up and down buildings along the Avenue of the Arts.
Philips ColorGraze Powercore and ColorBlast Powercore fixtures were used to create the dazzling lighting display. Permanently installed to illuminate nine buildings along the Avenue of the Arts, the lighting will create a vivid nightscape throughout the year.
In addition, Philips temporarily illuminated City Hall with its newest fixture ColorReach Powercore, a high-performance architectural floodlight, which provided color-changing and dynamic effects upon the 548-foot-tall municipal building.
"Philadelphia is the only city in North America to have organized this of type of lighting on such a large scale in their downtown, coordinating installation on cultural and civic institutions and private buildings with multiple owners," said Paul R. Levy, President & CEO of the Center City District.
ColorReach Powercore is the first LED fixture of its kind that can illuminate large-scale buildings while at the same time curbing energy use and reducing maintenance. With more than 5,000 lumens of output and unprecedented light projection of over 500 feet, the fixture brilliantly illuminates grand buildings, like City Hall, with vibrant colors. It consumes just 290 watts as compared to the metal halide fixtures typically used in such applications, which consume 1,600 watts and require the use of filters to produce color.
The permanent lighting displays were designed by The Lighting Practice, a Philadelphia-based firm that specializes in architectural lighting and the architectural firm Vitetta. Entertainment solutions provider PRG provided system integration support and installation was carried out by Philadelphia's Gordon Electric.
About Philips Color Kinetics
Philips Color Kinetics transforms environments through dynamic and more efficient uses of light. Its award-winning lighting systems and technologies apply the benefits of LEDs as a highly efficient, long lasting, environmentally friendly, and inherently digital source of illumination - reinventing light itself as a highly controllable medium. Headquartered in Burlington, MA, USA, Philips Color Kinetics is the leading center of innovation and product development for Philips' global LED lighting systems business. The organization also enables widespread adoption of LED lighting through OEM partnerships in diverse markets.
About Royal Philips Electronics
Royal Philips Electronics of the Netherlands (NYSE: PHG, AEX: PHI) is a diversified Health and Well-being company, focused on improving people's lives through timely innovations. As a world leader in healthcare, lifestyle and lighting, Philips integrates technologies and design into people-centric solutions, based on fundamental customer insights and the brand promise of "sense and simplicity". Headquartered in the Netherlands, Philips employs approximately 121,000 employees in more than 60 countries worldwide. With sales of EUR 26 billion in 2008, the company is a market leader in cardiac care, acute care and home healthcare, energy efficient lighting solutions and new lighting applications, as well as lifestyle products for personal well-being and pleasure with strong leadership positions in flat TV, male shaving and grooming, portable entertainment and oral healthcare.
Contact
Jill Klingler Philips Color Kinetics
E-mail:jill.klingler@philips.com
Web Site:www.colorkinetics.com