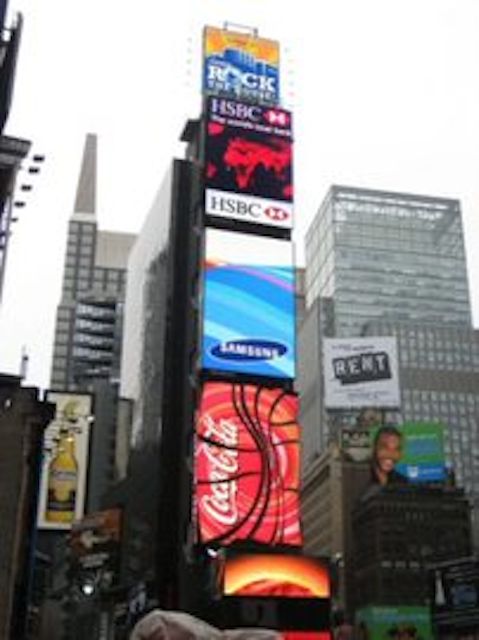 Date Announced: 12 Jan 2009
-- Samsung Times Square Display Interacts with Times Square New Years Crowd
BROOKINGS, S.D. –– It may have been a frigid start to 2009, but hundreds of thousands braved the cold temperatures in New York's Times Square to ring in the New Year. Once again, revelers in Times Square were treated to the exclusive December 31st performance starring the largest grouping of digital advertising displays in the world, many manufactured by Daktronics Inc. (NASDAQ-DAKT) of Brookings, S.D.
This year, Keyframe®, a creative service division of Daktronics, partnered with Cheil USA Inc. to conduct an interactive marketing campaign for Samsung in Times Square from Dec. 26 through Dec. 30. Two full-service marketing agencies who specialize in creating interactive experiences in high-traffic areas took to the Times Square streets where they interacted with the public. Snapshots accompanied with personal holiday greetings and messages of participants in Times Square were fed to the Daktronics-manufactured Samsung spectacular LED display located on tower Two Times Square.
"With our street teams out there promoting Samsung's Share Hope program, we gave people an opportunity to enhance their holiday experience. Daktronics enabled us to make the billboard interactive, allowing the freedom to post holiday messages and capture the spirit of the New Year," said Michelle Son, director, Cheil USA Inc.
In addition, Keyframe captured footage of the New Year's Eve crowd from the top of Tower Two Times Square. A Keyframe operator sent the live video feed to the Samsung spectacular display inside Two Times Square using Daktronics Venus® control software. The operator monitored the live feeds and periodically switched to Venus® and other premade content, providing a unique, personal experience for all in attendance. Daktronics Keyframe designs innovative, award-winning digital content for some of Daktronics' most famous Times Square installations.
Daktronics' LED spectacular display systems entertain and inform audiences both in Times Square and around the world on a daily basis. Most notably, the company's pioneering LED technology is showcased with the Coca-Cola display in Times Square with its unmistakable 3-D design and 2.6 million LEDs, to the 70-foot-tall Anheuser- Busch
display positioned in the middle of One Times Square, one of the most internationally recognized hotspots during New Year's Eve.
For an entire century, Times Square has been the epicenter of New Year's Eve celebrations with its innovative array of towering electric billboards advertising everything from the latest beverage to the next electronic advancement.
Only in the past decade has Daktronics LED video technology completely revolutionized the advertising industry, transforming the once bright neon displays into full-motion video, allowing Crossroads of the World spectaculars to become significantly more dynamic and engaging.
About Daktronics
Daktronics, celebrating its 40th year of business in 2008, is recognized as the world's leading provider of full-color LED video and messaging displays. Daktronics began manufacturing LED video displays in 1997. Since then, nearly 5,000 full-color large screen LED displays have been sold and installed in commercial and sporting facilities around the world. Since 2001, independent market research conducted by iSuppli Corp. lists Daktronics as the world's leading provider of LED video displays. Daktronics designs, manufactures, markets and services display systems for customers around the world, in sport, business and transportation applications. For more information, visit the company's World Wide Web site at: http://www.daktronics.com/spectaculars, e-mail the company at sales@daktronics.com, call (605) 697-4300 or toll-free (800) 325-8766 in the United States or write to the company at 331 32nd Ave. PO Box 5128 Brookings, S.D. 57006-5128.
Contact
Julia Angerhofer Commercial Marketing tel (605) 692-0200 ext. 56779
E-mail:jangerh@daktronics.com
Web Site:www.daktronics.com