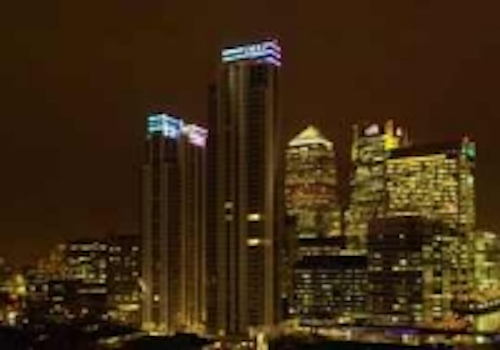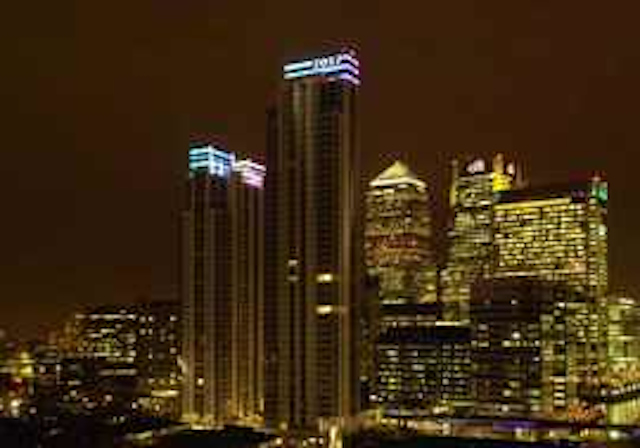 Date Announced: 30 Jan 2009
Thursday 22 January 2009 saw the official opening of Ballymore Properties landmark residential building, the Pan Peninsula, at Mill Harbour near London's Canary Wharf.
One of Europe's tallest residential buildings at 509ft, this 50-storey building consists of two towers, the top of which are illuminated by external LED feature lighting. The LEDs form a series of asymmetrical patterns of intersecting horizontal and vertical strips across the top 5 storeys of each tower. Reflected in the water below and surmounting a signature restaurant and a 50th floor cocktail bar with panoramic views of London, the lighting serves to increase the aura of this world-class architecture.
Maurice Brill Lighting Design called upon Artistic Licence to provide the control solution for the permanent lighting installation and for the Opening Night ceremony.
Artistic Licence's award-winning Colour-Tramp system was specified to control the LEDs because of its ability to map both buildings geographically on a control screen. This then enabled the lighting designer to literally paint coloured light across the building and to render videos of the area to be lit.
Colour-Tramp was designed specifically to handle the complexity of two and three dimensional lighting arrays and combines the concept of lighting control with a graphic editor. It also provides a full implementation of Remote Device Management (RDM) which allows Colour-Tramp to communicate with the lighting fixtures.
Colour-Tramp operates by outputting Art-Net, the public domain protocol developed by Artistic Licence which is now supported by over 100 manufacturers worldwide. Pan Peninsula's two towers are then linked via fibre optic cables which are used to distribute the Art-Net Ethernet signals between the two.
All the LED dimmers in the installation operate on DMX512 so, in its first outing, Artistic Licence's newest product, Art-Lynx, was used in both buildings to convert the Art-Net signals to DMX512, ensuring seamless and precise control between Colour-Tramp and the LEDs.
Mounted in a DIN Rail housing, Art-Lynx is designed to work with other Artistic Licence DIN Rail products and is the perfect solution to integrate DMX equipment into large scale or permanent systems.
"In designing this product we wanted to keep installation engineers in mind, in addition to the functionality of the product itself," explains Artistic Licence Technical Director, Simon Hobday. "Since they generally understand Cat 5 cable better than DMX, it was a natural progression to fit an Art-Net Node into a box to create a DIN Rail unit. It is now possible to integrate a whole host of our DMX DIN Rail products to, for example, control relays, LEDs, and the like - alongside standard electrical DIN Rail installations."
OPENING NIGHT CEREMONY
Artistic Licence was also called upon to devise the lighting control for the grand Opening Night when VIPs were invited to view the Pan Peninsula buildings from the upper floors of the Cross Harbour hotel, another Ballymore Properties building situated across the water from the Pan Peninsula at Millwall.
Part of London's Olympic legacy, the official opening of this signature building was hosted by Chairman of the London Organising Committee for the Olympic Games, Sebastian Coe.
The lighting was synchronised to a live orchestra playing in the Cross Harbour's roof-top VIP lounge - which presented a number of interesting technical challenges for Artistic Licence. The solution was to use multiple Artistic Licence Colour-Tramp systems which were synchronised over high-powered radio links between the buildings.
In addition to the asymmetric feature lighting, the show also featured a count down to the Olympics on the side of Tower 1, which was composed of over 2000 pixels of Artistic Licence Pixi-Flex.
Pixi-Flex is an LED colour mixer aimed at pixilated animation and video applications. The pixels are moulded onto the combined power and data cable and can be simply installed, in any configuration required, using either the rear mounting screw or by push fit. Each pixel is then individually controlled and offers in excess of 16 million colours.
"This is exactly the kind of challenge we relish," says Artistic Licence Managing Director, Wayne Howell. "Our company is based on developing solutions for new technology and we have been able to supply a number of tools for this project to build a complete control system which exactly meets the requirements of this very exciting and challenging project."
So successful was the evening that the following day saw Hobday back on site at the customer's request, programming a series of sequences for everyday use and a special light show for Valentine's Day. He also carried out some customer training to enable staff from Ballymore and Maurice Brill to control the lighting themselves.
Contact
Julie Harper
E-mail:julie@joolzharper.co.uk
Web Site:www.artisticlicence.com