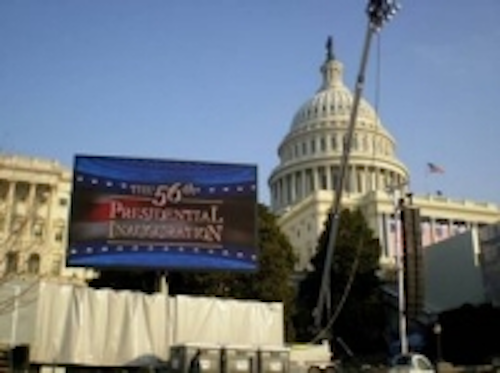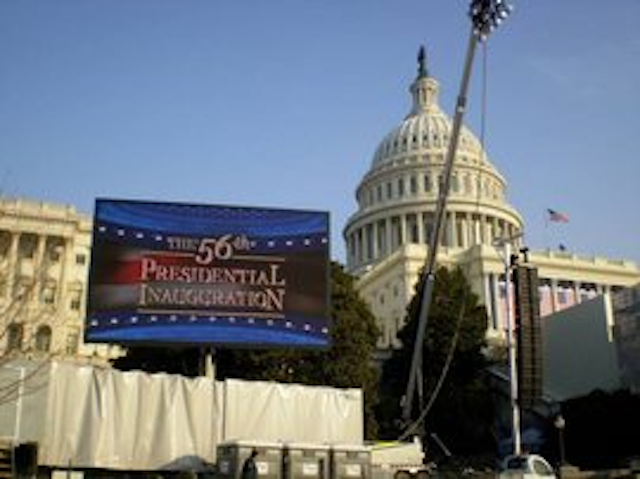 Date Announced: 20 Jan 2009
-From Washington D.C. to Wilmington, DE to Atlanta, GA, Upstage Video is honored to be an integral part of helping audiences witness the historic moment
Washington D.C. -- Upstage Video, a leading provider of mobile and modular LED screens and services, today announced its integral role as a provider of LED displays and camera support at three major Presidential Inaugural events: Obama's Whistle Stop Tour, Inauguration Atlanta and the Washington D.C. Presidential Inauguration, in which one of the newest Upstage Video screens was selected to be placed directly on the Capitol steps.
Thousands turned out to catch a glimpse of President-Elect Obama at his Whistle Stop Tour commencing in Philadelphia and ending in Washington D.C. The Upstage Video crew enhanced the events by providing simultaneous LED display and camera support in both Wilmington and Baltimore using two Barco B10 mobile LED units, and a custom 9x16 Daktronics mobile unit with a full control room.
Today, Upstage Video is busy both in Washington D.C. and at Inauguration Atlanta helping audiences get a better view of the historic event. A crew and equipment are in Atlanta to provide support for one the largest "big screen" events ever in Olympic Centennial Park delivering the next best thing to watching the inauguration in person by streaming live video of today's events in Washington via LED displays.
In addition, the newest Upstage Video custom built tractor trailer featuring a brand new 17' x 27' Daktronics 23mm ProStar video display will be utilized on the Capital steps, just 50 feet from President Elect, Barack Obama.
Doug Murray CEO of Upstage Video says, "We've been working very hard over the years to compile the most appropriate and versatile inventory in the North America and this inauguration week has confirmed that we have succeeded in doing so. We are simply overwhelmed with excitement and anticipation to not only experience, but also to play a part in this historic event," concluded Doug.
About Upstage Video
Upstage Video is dedicated to delivering the highest level of personal service, expertise and technology in the world of mobile and modular LED displays for best in class events. Upstage Video provides clients with the most robust supply of screen options on the market today complemented by a highly educated and experienced technical staff to carry out the client organizations' desires to "wow" both the audience and sponsors.
Founded in 2005, Upstage Video is headquartered in the Philadelphia area with a Western US office located in Boulder, CO. Upstage Video services events from New York to Los Angeles.
Contact
North American Headquarters Pottstown, PA Phone: 877-HUGE-TVS (877-484-3887) Western US Region Boulder, CO Phone: 305-742-8095 Email: dave@UpstageVideo.com
E-mail:info@UpstageVideo.com
Web Site:www.upstagevideo.com