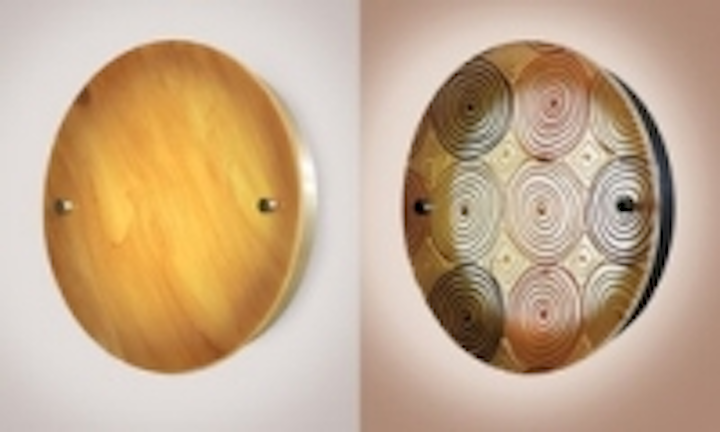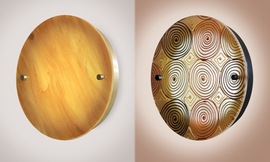 Date Announced: 29 Jan 2009
Interior and exterior recessed wall luminaires feature sustainable and/or recycled components
PEACHTREE CITY, Ga., January 27, 2009 - Cooper Lighting, a division of Cooper Industries, Ltd., has introduced a new series of Shaper wall sconces offering a wide selection of unique decorative elements including recycled glass, fabric, resin, colored acrylic and bamboo rings for interior and exterior environments. The Shaper 613 Rio Decorative Elements Series is available in two sizes (6" and 8") with a choice of 13 round and square Decorative Elements. The wall sconces feature a convenient modular design, multiple energy-efficient lamping options including LED, and sustainable and/or recycled luminaire components, recognizing the importance of sustainability and environmental responsibility.
The Rio's Decorative Elements choices include Frosted Acrylic, Crystal Recycled Glass, Aquamarine Recycled Glass, Blue Topaz Recycled Glass, Ruby Red Recycled Glass, Sage Concentric, Terracotta Concentric, Bamboo Rings, Paper Leaf, White Weave, White Swirl, Mocha Swirl and English Toffee Swirl. The recycled glass contains 98%-100% post-industrial recycled materials. The resin is 100% recycled resin. The resin manufacturing process uses water that has been recycled in a closed-loop system, saving over 21 million gallons of fresh water each year. Decorative Elements with botanicals (Bamboo Rings and Paper Leaf) are made from sustainable, cultivated crops. The Natural Aluminum trim ring uses up to 80% recycled aluminum with no secondary surface finishes and is easy to recycle at the end of the product's life.
The fixture design is comprised of four modular components made of rugged die-cast aluminum construction, stainless steel hardware, high-temperature silicone gasket, tempered glass lens and double-finish protection. A patent-pending alignment system provides +/- 10° (20° total) to compensate for a misaligned back box housing. The back box housing is available to ship in advance for rough-in purposes and easily installs in drywall, concrete pour or brick/masonry. The housing also includes an integral UP arrows and two leveling vials to ensure proper orientation and alignment. A lens/bezel assembly mechanically fastens to the housing, creating a tight, IP68-rated seal that is independent of the Decorative Element. The pre-wired POWER-TRAY™ module that contains all the optical and electrical elements plugs directly into the quick-disconnect in the back box housing, making installation and service fast and easy. Lamp options include compact fluorescent, metal halide, halogen and LED. Trim rings and finials are available in all standard painted and plated finishes including Chrome, Cooper, Brass, Nickel and White. The series is ADA compliant.
About Cooper Lighting
Cooper Lighting, a subsidiary of Cooper Industries (NYSE: CBE), is the leading provider of innovative, high quality lighting fixtures and related products to worldwide commercial, industrial, retail, residential and utility markets.
About Cooper Industries
Cooper Industries, Ltd. (NYSE: CBE) is a global manufacturer with 2007 revenues of $5.9 billion, approximately 87% of which are from electrical products. Founded in 1833, Cooper's sustained level of success is attributable to a constant focus on innovation, evolving business practices while maintaining the highest ethical standards, and meeting customer needs. The Company has eight operating divisions with leading market share positions and world-class products and brands. Cooper, which has more than 31,500 employees and manufacturing facilities in 23 countries as of 2007, is incorporated in Bermuda with administrative headquarters in Houston, TX.
Contact
Cooper Lighting
E-mail:TalkToUs@CooperIndustries.com
Web Site:www.cooperlighting.com