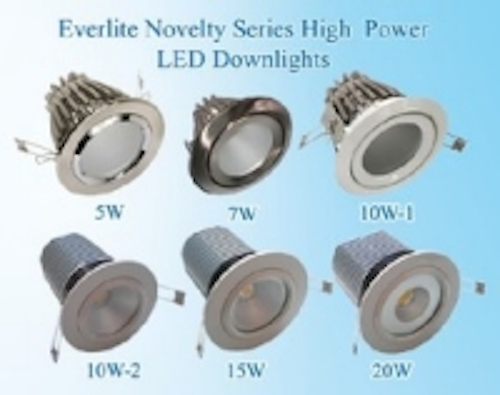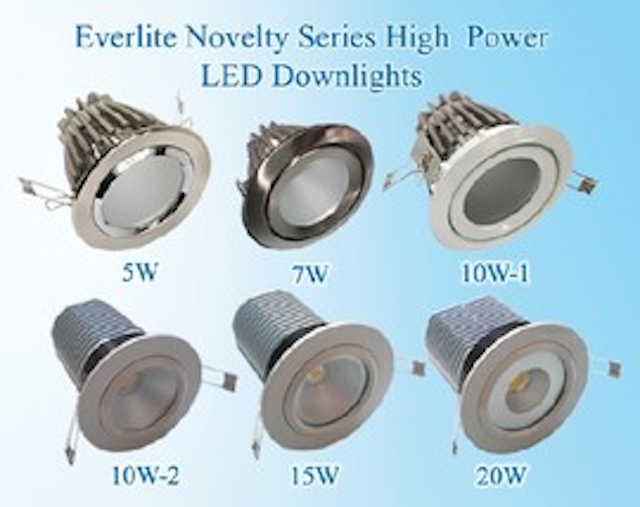 Date Announced: 08 Jan 2009
The Novelty series downlights are based on multi-chip packed point source high power led module, with versions of 5W, 7W, 10W and 15W and 20W. Those high power led modules are high luminous efficiency, 70-80 lumens per watt in day light color and 60-70 lumens per watt in warm white color. Especially the high CRI, over 80, makes them a good candidate to replace the conventional halogen and CFL bulbs used in commercial and household recessed downlight fixtures.
High efficient heat sink makes the Novelty series downlight a possible life of 50,000 hours long. External driver for the downlights are designed to adopt universal electricity from 85Vac to 265Vac. External driver's efficiency is over 83 and power factor is over 95%.
The Novelty series downlights' optic management is handled by efficient aluminum reflector with angle of medium beam 60 degree and flood beam 80 degree.
The Novelty series downlights offer customers with variable fixture housing colors, white, polished aluminum and brushed aluminum housings.
Novelty series have six different light colors: white, warm white, amber, red, green, and blue. The Novelty series is perfect for down lighting in hotels, shopping malls, retails, hospitals, residential areas and more. It can highlight important task areas and provides innovative and energy-efficient solutions for the designers and end users.
Everlite Novelty series downlight is compatible with CREE NEW MC-E LED. For customer who wants to try this new technology please contact us in the earliest time by email: sales@everlite.cc
For more information of CREE MC-E LED, please visit
http://www.cree.com/products/pdf/XLamp_MCE_cutsheet.pdf
Everlite Novelty series downlights promise customer worldwide 2 years warranty period.
Contact
Everlite LED Lighting Co., Limited Jackie Zhang Mobile: +86 15058048020 Tel: 0086 574 6519 6933 Fax: 0086 574 6519 5657
E-mail:sales@everlite.cc
Web Site:www.everlite.cc