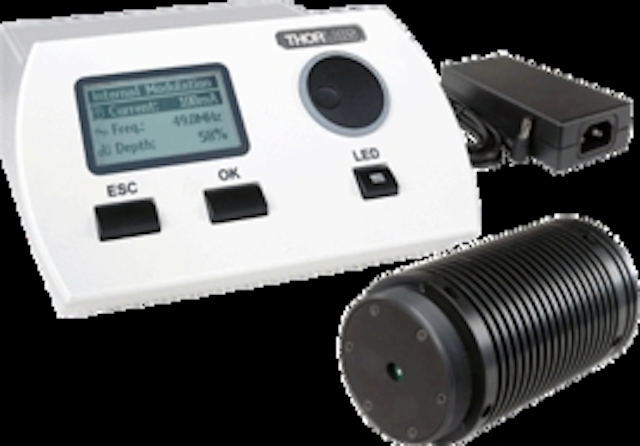 Date Announced: 23 Jan 2009
Thorlabs new Modulating LED Source LEDD3 is designed for frequency domain Fluorescence Lifetime Imaging FLIM and other microscopy applications that require modulated high brightness LED sources (HB-LEDs). The LEDD3 source comprises a non switching high current driver plus a HB-LED head with passive cooling for high thermal dissipation losses.
The driver is compact, easy to use and offers three operation modes for flexibility in usage and application. The first mode is for frequency modulated FLIM applications offering modulation frequencies from 10 to 100 MHz. A second mode offers modulation control via external trigger for frequencies up to 100 kHz. In the third mode an adjustable constant current can be set for visual inspection of samples.
The LEDD3 head offers flexible mounting options. Via a 2" external thread different collimation optics can be connected. Collimation optics that are compatible with the following microscopes are optionally available: Olympus BX & IX, Leica DMI, Nikon Eclipse (F-Mount), and Zeiss Axioskop. The LEDD3 Series is the first from Thorlabs new line of ultra stable HB-LED drivers and light sources for demanding scientific applications.
Contact
Thorlabs GmbH Tel.: +49 (0) 8131 5956-0 Fax: +49 (0) 8131 5956-99 Hans-Boeckler-Str. 6, 85221 Dachau/Munich Germany
E-mail:europe@thorlabs.com
Web Site:www.thorlabs.com